I've been back for 3 weeks now and I am starting to blog about my Korea holiday. Feel quite lazy to type my holiday in details so probably have to split up several entries to finish blogging about my 8 day trip. On 26 Dec, my flight was a night flight at 10.50pm so we had to check-in with our tour group at 8.40pm. The whole group that was with us had 37 people in all where 9 were from my family. Our tour leader here was Jasmine, from Chan Brothers. We had shots taken at Terminal 1 before we went into the Customs.
Felicia, Kristin and me...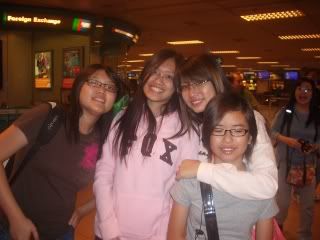 My youngest cousin, Perpetua came with her family to see us off too...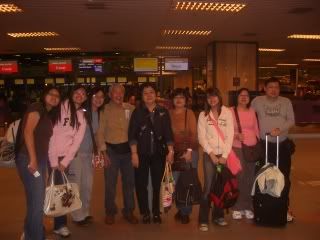 When we entered the waiting area, I took a shot of our plane...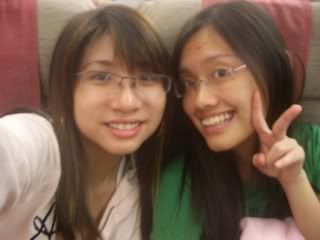 The plane was not full, it had lots of empty seats so Kristin and I changed our seats...
Upon arrival at Incheon International Airport, we were given an hour to change into our winter clothings and have a quick breakfast before we board up our bus and met up with our local guide, Thomas Zhang. We changed into our "long john" inside together with the three-quarter sleeve I was wearing initially together with the pink jacket I was wearing. We had McDonald's breakfast and then when we went outside the airport to board up our bus, I already felt it was very cold. As I was pulling my luggage on one hand and the other holding my thick winter jacket, I did not have the time to wear the jacket. I was only able to put on the scarf. We were all so glad we were on the bus then and felt much warmer. We were on our way to Everland and it was only 8am (Korea time is 1 hour ahead of SG) and the amusement park opens at 9.30am. It was an hour and a little drive from Incheon to Everland. We learnt that it is the start of the winter holidays and it was a Sat morning so be prepared for long queues and sch children...
When we reached Everland, we went to the restrooms and after I came out from the toilet, I was so cold, I was thinking if I was able to survive throughtout the whole holiday in this weather a not. I'm more afraid of the cold than the hot but I believe once you're accustomed to the weather and temperature, you'll get used to it.
Cool vending machines that I only saw in Japanese dramas but it's also here in korea too. They're cool cause they not only sells cold canned drinks, they also sells hot canned drinks too. So it works as a heat pack too...
Fyi, my family did not go to Korea, these are my maternal's relatives; cousins, aunties, grandparents...
Look at the queue and the pack of people...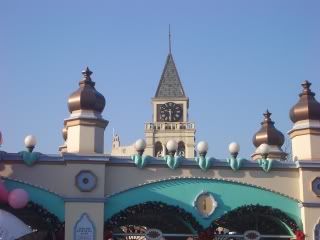 We did not queue for long once the gates opens cause there are privileged entrance for group tours...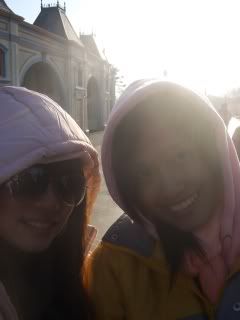 My cousin, Kristin and me....This photo will be nice if the camera weren't facing at the sun...
Our first ride was taking this Chairlift down to the lower part of Everland....
The view from the chairlift ride down along the way...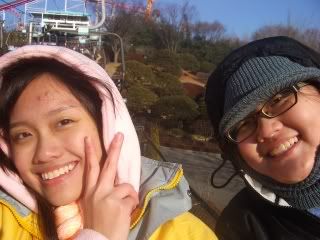 My two cousins, Kristin and Felicia...
When we reached the bottom, we queued up at Animal Safari and the queue was super long so we ended up taking photos whilst queueing.
My grandparents and Aunty Sally...
My cousins with their family...
The bus we took to see the animals in the Safari Kingdom...
We get into the enclosure where the lions, tigers, bears were walking freely around in the enclosed area.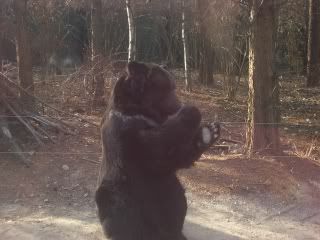 The driver of our bus was asking the bear to stand up and wave at us, when he does that, the driver will throw some treats to reward him...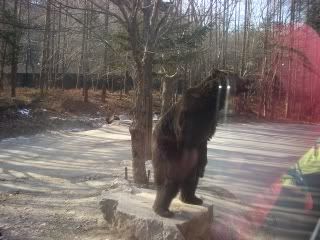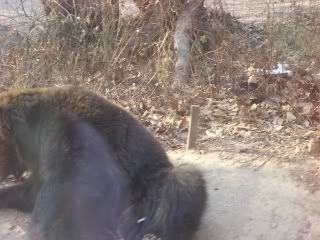 After the tour at Safari Kingdom, we went for lunch at the food court and I had Japanese Udon Soup. It wasn't that fantastic but at least it was soup and outside was cold so it was okay to me. After lunch, Auntie Sally stayed with Grandma and Grandpa while the rest of us went on to take the other rides. We went to this Revolving House and the queue was pretty long...
There's this mirror inside where it makwes you look taller and slimmer kind of effect...
Before taking the Skylift up to the top of the park again, we took some shots of the whole park...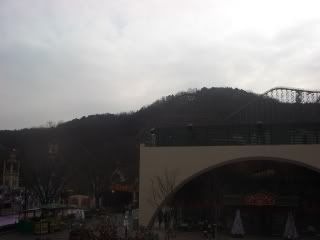 The three of us, Me, Aunty Linda and Kristin taking the Skylift up...
Our last ride decided was this rollercoaster ride. At first I was quite doubtful whether to take it or not, cause I had thought there was a loop where the roller coaster turns 360 deg in that loop, actually I had taken that similar ride at Genting before several but with my eyes closed most of the time. There was quite a long queue and AUnty Linda and Kristin went to queue up first while I wait outside for Aunty Maggie, Felicia and UNcle Jeffrey. Then I was surprised that Felicia wanted to take this ride so I thought since a 14 year old girl dared to, why not? So I joined in the queue but we were far behind. Then a bunch of Koreans dressed in Cosplay jumped queue and went up all the while to join their friends who in the queu so Felicia went in to join Aunty Linda and Kristin. When it was almost our turn and was able to see how the ride will be like, I saw there was a second loop. Then I realised I was then tricked and cheated into getting into this ride. Nonetheless, I still boarded the rollercoaster ride and indeed it was fun though it had more than two loops and there was twist and turns around but I closed my eyes most of the time. I can feel I'm upside down and the twisting and turning even with my eyes closed. At least I dared to take the ride unlike my sister who may freaked out in the end.
She loved this doll a lot. She said it was so cute so must confirm snap a shot together with it.
Our next stop was visit to Samsung Transportation Museum. Samsung was one of the largest companies in Korea besides Lotte Group. This museum features all the vintage motorcars from the past till today.
Vintage cars (model) painted in silver...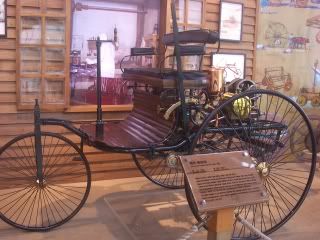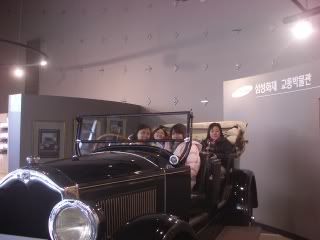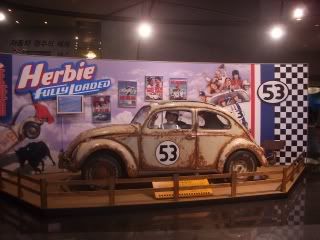 The car from Herbie: Fully Loaded...
Toy model cars of all the sports car from Lamborgini, Porsche, Mustang, Ferrari, etc.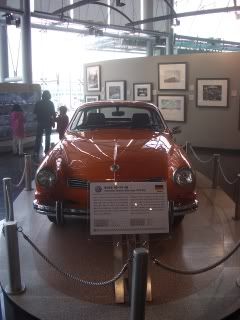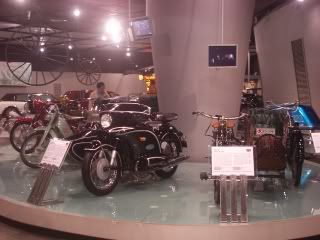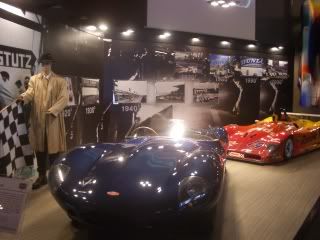 F1 Grand Prix racer cars...Probably one of the sponsored cars by Samsung previously...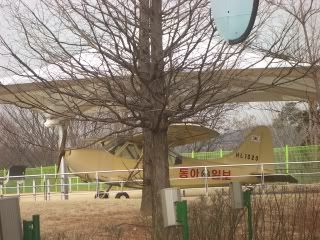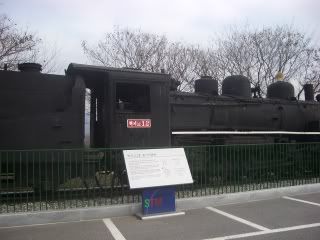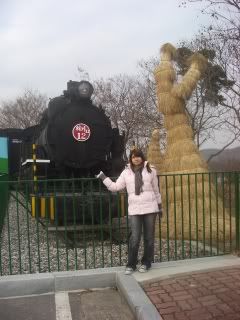 Our next stop was to Dongdaemun Market. It was a popular place for shopping as the shops are opened till like 5am. We only made a brief stop there so we did not shop a lot or bought anything there. There was nothing much that interests me anyway. But we bought some stuffs and spent most of the time at The Face Shop. It was super cheap there compared to SG. The tour guide saw our Face Shop paper bag we were carrying then he told us that he forgot to tell us not to buy anything here yet as he will be bringing us to a huge The Face Shop on the last day. Then we headed to our dinner venue, dinner was Ginseng Chicken Soup....
Review: The ginseng taste wasn't very strong which made the soup to be rather bland. I tried the one in Singapore was far better and had stronger ginseng taste which I didn't like but this one was little tasteless. I liked their noodles though, mee sua...
I was having diarrhoea that day so I did not want to try the kimchi, anyway I'm sure it's spicy anyway...
Our accommodation that night was Seoul Garden Hotel. We only managed to check in at 9pm...
How our room looks like, they do not really have a triple sharing room so they just gave us a normal room and placed ane xtra bed there so it looks really small and squeezy that we couldn't really walk much in the room after we placed our 3 luggages in the room.
The super small toilet....
Labels: holidays, recommendations, reviews
[x] Shireen signing out at
7:43 PM