My accounting paper....
My accounting paper sucks big time. I failed my Introductory Accounting (IA). I got only 28/100 which is very damn bad. This marks is almost the same as I got for my Geography paper in Sec 2, so in the end chose History class instead. Jooe and I are the only ones in my group that gotta repeat IA. I've never repeat a module before. Perhaps that's the difference between poly standard and uni. They dun moderate it I guess. They said this was the final marks including the assignments in it already. My accounting assignment got Distinction which in turn my exam paper must have did badly to achieve such grades. My computing got 68 which is a Credit, this is a written exam so 68 is counted quite bad for a computing paper unless I really got a computing background. As for OB, I got a Credit too, 67 marks which topped some of my friends. Guess that memorising for this is not a bad idea. I did applied lots of knowledge. I gotta drop one subject for next semester to complete my repeat subject, IA. That means I gotta drop out another marketing subject for Sem 2. But I heard from Jooe that we still will graduate same time as the others if we pass IA. Cause Sem 5, we'll be able to squeeze in the drop out subject just that we gotta go for lectures with the Sem 2 juniors. At Sem 5, everyone will only have 3 modules while Jooe and I will have an extra one module which makes 4 modules. Oh well, guess I had better drop the working part time idea at Pulley Ascent and concentrate on studies first. Hopefully they'll allow me to come back to work during vacation too...
[x] Shireen signing out at
9:31 PM
Night out with friends
Stayed at home the whole day yesterday. Supposed to go to my grandma's house....but in the end, my dad came home late so bought back our lunch late. In the end, my brother and I stayed at home. Rice dumpling festival is coming...my mum went to my grandma's house early to help out in preparing the rice dumpling. I only loved to eat the normal rice dumpling with meat, mushroom, chestnut in it. There's another type my grandma would make is nonya dumpling. It's white glutinous rice with mushroom, dang gui and chestnut i think. My sis likes this cause there's no meat. So these whole week will be rice dumplings for breakfast.
At about 5+, I went to Orchard to meet Zihao, Jooe, Leon, Yunwei, Ah Hong and Huimin for dinner. We met at Borders and settled for Crystal Jade at Shaw House. We had initially wanted Jap food beside Crystal Jade but there were not enough seats for seven of us so we went to Crystal Jade instead. We ordered quite a lot of stuffs which costs total bill of $100+. After dinner, we decided to shop around a while. So we went to Topman at Wisma Atria. I can get 15% discount for members storewide. Friday was supposed to be opened for VIP card members too which I can bring two other friends in too, but I did not go out that day so following day, members can get 15% storewide. Ah Hong is the only one who managed to bought a top from Topman which costs him $58.60 after discount. After shopping, we decided to find a place and sit down. Ah Hong suggested going to Altivo at MOunt Faber cause he can get staff discount of 50% for house wines. But we all find it too far so we settled for drinks at Indo Chine at Wisma Atria. Yunwei left earlier as she had curfew so the six of us ordered drinks. I ordered fruit punch. I left earlier at about 10pm cause my parents were at Riverside so they can pick me up at Orchard. This whole night out costs almost $30...whoa...
Labels: friends, gathering, reviews
[x] Shireen signing out at
12:39 PM
Nice day out
Changed a new background music...Guang Liang's Tong Hua is too common so I deliberately put his another song from that same album called Tian Tang. Also quite nice. Everyone's blog is putting that Tong Hua song in it so I gotta be different. Haha...
Went out with Xiaojuan yesterday to Orchard. Before that she accompanied me to skin centre to buy medicine. So when we reached Orchard, it was almost 3.15pm. We went to buy tickets for Monster-in-law at 3.25pm slot at Cineleisure. While we were on our way walking to Cineleisure. A girl approached me and asked me how old I was and said she's from Talentscout company looking for new faces for photo shoot which no money involved. I left my contact number with her. I was wearing my new blue OP hat I went to search high and low for the specific colour but ended up buying blue instead at Chinatown OG with spaghetti strap top, jeans and shoes with red Stussy belt yesterday. (Pictures below)
Monster-in-law was a nice show. Jennifer LOpez looked good in this show and Michael Vartan still so handsome even at 35 years old. But I dun like his rugged look in this show with a bit of unshaved moustache and goatee but he still looks handsome. Preferred his look in Never Been Kissed as the High School Literature teacher, Sam Colsen. The show was quite hilarious too...better than Madagascar I would say. Even their jokes in Monster were better. If u wanted to choose watching a show, I would suggest watching Monster-in-law is better cause is funnier and longer running time (108 mins). Then after the show, we went to walk around Taka area. Xj bought a top in MANGO. Nice green top....Then we went to Zara but there was nothing much. So we headed to Far East. While cutting thru Wisma, another girl stopped me and I did not wait for her to finish. But I guess it was some modelling thingy again. She just asked me if I heard of National Arts School and asked if I was in a hurry, she just wanna take up some mins of my time. But she saw I was quite reluctant to stay so she let me off. Was it the hat I wore yesterday that make me look younger or cooler that they were looking for such people...Cause I am not that pretty as compared to other gals that were in Orchard yesterday but I admit with my dressing yesterday, I am quite an attention. But I bought that hat liao, can't expect me dun wear right? Josiah even knew I bought the hat liao, asked me to wear it the next time we go out then he can see how I looked....haha
We had dinner at Ichiban Boshi at Wisma cause both of us were feeling hungry already. This branch is different from the branch we had at SunTec. I preferred SunTec branch cause there were Soba noodles, the one at Wisma are all Udon noodles or Cha Soba types. So I had Teriyakidon and Chawamushi instead. I only bought a very low socks at Far East. When leaving Far East, Xj and I met our poly schmate, Cagney with her bf entering Far East only. We just smiled and walked past. Today then I realised that she's going to get married next year. I can't believe I actually had a friend who is getting married at early age of 22. She 's one year younger than me. She's quite pretty. But I always had this mentality that my batch which is 1983 onwards, the gals will not settle down that fast yet. Even if they're in a relationship for very long. Now I got my first friend who is getting married next year but dunno when yet so I guess I may have to change my conception after all. See pics...
This is my image with my new hat yesterday....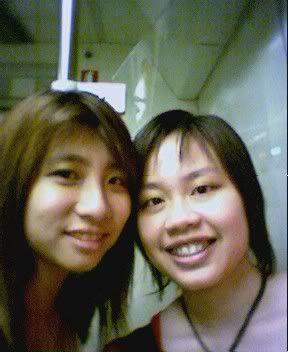 Xiaojuan & me on MRT without my hat....
[x] Shireen signing out at
11:00 AM