I met up with my G6 Orientation Group on Friday and we went to Bab Noodles at Millenia Walk for dinner. This is one of the first few times where everyone managed to make it. Thanks to Lina the organiser! Lina, Clarence aka Da Couple, Leong, Weili, Janet, Boon and I were one of the earliest to arrive. Teck brought his gf along. The 12 of us booked a table earlier so we waited for them inside. When everyone except Serene arrived, we started ordering. I ordered Beef Teriyaki Rice Set. I made sure I take photos of the food we ordered. Initially I had wanted to keep the receipt as I can post up the names and prices of the individual food w ordered but in the end, they passed the receipt around and I forgot to get from them too. Shucks! So I will just post the price range and the names are roughly from what I remembered they ordered. I did not kow they were going to treat Teck and me for my birthday yesterday and Teck's belated birthday in Feb 9. Thanks all!
After dinner, we decided to find somewhere to hang out and chill out. We went to C.A.N. Cafe at Liang Seah Street. We managed to get a table for more than 12 people upstairs. It seems a rather cool palce for hanging out and chilling out just that it has too many baby cockroaches. We killed 3 in one night. The menu had quite a wide variety of drinks but the price are slightly higher compared to Coffee Club or normal cafes like Coffee Bean. I caught notice of this drink called Blue Lasoon on the menu. I decided to ordered that just to find that it is actually called Blue Lagoon. "Typo error" according to what the waitress told us. We were laughing off. No wonder we couldn't figure out what was Blue Lasoon. When my drink came, it is a drink of ocean blue. So blue that Leong took out something from his bag which made us burst into laughter...Listerine. I am drinking "Listerine". They had the exact same kind of blue. Then the waitress came in with 2 ice-creams and two slices of cakes with a candle on each. One was blueberry cheesecake and the other is chocolate cake. And they all sang Happy Birthday song to us both. We stayed at the Cafe till around 2am before we left the place.
Teck and my 24th birthday...
Bab Noodles@Millenia Walk
A mixed variety of Korean and Japanese food with price range from $6.00 - $15.00 for both sets or ala-carte. Sets normally come with either rice or noodles with kimchi, two fruits, miso soup, main dish and salad. Really affordable food. Located beside Bakerz Inn in Millenia Walk and within walking distance from Conrad Centennial International, it is easily worth the walk from City Hall to Millenia Walk. See photos...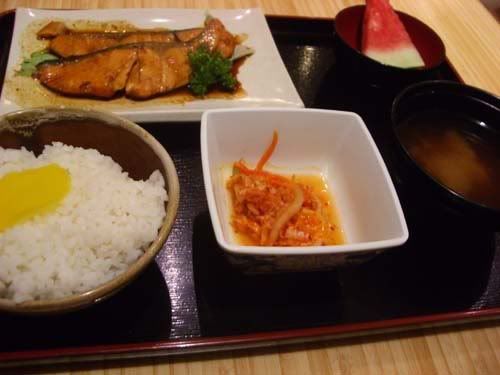 Salmon Teriyaki Rice Set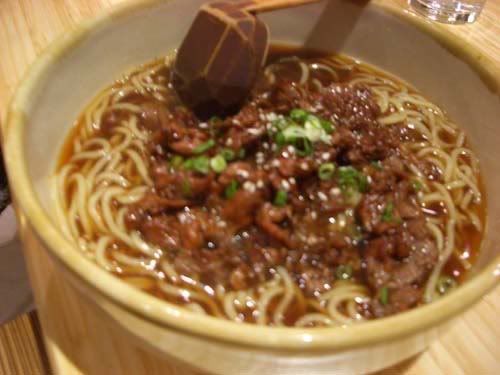 Beef Ramen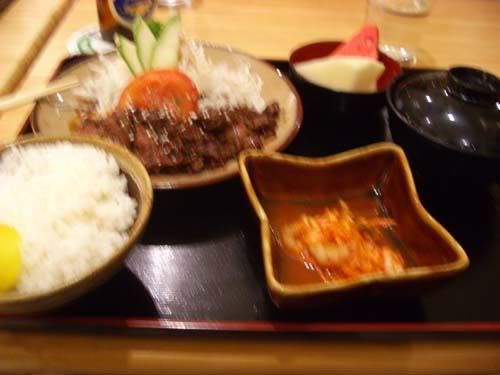 Beef Teriyaki Rice Set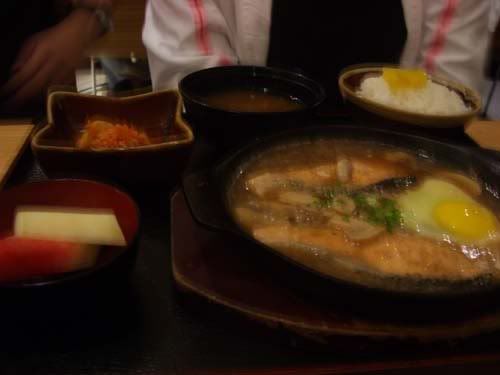 Salmon Sauce Rice Set

Katsu-Don Rice Set



Fried Calamari and Agedashi Tofu as sides...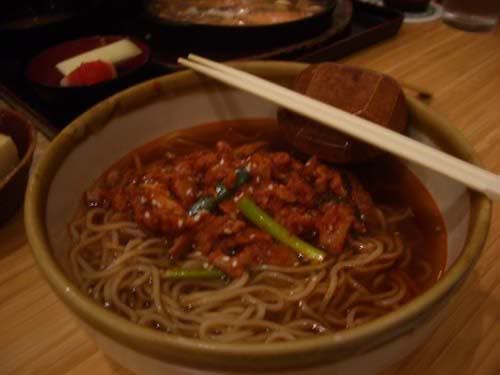 Curry Chicken Ramen

Egg with Bean Sprouts Rice

Reviews:
I loved my beef teriyaki rice. I love it without onions. Normally in Sakae or usual Japanese restaurants, they will put onions in the beef teriyaki. And the amount of rice is just nice for me who missed lunch and had late breakfast. I tried the Salmon Teriyaki and Katsu-don too. Tried a bit from Boon's and Leong's dish. The Katsu-don is really crispy but the salmon was alright. The calamari was not bad too though ours took rather long to come. The Agedashi tofu was similar to Sakae Sushi's standard. Would recommend others to try it if you are looking for a cheaper range Japanese meal.
Food Rating: 4/5 stars (So far, I haven't really tried much but so far all comments from my other friends were rather good response)
Ambience Rating: 3.5/5 stars (It looks like some cafe cum lower range restaurant but nonetheless ambience is still fine)
Overall Rating: 4/5 stars
C.A.N. Cafe@Liang Seah Street
It have two storeys and occupies about 2-3 units in the shophouses along Liang Seah Street. Has a wide variety of drinks that is unusual. Price ranges from $5.00 - $7.00. They serve alcoholic drinks, desserts and finger foods too.
Reviews:
The ambience there is nice and comfy with sofa seats and all. The decor of tjhe walls have movie posters of past old movies and new too. One thing I did not like is it allows smoking even inside an a/c area and there are cockroaches all over the wall. So try not to lean too much to the wall or the head of the sofa. My drink was a little weird. Think it had some small pieces of coconut in it. I do not know what the drink is made of but I would say it has an exquisite taste. I hadn't tasted coconut before so if that was coconut, then I would say it gives a special taste besides the bluey syrup I see in it...
Drinks Rating: 3.5/5 stars
Ambience Rating: 4/5 stars
Cleanliness Rating: 3/5 stars
Overall Rating: 3.5/5 stars
Labels: birthday, Hot Stuff, reviews
[x] Shireen signing out at
8:29 PM
My 24th Birthday!!! - Part 1
Sorry for the late post for my birthday updates but wanted to upload it yesterday but relatives were over at my place so I was playing Taboo with my cousins. I got the Taboo game from Ivan as my birthday present. Yippee! It's just so fun. I've played Taboo game in Sec 2 at oneof the church retreats but the games I've played so far are the American versions. The recent one released was the Singapore version which is better cause it'd be much easier.
Anyway back to my birthday, I celebrated my 24th birthday with Ivan and Andrew. Ivan's my long time good friend cum buddy. Andrew was his friend whom I also knew thru him. His brithday falls on 3rd March so might as well celebrate together. Ivan gave him a dinner treat. I received a morning surprise in my office. Andrew dropped by my office and gave me my birthday present. It was a Perlini's Silver necklace which prob costs more than $40 and a blank greeting card was in it with a long letter inserted in it. Since it is a long letter, I shall not talk abt the contents in it. But I still dun get the part why he must give me an empty greeting card without any words in it. Anyway, we went to The Glass House for dinner. The ambience there is always great. I did not even know there is a live band now. The upper level is closed as the restaurant is not that packed. So we sat at the table near the bar counter. There was another person's birthday sitting beside our table as I can see the presents and stuff toy. I took some photos of the atmosphere there so as to do a write-up review of the restaurant. I realised after taking the photos, I had forgotten to take the most impt thing - the food! Argh...Anyway, my birthday that night was an unforgettable one. I was famous twice that night...
I saw the balloons behind the bar counter and thought the green colour was nice. So I merely just jokingly said I want the green colour balloon. I never would have thought Ivan really asked the waitress for it so he mentioned that it was my birthday today. They said there will be a free ice-cream for the birthday month people so we requested two since it's Andrew's birthday on Sat. So I shared the Seafood Platter for 2 with Ivan while Andrew ordered the BIg Catch and Caesar's Salad. We changed the mussels to more fried calamari. After our meal, we requested for our ice-cream to be served and when I saw the ice-cream had a candle on it and a few waitresses were walking to our table, I knew that my predictions are true. A friend once told me that Fish N Co will sing loud birthday song and make u do things in front of the whole restaurant, I just did not expect this would come true for me. That is why I had told them from the start not to mention my birthday to the restaurant. They asked Andrew's and my name and made us stand on top of the chair. They gave us a lighted sparkler and started clapping and singing birthday rap. Everyone in the restaurant including the other patrons clapped together as their voices were loud.
After that, the band came back from rest and Andrew sent in a dedication. Both of them were doing sign languages in which I could not decipher what they were saying. In the end, Andrew requested to sing on stage. And he mentioned to dedicate the song to me and Ivan and once again I was famous. He sang Richard Marx's Right Here Waiting. Ivan and I actually took down his singing on video on my digital camera but without his consent, I shall not upload it here. (Very pro now eh?) Anyway, the band soloist sang a birthday song to me again afterwards. After we left the Glass HOuse, we went over to Paradiz Centre's KBox and we started singing from 9.30pm to 2.30am. Recorded a few videos too including myself...I was too shagged and tired that I fell asleep in Ivan's car on the way home...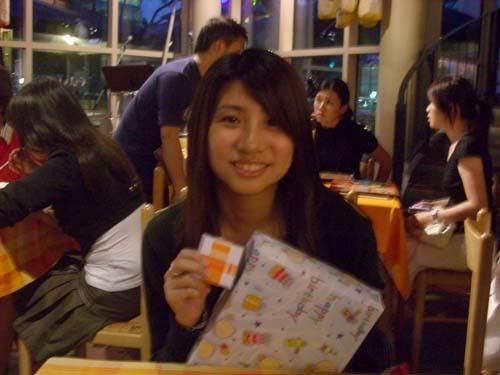 Took photos of my gifts...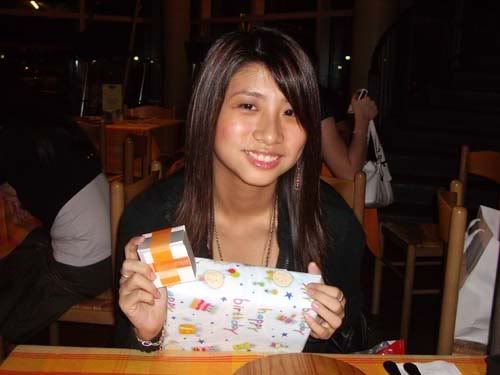 My good friend, Ivan...
And the other birthday boy who is also Ivan's long time buddy, Andrew
A shot with the surprise ice-cream...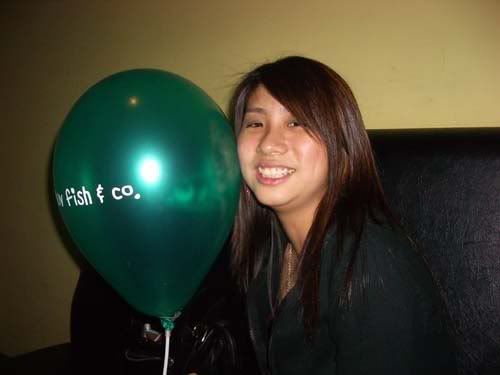 At Paradiz Centre KBox...
The balloon reads "I Luv Fish & Co" one one side and the other had Fish & Co logo on the other side...
Reviews:
"Feast on the freshest catch as our young and fun team dish out scrumptious dishes onto your table. Favorites are the Mussels, Calamari, Fish and Chips, Seafood Platters and a specialty menu of home creation drinks and desserts.

Be blissfully stuffed with the generous portion that we present and enjoy the treat as all our dishes are delicious and prepared in a straight-forward and wholesome manner. We use only natural ingredients like olive oil, herbs and specialty home-made spices. "
---- Fish & Co
Fish & Co@The Glass House
I love the ambience there because of the people there are very friendly and never noticed the bar counter till that day. The decor of the bottles really enhances the layout of the Glass House well. Gotta give thumbs up for the only Fish & Co which has the one and only Live Band Performance there which allows song dedications and all. The food there are rather fresh too. I remember the very first time I went to eat at Fish & Co was at Suntec City and the dish I ordered was Fish N Chips. The fish wasn't very fresh and it wasn't cooked very well as expected of a Fish N Chips. I still decided to give another second try when I ordered the Seafood Platter. I love the calamari there. That was the time where I learnt that Calamari are sotong. A Seafood Platter for 2 costs around $38 which can then include another additional $5.50 to add a complete meal which consists of a choice of Kola Gin Soda or Passion Fruit as drink and a Soup of the Day. After settling the bill, don't forget the free complimentary mint sweets which looks like moth balls to me.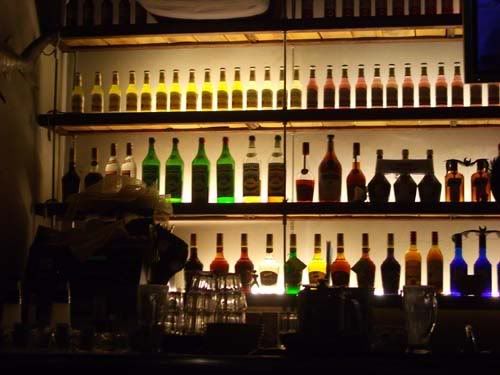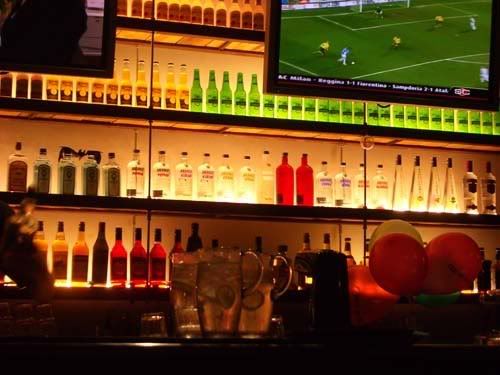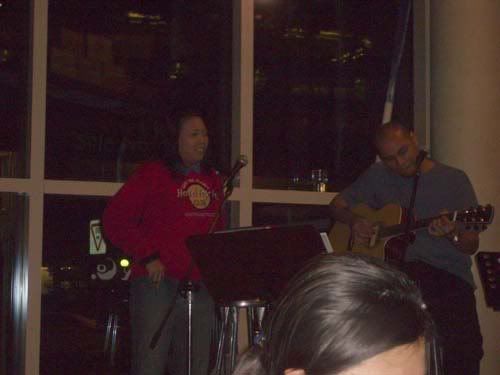 The live band...
Food Rating: 4.5/5 stars
Ambience Rating: 5/5 stars
Overall Rating: 5/5 stars
Labels: birthday, Hot Stuff, KTV, reviews
[x] Shireen signing out at
8:21 PM
Protégé
This movie is rated NC16 all because of one couple who takes drugs excessively and the brutal injuries or death caused by drugs. I was so shattered when I saw Louis Koo in this character as a junkie. He looks really like a drug addict and I was really shattered by his look in Protege. I liked him a lot and never fail to buy his every movie VCD. I can say all the cast acting is superb here including that Zhang Jing Chu. She really acted well as a helpless single parent being forced by her ex-husband (Louis Koo) to take drugs unwillingly, only to find herself facing a difficulty of kicking the habit. But Louis Koo has a rather funny role in this movie. He had a rather funny ending for himself.
Synopsis:
Undercover officer Nick (Daniel Wu) had spent the last eight years penetrating into the core of a drug sales ring working his way up from a street dealer post to the managerial position handling cargo deliveries for Jong (Andy Lau) - the biggest player in the local heroin market. When the ailing Jong makes Nick his protégé, Nick could not but sway before money and power and starts to perform his role like a real drug trafficker. This, together with his affair with heroin-addict Jane (Zhang Jingchu), causes Nick to becomes more and more confused about his true identity, and eventually leads to a disastrous end.

Based on materials provided by retired undercover agents of the police force, "Protégé" attempts to realistically tell the story of undercover agents in the clandestine drug world, who struggle to constantly walk on the fine line between justice and crime, but who will never see the day of serving in the regular police force.
My review is that I rather enjoyed this movie but still preferred Infernal Affairs. Can still watch this movie if you had to choose a movie to watch. There are some stunts in the show that are quite gruesome at one time. I had this female colleague in my dept which is so obsessed over Daniel Wu that she paid the $35 charity gala ticket for Central Narcotics Bureau in order to catch Daniel Wu in person together with Louis Koo. She is same age as me...Daniel Wu sure is good looking because he's afterall ABC but I still preferred Louis Koo. Louis Koo was my first HK actor I liked and started to like watching HK dramas.
Movie Rating: 4/5 stars
Labels: movie, reviews, synopsis
[x] Shireen signing out at
3:27 PM
Ghost Rider
I paid $2 only to watch Ghost Rider on Sunday. There was a movie event held by Singapore Police Coast Guard on Sat and Sun. Tickets were selling at $2 with inclusive of a drink and a popcorn or nachos and free 3 bars of chocolates (all thanks to Leong). I got Ivan and Andrew to go too as we were supposed to watch that today for my birthday. My family also went. Before that, my family and I had Sakae Sushi for lunch as to celebrate my birthday with them.
Synopsis:
Based on the beloved Marvel comic, this live-action drama with stunning visual effects follows biker Johnny Blaze (NICOLAS CAGE) on his journey from stunt rider to agent of Mephistopheles.

In Columbia Pictures' action adventure Ghost Rider superstar motorcycle stunt rider Johnny Blaze (Nicolas Cage) strikes a deal with the vile Mephistopheles for the most precious of commodities, his immortal soul. Now Johnny Blaze is forever destined to ride night after night as the host to the powerful supernatural entity known as the Ghost Rider.

I felt the storyline was rather crappy. At least I felt Daredevil was better. I was glad I only paid $2 to watch Ghost Rider because I felt it was a bad movie. Ivan and Andrew enjoyed it but not for Leong, Weili and me. I sat with Leong and Weili together with my family in the same row of seats and Andrew, Ivan and brother and his friends. When I saw Nicholas Cage in this movie, he suddenly reminded of his movie I loved the most, Face Off acting as the villain in the front part then a good guy after they swopped faces. It made me so tempted to watch the Laser Disc again. Yeap I had the LD at home that time. Back to Ghost Rider, Nicholas Cage looks so skinny in here. I felt the younger Johnny Blaze looks better than the older Johnny Blaze (Cage) and we all felt Nicholas Cage was not so suitable for the role. I happened to chance upon a poll on Yahoo! Movies and the poll is like this:
If we could choose the next Ghost Rider, who would he be?
1) Jake Gyllenhaal 16% 177 votes
2) Keanu Reeves 45% 484 votes
3) Dwayne Johnson 28% 306 votes
4) Leonardo DiCaprio 10% 112 votes
Of course my vote goes to Keanu Reeves. I feel he fits perfectly to the role. This role does not require much acting skills as this movie displays more visual graphics effects and animation more and many said that Keanu Reeves cannot act so he can play this role well. And it'd be good for us ladies to have some eye-candy around in this movie. In my opinion, I feel that if you had a choice, try not to watch this movie. If you really want to watch, then try to watch on the cheapest days on Mon - Wed in Cathay cause tickets are only $7.00.
Movie Rating: 2.5/5 stars
Labels: movie, reviews, synopsis
[x] Shireen signing out at
1:45 PM