Restaurant: Asian Kitchen
Address: 1 Raffles Link #B1-21 CityLink Mall Singapore 039393
I happened to crave for Xiaolongbao and Lamian so Mingli and I initially thought of going to Ding Tai Feng at Raffles City for brunch. As we were walking in CityLink, we found this restaurant,
Asian Kitchen
. Operated by the Vientai management, this mid-range restaurant serves Chinese fare, and not a variety of Asian cuisine as its name seems to suggest. The menu is dominated with northern Chinese dumplings, hand-pulled noodles, and fried rice dishes.
Reviews:
Pork Dumplings aka Xiao Long Bao (6 for $5.00)
For a restaurant that doesn't tout itself as a dumpling specialty joint, we weren't expecting a lot. Indeed, the Xiaolongbao was merely so-so. Though the skin was thin and the meat was not that fully filled, it had spring onions inside the meat. At least I preferred Crystal Jade's to it though Ding Tai Feng is still the best.
Rating: 3.5/5 stars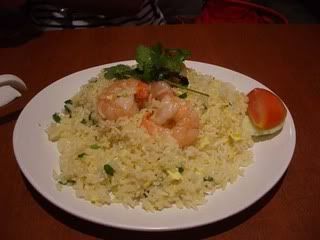 Prawn Fried Rice ($7.70)
Mingli ordered this as she was craving for rice. I tried a bit of the fried rice and it was not too bad. The prawns were nicely shelled and the overall of the dish was neatly presented. The rice was nicely cooked to fit majority taste.
Rating: 4/5 stars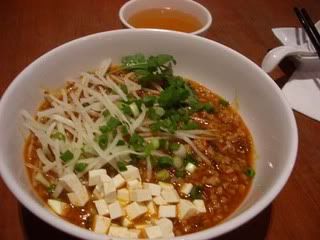 Zha Jiang Mian ($7.00)
I ordered the Zha Jiang Mian. It had tofu in it and this is the first time I've ever seen Zha Jiang Mian come with tofu in it. It wasn't that fantastic. The gravy had chilli oil and chilli bits in it but it wasn't that spicy for me to lament about as people who knows me know I don't take spicy food. But I felt the Zha Jiang Mian gravy was more like eating Beef Spaghetti Bolognaise though we know Zha Jiang Mian is minced pork. Definitely disappointing for me cause I've had better Zha Jiang MIan along Maxwell Road.
Rating: 3/5 stars
One thing I got to complement about them is their service, they all speak English to the customers even though usual Chinese restaurants will speak Madarin or Cantonese. You can hardly hear them speak Mandarin unless they happened to ask you in Mandarin.
[x] Shireen signing out at
6:17 PM