Birthday
Last Sat I attended Xiaojuan's 21st birthday party at her house. It's a BBQ party under HDB flat. Quite a lot of her friends came. Poly mates, colleagues, sec sch friends, cousins, etc. She was busy entertaining every one of her friends, that is why having BBQ is not a good idea. Well, fortunately Rachel's upcoming 21st birthday party this Sat is catering as she have 70 friends going for her party. Enjoy the pics...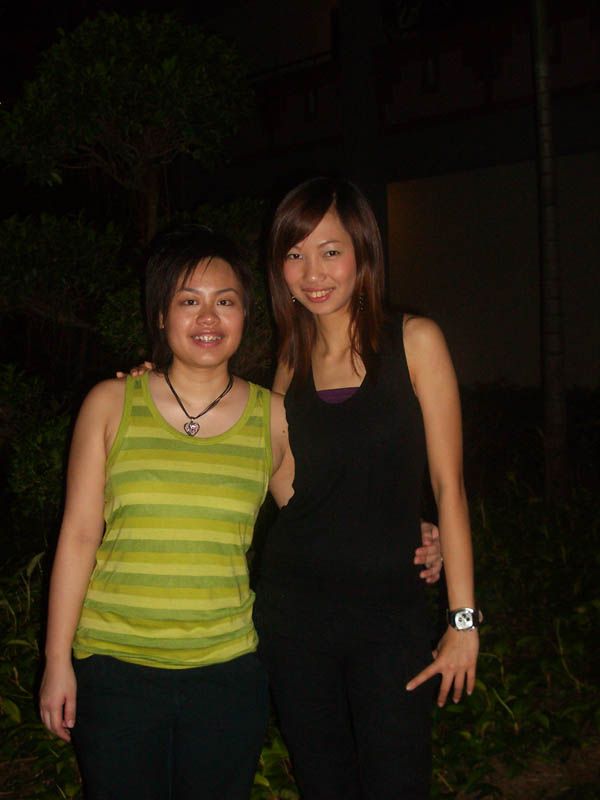 Luwei and Xiaojuan, two closest in Poly days....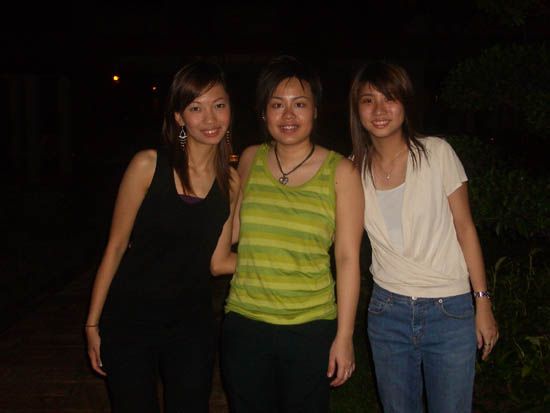 The three of us, Luwei, Xiaojuan & Me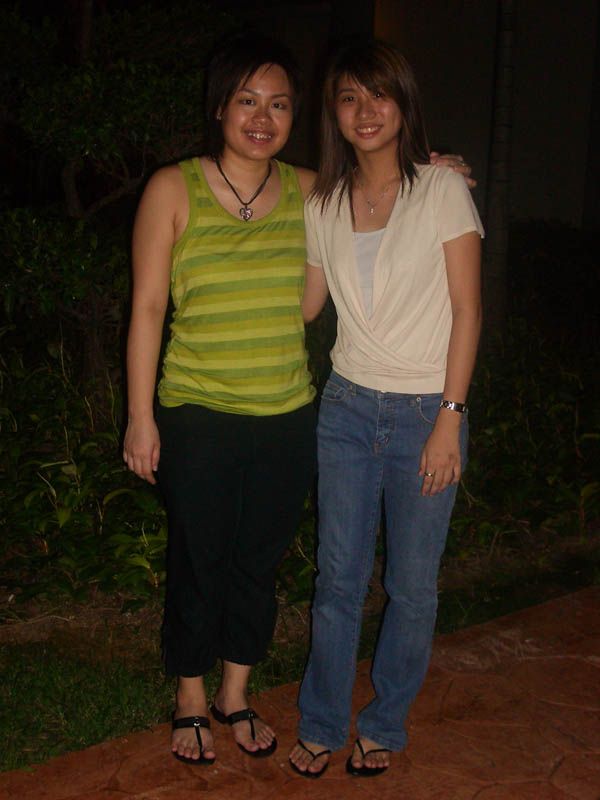 We used to meet to go to sch or home together in poly...cause she lives near my area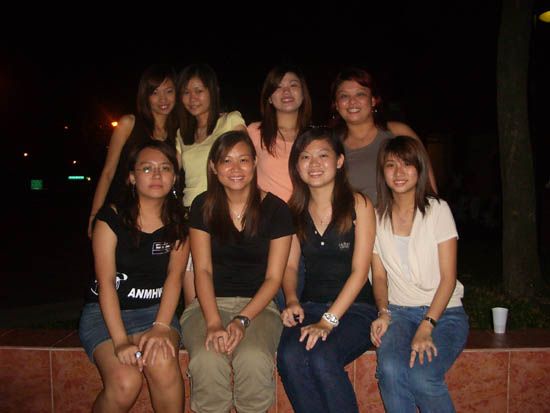 The poly classmates...(From top-left clockwise) Luwei, Grace, Su Rong, Chunbing, Me, Serene, Chee Sia & Joycelyn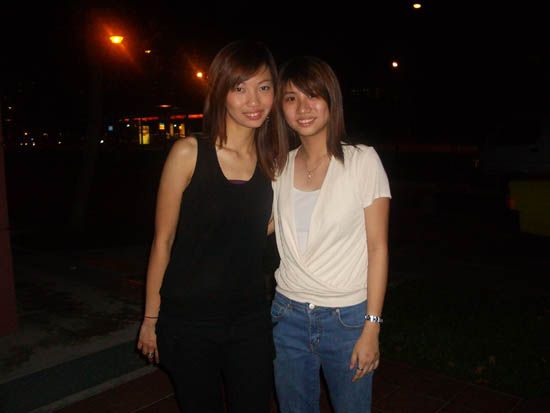 Luwei and Me...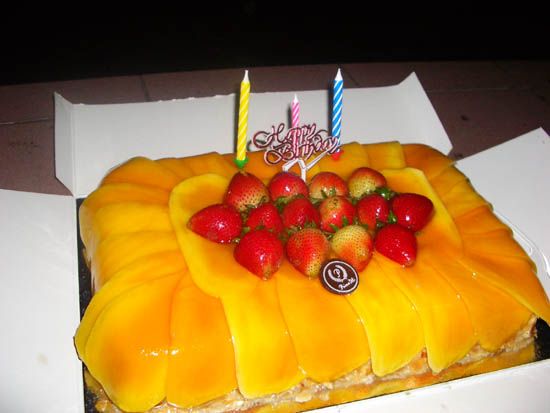 The birthday cake filled with mangoes and strawberries...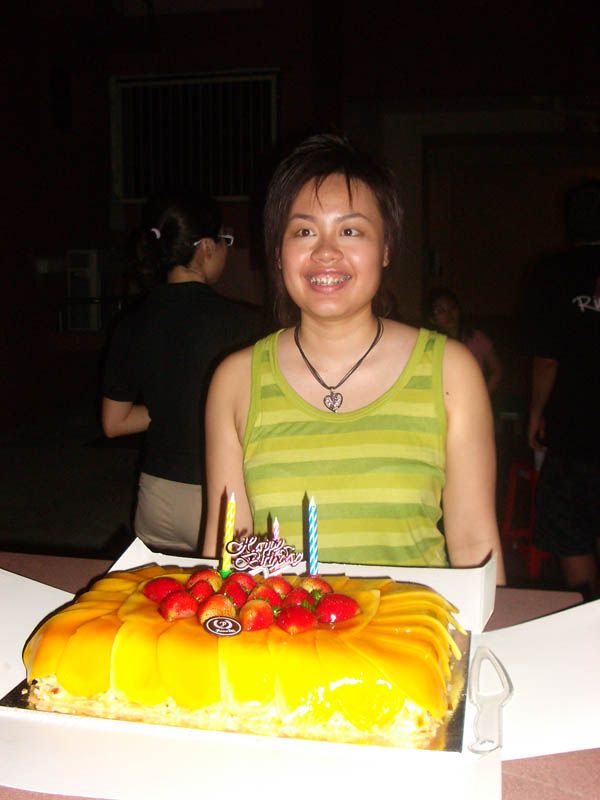 The birthday girl...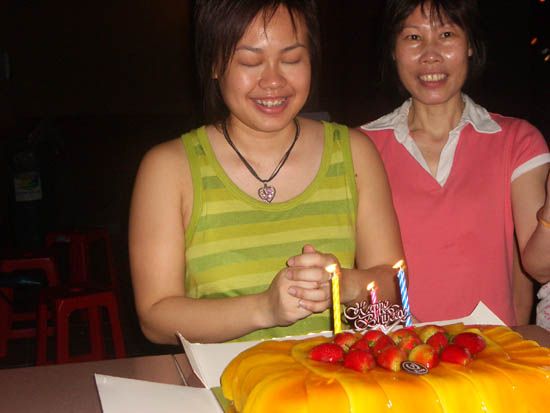 "I wish I can marry Jerry Yan...My wish is to marry to Taiwan..." ----Xiaojuan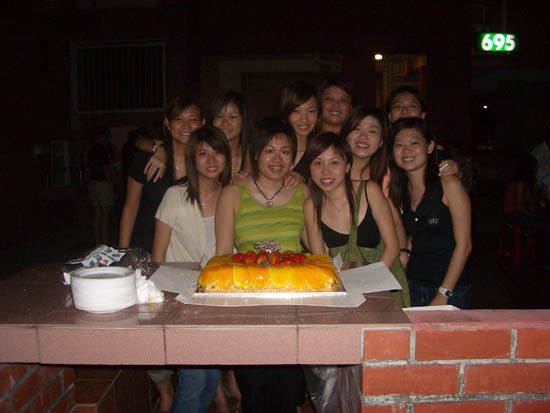 All the poly mates...
I finally watched War of the Worlds yesterday. But before that, went to meet my colleagues for lunch specially at Swensen's Holland Village. If I had known is we are on dutch, I wouldn't have wasted my time and money there. At first thought it was a treat from Winston, but they did not even asked him along, so the treat is for Sabrina cause she's gonna leave the company for studies. So hey ordered the set lunch. IT came with fish n chips, a soft drink, a soup and a dessert. It was a rushing lunch for them and I gotta wait for Ivan for almost 2 hours so we gotta miss the 3.20pm show at Cineleisure and watch at 4.10pm show at PS instead. While waiting for him outside Delifrance, I just took out my camera and took photos of myself...
Oh...look at the cookies and cream dessert...looks yummy eh?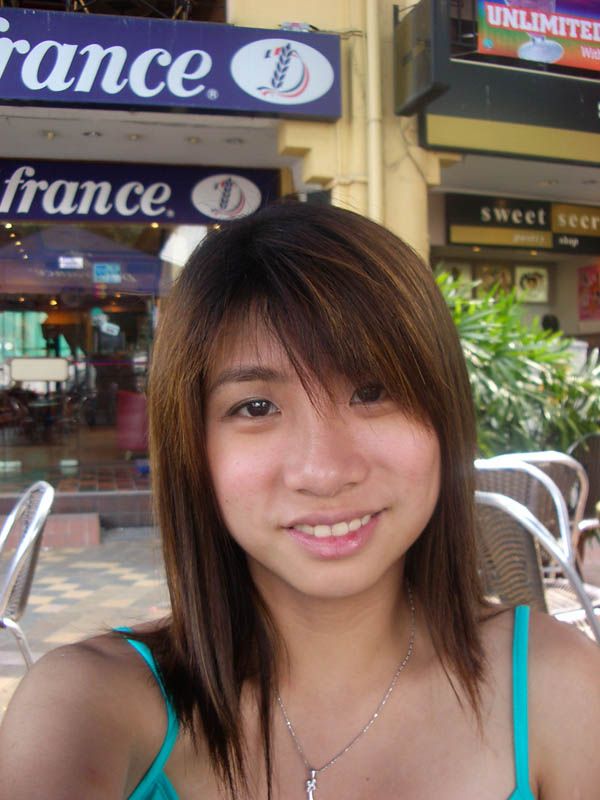 The show was not that bad but the Rachel (Dakota Fanning) screams are rather irritating though. Her voice was high pitched. Her acting was quite good too. And Tom Cruise can act so good as a father. This is the first time he is acting as a father of two and as a crane operator from what I remember so far. There was this scene which was quite touching. He can really protray well as a father. But it was really a bit exaggerating as in, the aliens kills everyone but missed Tom Cruise everytime though it was always a close shave for him. Well, cause like what everyone says, he is the lead, cannot die yet. But u can really see the love of a father trying to protect his children though his children doesn't acknowledge him as they have been living with their mum. This show cause a little of thinking towards the end too. Really worth to watch it as it's a 2 hour show and watch it cause of Tom Cruise. U seldom get this chance of seeing him act as a father. In real life, he was the father of a few adopted children too who are now living with Nicole Kidman. Maybe that's why he can protray well as a father.
Then for dinner, Ivan just treated me to Mos Burger and I was the only one eating. He was damn full. U owe me a proper treat for your birthday. This doesn't count. And I treated him to movie and bought him a Quiksilver wallet for his birthday. Today starting my first day of sch for Sem 2. And tomorrow will be full day. From 9.30am to 5pm cause gotta repeat for Introductory Accounting. Sian, every Fri will be full day lessons and last week of July onwards gotta go back for Commercial Law lessons on Sats too....
[x] Shireen signing out at
10:37 AM
mOnDaY bLuEs
I'm having Monday blues this week...So tired. I've been shifting room the whole morning. When I finally settle down, I felt like sleeping. I slept at around 12.45am yesterday so I was damn tired. Was supposed to have dinner with my company people at Seoul Garden today. BUt all the full timers suddenly are not free today. So at first the five of us temp staff wanted to just go ahead on our own at Sakae Sushi or Suki Sushi, but in the end, we decided to postpone this time and changed to another day instead. Dinner at home became only my mum and I. So she had to go market and buy back for me. Today is my last day at FileNet too so stayed till 6.30pm actually Cass at 5.30pm then tell me to amend and tidy up the spreadsheet so it took a long time before I can clear up and I did not do it thoroughly either. I was eager to get home. I was starving. Only had soup and bread and dory fish for lunch cause thought gonna have buffet dinner, but that set lunch also costs $8.50. Gonna go to work again tomorrow, then Wed will be my rest day so gonna watch War of the Worlds with my buddy, Ivan celebrating his birthday too. You're 24 this year ah? Your birthday reminder told me you're 24th birthday is coming. Thought you're just one year older than me? Anyway, Happy Birthday in advance! Wow, I'm gonna be the first to celebrate your birthday eh? See ya on Wed buddy!
Labels: Work
[x] Shireen signing out at
9:55 PM
Two days off from work...(Part 2)
On Thursday, I went to Kimarie Training School at Tanjong Pagar to cut my hair at around 2+. It costs only $7.50 for wash & cut and they gave me a voucher which I can come back for a free haircut next time. After that, I went to Orchard to meet Ah Hong. Yunwei was supposed to meet us too but she stood us up. So I went alone to walk around cause Ah Hong was late and he reached Orchard at about 5+. So we went to got my stuffs then left to head to City Hall to meet the others. Jooe was suppsoed to thought she's just meeting Grace for dinner. BUt in the end, we were all called out too. I suggested buying the cake for Shane and Jooe. It was also meant to be a surprise for Shane too, but in the end, he didn't want to go at first so we had to tell him our plans. Yunwei came to meet Ah Hong and me at City Hall and we headed to BreadTalk to buy a cake. We decided to get Carmilly (strawberry shortcake)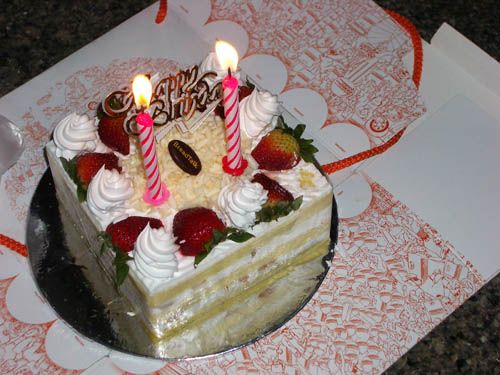 Looks yummy eh? It's nice. I've always liked to eat strawberry shortcakes...

Then we had wanted to eat Pastamania or Kenny Rogers due to cheap prices but in the end, we chose Swensen's. So Zihao and Leon who were already at SunTec went in to get table for 11 first. While Yunwei, Hong and me waited for Doris, Mark, Shane and Sok Wan at the MRT station.
We waited for a long time before Jooe and Grace turned up at Swensen's and Jooe was shocked to see so many of us. It was already 8pm. When the food came it was already about 8+. We ordered the birthday special so Shane got a Birthday sundae.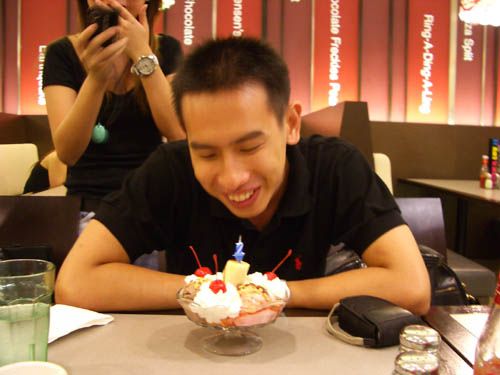 Oops, the candle went out so we ask him to pretend he blew out the candle...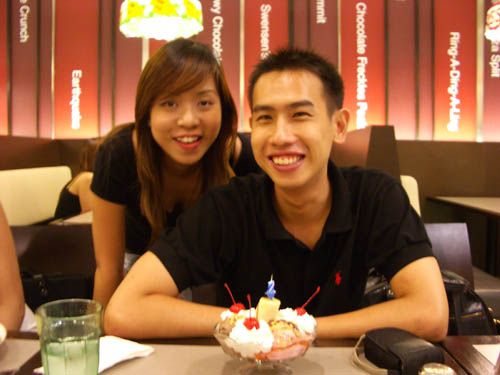 Say cheeese!!!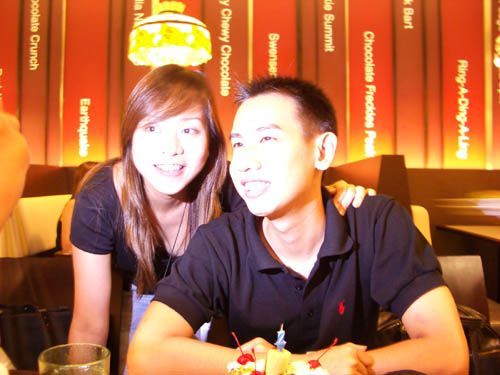 Extra lighting effect...nay, the flash from the other camera
Then after dinner, we had to bring the cake elsewhere to cut it cause Swensen's do not allow outside cake to be consumed in the restaurant. Thus, we went to the Fountain Terrace on the top. Then we began lighting the candles and sing birthday song to Jooe and Shane. It was a fast one and weird to see pple celebrating at that area. There were many couples around...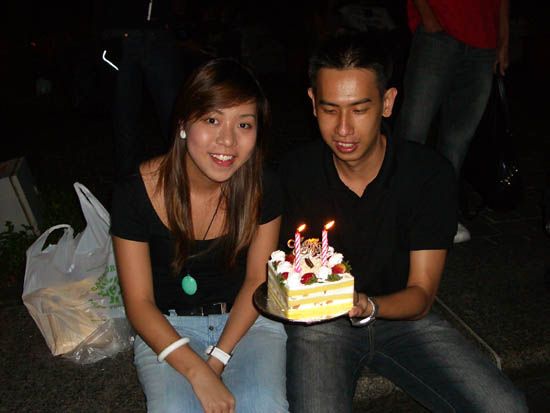 "Wow...the cake looks delicious..." --- Shane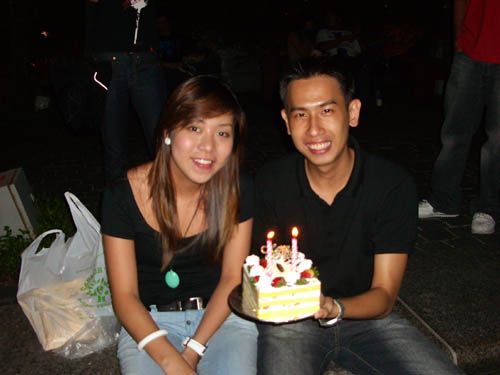 A proper nice shot!!!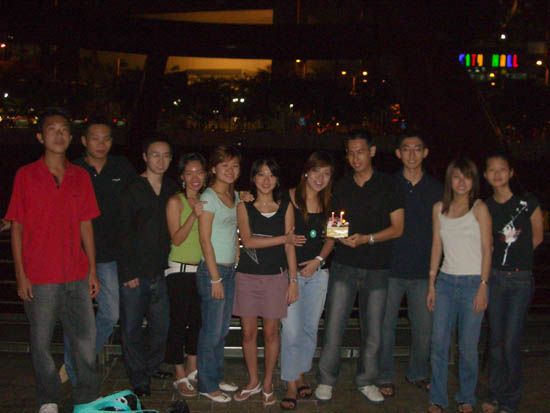 A group photo...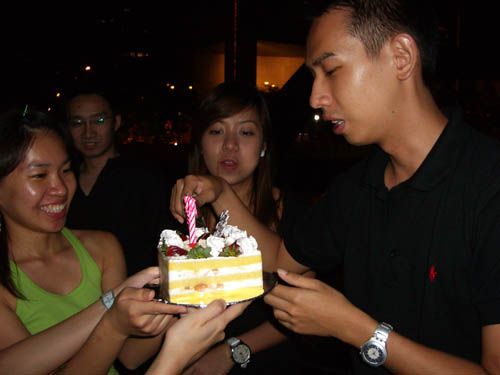 The cake-cutting ceremony...

There are some more pics from Yunwei's camera where Shane took with all the girls in his arms...That will take some time for me to get the pics from Yunwei to upload here...Then Shane left earlier and we took the pics ourselves whilst Leon and Zihao disappeared to men's room I guess.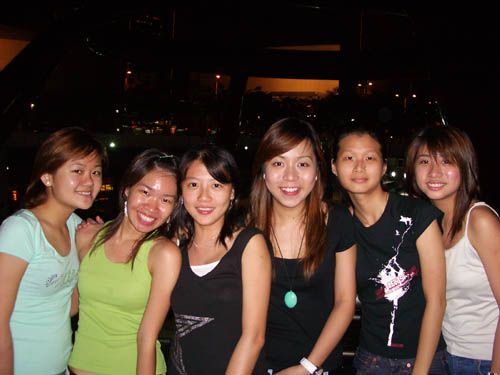 The mei-nus in my OG, most of us think that my OG has the better looking people amongst the others actually. I also think so...Be it guys or gals...but my group is getting smaller and
smaller due to three pple are leaving us...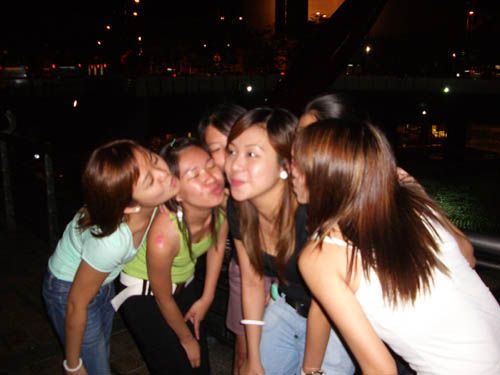 After eating the creamy cake, let's give the belated bday gal a kiss...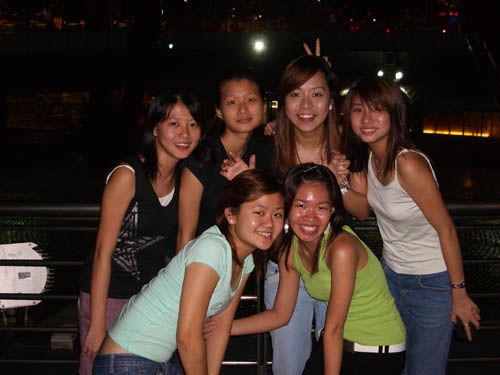 This is a nice photo of us!!!

Next is the individual solo pics of the guys and gals...too bad Shane u left early otherwise you'll also get the privilege...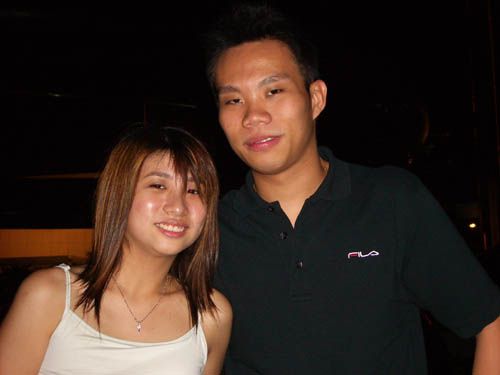 Zihao and me...he's our "David Tao"...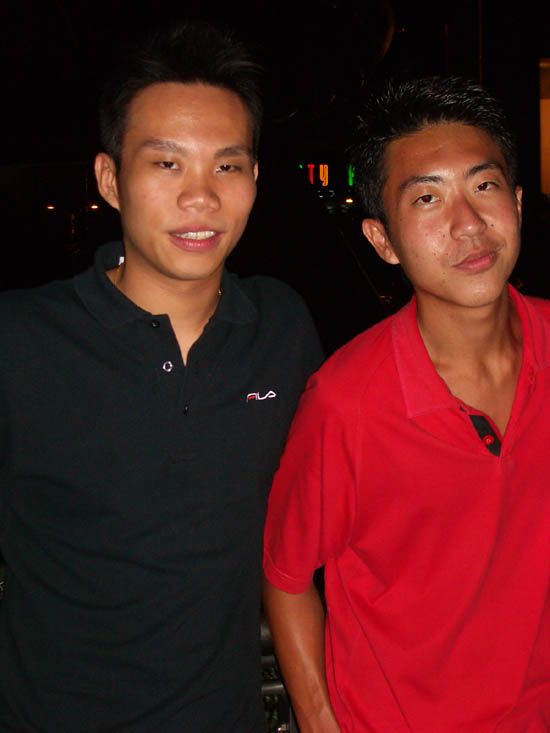 alt="Image hosted by Photobucket.com">
The two yan daos..."David Tao" and "Tony Leung"...Zihao and Leon, Leon's doing the Tony smile...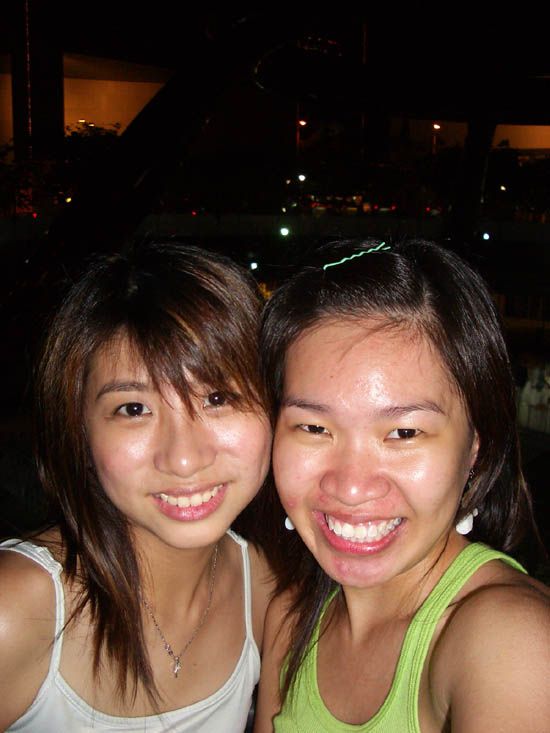 The blur dory, Doris and me...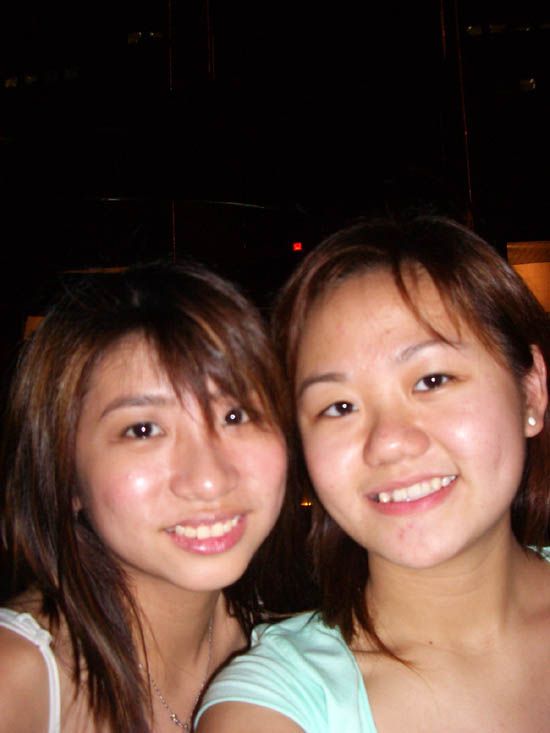 Gracie Grace and me...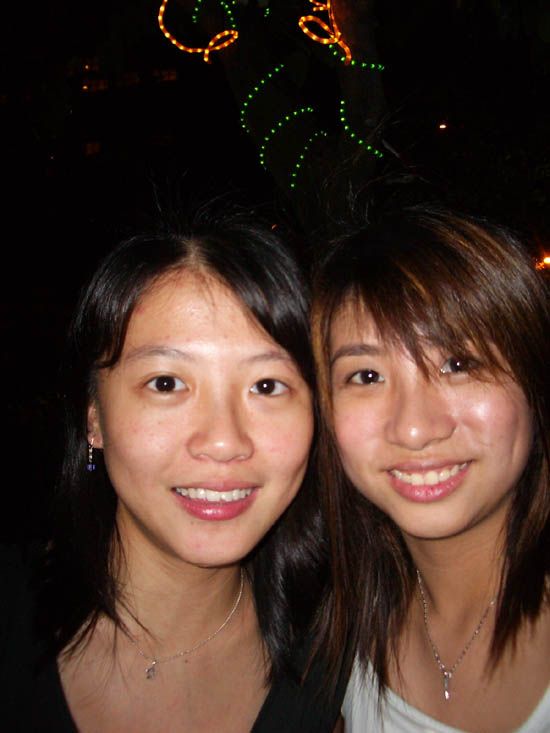 Sok Wan...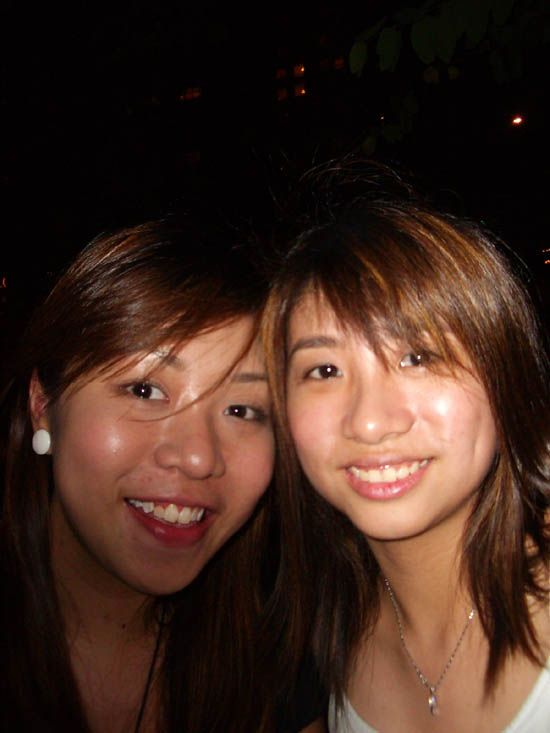 Jooe...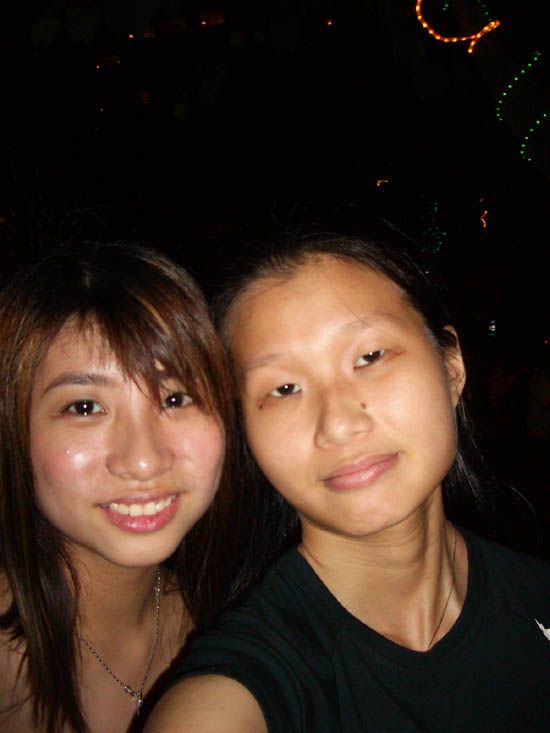 Yunwei and me...we call her "Cecilia Cheung"...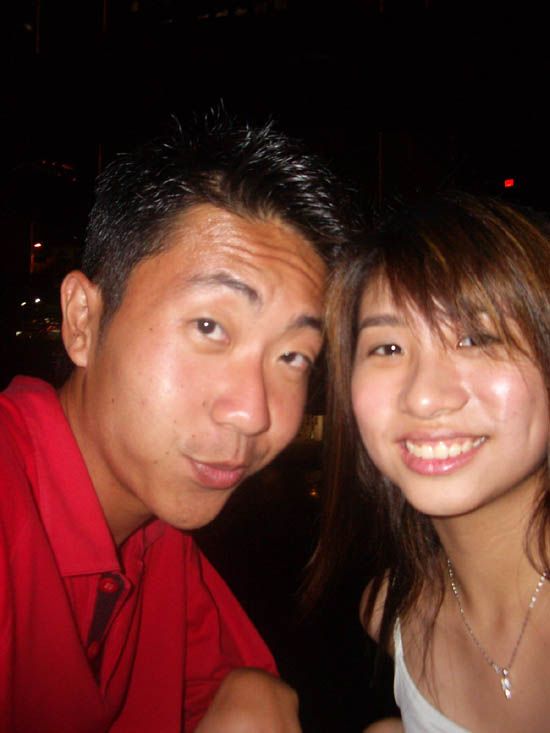 Leon and me...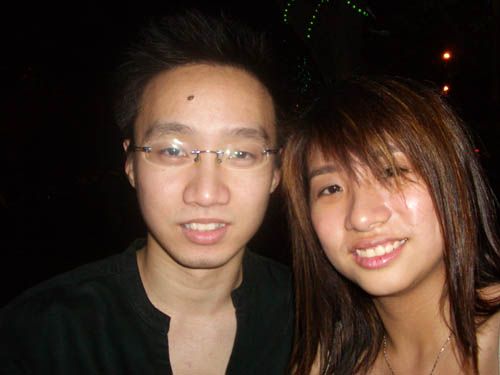 Hong and me...his name is Hsien Hong but we call him Ah Hong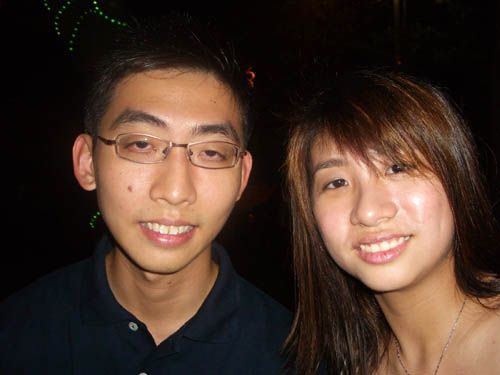 Mark and me...look at his sheepish eyes...

We then hurried to catch a cab cause Yunwei had curfew at 10pm but it was already 10+. That night, a lot of cabs were not available. We tried to call a cab but all cabs are busy or the line was busy too. A lot of empty cabs were either on call or dun wanna stop for us. Finally we managed to call a cab. So Leon, Yunwei, Zihao and me left first....I reached home at about 11.30pm...Damn tired the next day when I left for work...Monday gotta head to FileNet one more day to clear up some last work and then dinner all of us will be going to Seoul Garden at Jurong Point for dinner. Winston, Kim, Cass, Lynna, Oitrayee, Margaret us part-timers or temp staff Sabrina, Crystal, Wenhao, Wee Chin me and perhaps the new girl Marian will go for dinner together. I'll bring my camera for sure. Cause dunno when we'll see the some of them again. Hopefully Winston will treat us all. That will save us on $20...Later in the evening going to Xiaojuan's 21st birthday celebration at her house. July have so many of my f riends birthday...Rachel, XJ, Ivan, Jooe (June), Shane and today is my cousin, Kristin's bday too! I'm gonna burn a hole in my pocket soon....
Labels: birthday, friends, gathering
[x] Shireen signing out at
12:21 PM
Two days off from work...(Part 1)
Wow...haven't been blogging for exactly a week now. Been busy and coming back late the past two days. I took 2 days leave since Wed with the excuse of
school. Actually, I did went to school by 8am on Wed as I was the OGL during orientation. Quite fun being an OGL. I'll definately wanna be an OGL again next year. The shocking news I mentioned before is my ex-bf who is gonna study Econs & Finance in SIM-RMIT is in my OGL group. Yeap, he was shocked to see his OGL is someone he knew and very familiar too. I reached there early at about 8.10am, I had already saw freshies arriving there earlier than the council too. Adeline was late as usual...and we were given out the T-shirts. Non-council OGLs wore a green coloured T-shirt specially designed by Yunwei (talented designer realli! I even took a T-shirt meant for freshies back too!) and councillors wore the RMIT Council dark blue T-shirt. You'll see in the pics later...
While we were waiting for the freshies to enter the big lecture theatre, I took out my camera and took some pics with Huimin, Shane, Jooe and Adeline. Yunwei was helping out in the registration booth outside.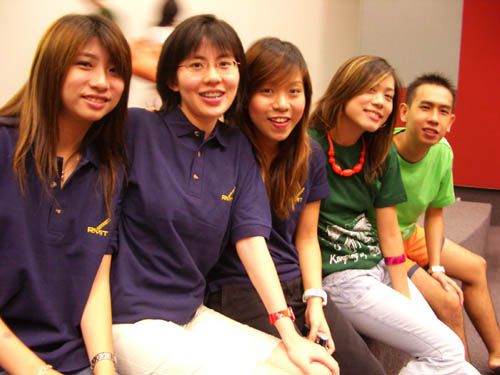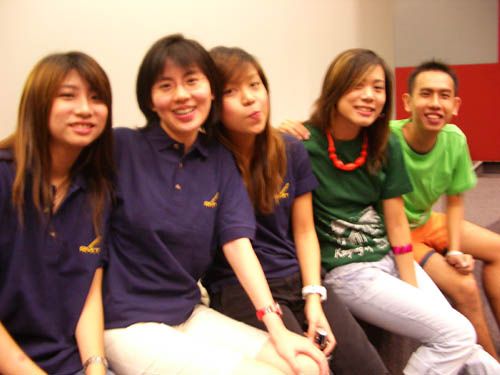 Well, at about 9.30am, we started the ice breaking game. I told Adeline to start the ball rolling. There were only 11 of us including us two OGLs which is damn pathetic. All who agreed to turn up stood us up. We had the lowest number of pple in a group so a few games, us OGLs have to participate. This sem's orientation games were far better than last sem when we were freshies. The first station allocated to us was Hopscotch. We were all numbered then the number called out is supposed to throw the toy to any of the nine boxes. Each box contained a task which each group had to fulfil three tasks in all. The first task was to all the girls in the group do a catwalk and strike a sexy pose in front of the camera. Of course, we did the catwalk but all of us did not strike a sexy pose. The second task was to call out numbers 4 and 11 to eat this long chewy sweet at the same time with nose touching each other. Adeline was supposed to do it with one of the guys but she was reluctant cause of her bf so in the end, the other games master, Michelle stepped in and asked another guy to volunteer instead. Luther offered to do this task with the other guy, Alvin...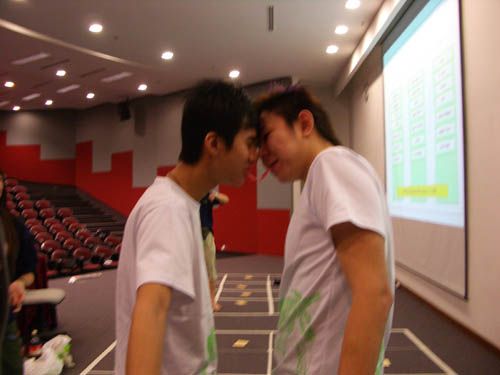 The second station was to get into three different circles of different size in the given time. We easily got the full 10 points for that station cause we had only 11 people thus we were on the advantage. Then the next station was to get blindfolded and put a cup on the mouth and passed the water to one another without using their hands. There was the help of the us two OGLs as The Eye. We had to direct them to pour the water into each other's cups. It was quite funny cause at the end of the game, the guys were the ones who gotten very wet. The next station was to get three people to jump skipping rope together the same time as a relay. Our group won again of course. So we escaped the forfeit of eating wasabi biscuits. Then the second last station was the Chap Teh. Where we are supposed to play with Chap Teh (the feather thingy u used to kick with your ankles), the rule is to kick three consecutive times u'll get 2 points each for each hit. We got 42 points in all plus a forfeit cause it went out of the circle twice (minus 2 points too!). We chose the forfeit and it was to eat three wasabi biscuits, the freshies told the OGLs to eat to show our sporty side. I dun take spicy so Adeline was so good she helped me eat it. In the end, she ate two and another person helped her eat the last one. Thanks, Adeline!
The last station was the most time-consuming one. It was called Sarong Wrap. When we reached there. There were two groups which haven't started playing. So whilst waiting, Adeline took out my camera and started taking photos.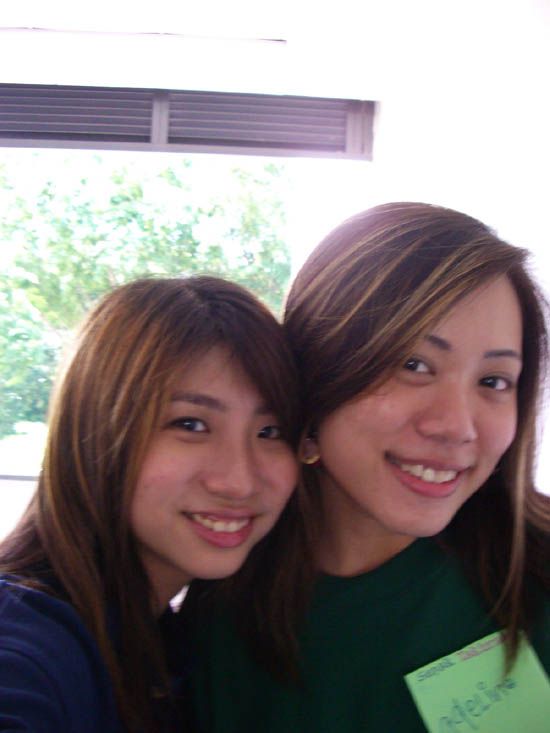 The last station we are supposed to wrap ourselves with the sarong and walk thru a series of obstacles. We compete with another group and we won them. This was tough due to the series of obstacles and under the hot sun with no shade. My polo tee was huge and big too for a S size. The last batch of senior councillors had smaller and much more fitting t-shirt cause they had XS....When returned to the lecture theatre. I realised we had forgotten to show them the library tour. Shucks, there will be a person waiting in the library to show them around actually. After going back to the LT, we waited for lunch time. Then Adrian got me to help out at the buffet to serve the students the food. The food sucks as usual. I had to wait for a long time before I can take a rest and have my lunch. Daniel (deputy head of events) he was quite nice he came over to help me out too and he tried to get a person to relieve me. He's a nice guy...
After lunch, we were waiting for the Grand Finale to start. So I took out my camera again and we started taking photos again.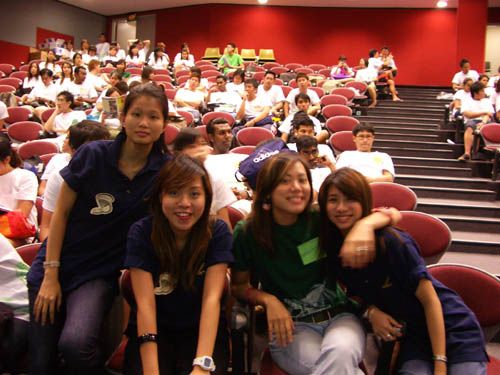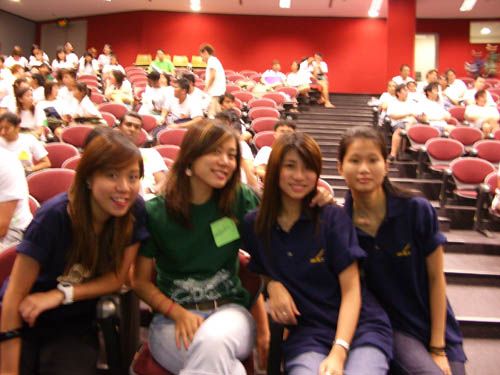 Jooe, Adeline, Me and Yunwei...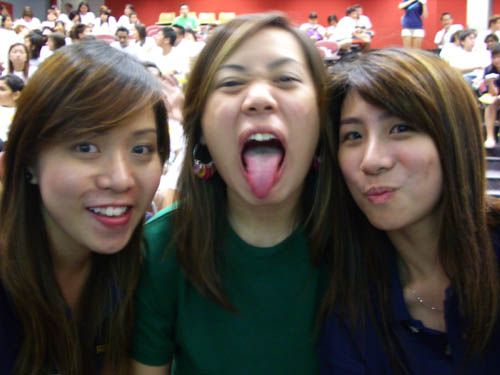 Jooe, Adeline and Me...I was not prepared for this pose...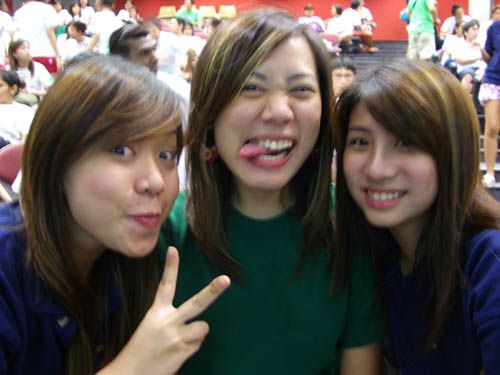 "The camera whores...."Adeline said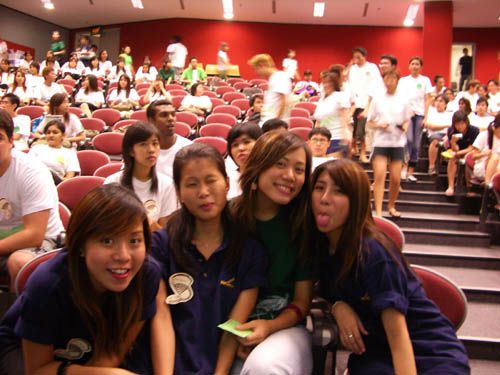 The cheeky Yunwei and Me making stupid faces ourselves....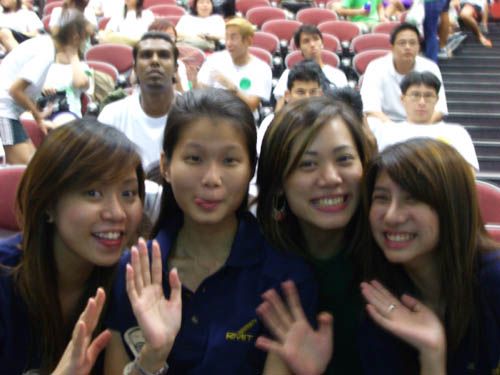 The Singapore girls...(SIA)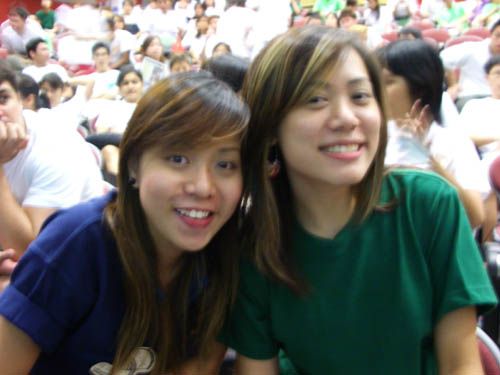 The two hot babes....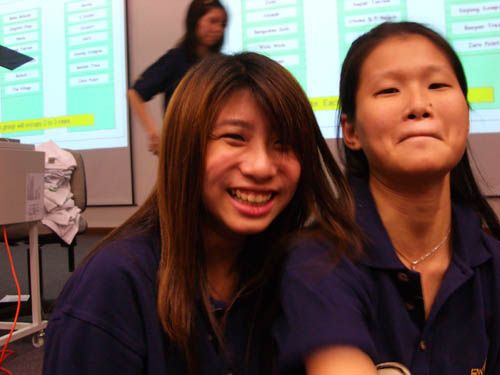 We were both not prepared for this shot for sure...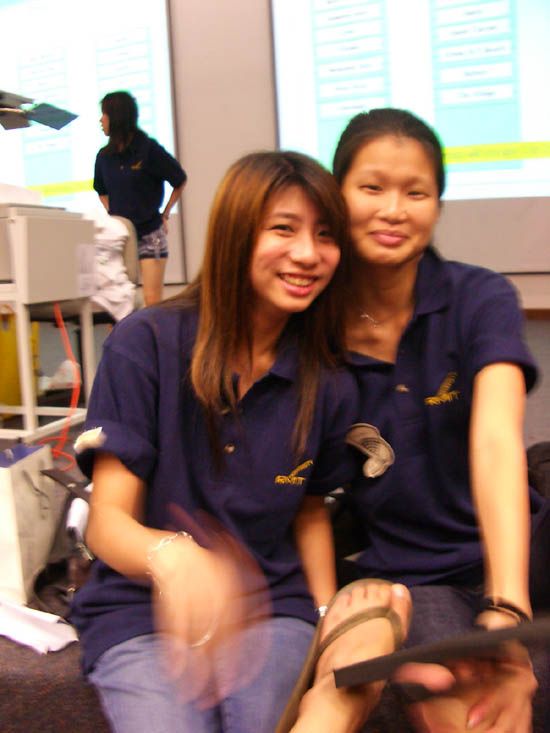 A better shot, but look that's Jooe's feet....!!!

Then the Grand Finale started. It was the Kampong Girls. The guys were to represent each group to cross dress as a kampong girl. As u might have guessed, I saboed Luther. Since seeing his other potential from the church retreat (he dressed as a Hawaiian girl, dancing "sexily" too), I thought he's the best candidate. Luckily he was sporty enough. I cannot dress him up cause the council was supposed to be one of the judges.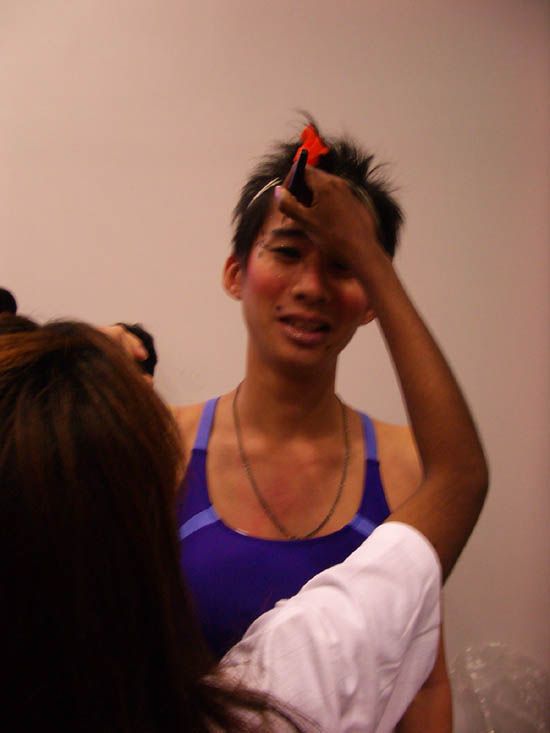 During make-up....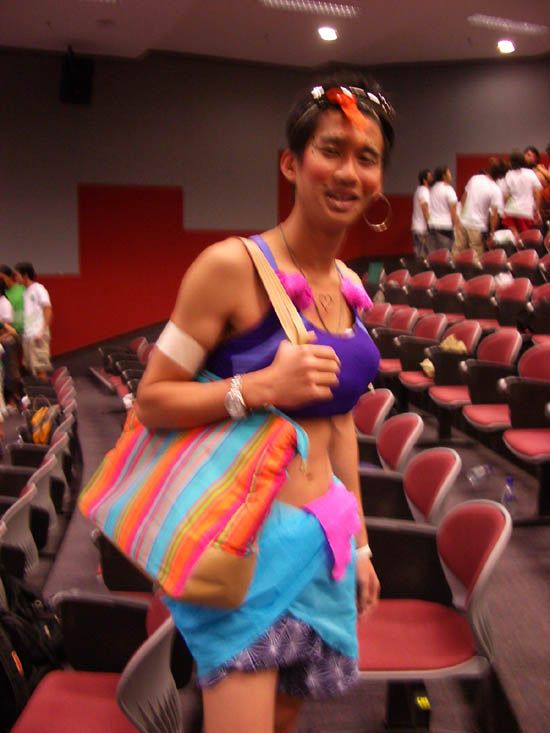 After the make-up...That's a girl's bag he's holding and swimming costume he's wearing.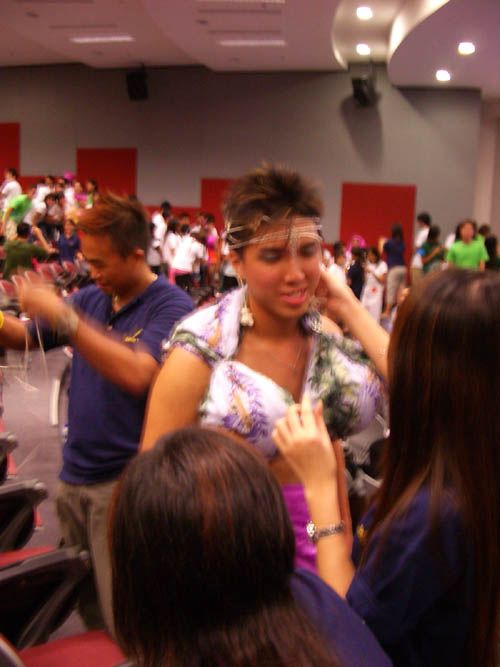 Last sem's Drag Queen winner, Kenny from council too...He's damn good!!!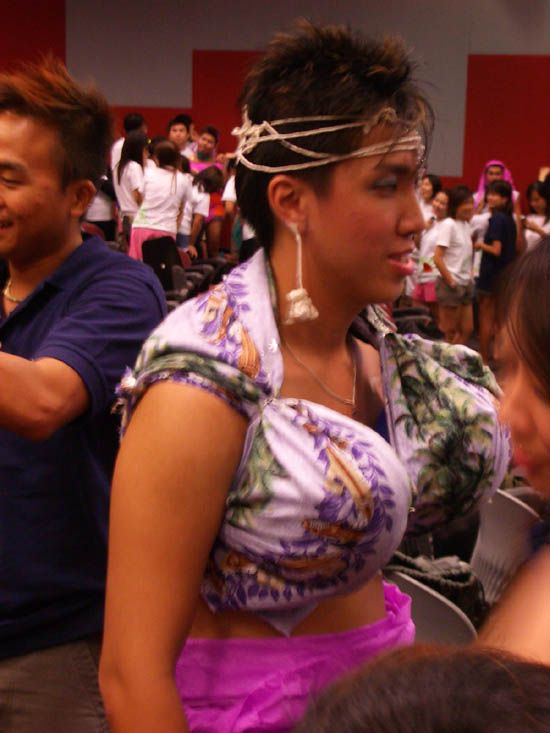 A close up...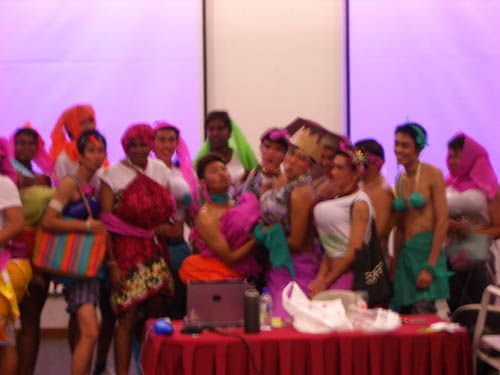 This sem's guys are all damn good and hilarious...The winner is that shortest guy who is gonna be my junior, he got my number so that he could contact me to buy textbooks from us...Looks damn diff before make-up

Then after the orientation, Len and Ah Hong came to school to meet us all. We went to Plaza Singapura for dinner and met up with Bernard there. We were supposed to give a surprise to Shane and Jooe to celebrate their birthday by buying a cake but in the end, we decided to celebrate yesterday.

The birthday entry will be blogged again tomorrow. More pictures taken from the birthday and from Yunwei's camera...waiting for her to pass to me too. What kind of surprise we've given to Jooe, I'll write it tomorrow. So we've celebrated Shane's actual bday and Jooe's belated bday yesterday...

Labels: council, orientation, RMIT
[x] Shireen signing out at
10:16 PM