If people have noticed, my previous post had cancellation in the 1st part. Well, that is because my wish of visiting Dempsey Road before its closure next year is not gonna happen. Because Ivan is down with flu, we had to postpone the plans of going there. I feel that postpone is never gonna happen after that anyway. I was very upset on Sat. He had smsed me in the morning saying he would like to postpone the celebration tonight. I was looking forward to the celebration tonight and such news had to befall on someone's 25th bday that day. I had tried getting him to still go for the dinner and won't stay long there, initially he agreed. But it was pointless when his friend, Andrew cancelled the booking at both restaurants. So my mood was super bad and I felt so down that day thinking my bday this year will be spent at home. I had already celebrated dinner with my parents on Friday, and I msged Mingli if she was free. But she wasn't so I cannot afford for another rejection, I called my Aunty Linda. I knew she will be free as she have asked me previously if I wanna meet her for dinner on my bday after she read my earlier post of my bday. So I'm really thankful that at least I celebrated my bday with someone.
But I am just so disappointed with my two friends.
One of them is my good friend, and the other is his childhood cum good friend which I also know quite well. And I am really thinking what Andrew sms me about. Between friends and birthdays, which are more impt and have the first priority? To me, I can happily say, if it's a close friend like Ivan, even if I'm sick, I will still go in order not to disappoint the bday person. That is my priority in life - friends. So birthdays play a part in friendship. I asked them how wld they feel if they were in my shoes? Happily looking forward to the bday celebration then on the day itself, someone say to u the plans is cancelled. How would you feel?
I told Andrew that they can never know how I feel cause they it have never happened to them but I received a msg from him saying "I can't believe you are saying this!" He have already cancelled the reservation. I cannot believe someone is actually telling you this on someone's birthday. I was already upset by the cancellation and what have I deserved to received such comments from someone who have already disappoints me that day? And I did not even receive a Happy Birthday msg from either of them that day but msgs that makes me so disappointed.
I know Ivan was okay with carrying on the dinner but shouldn't Andrew have asked for my opinion first before cancelling the reservation?
Anyway, my time with my auntie shopping and dinner have made up for the emotions I felt earlier. They haven't msged me since. I have only sent out a Happy Birthday msg via MSN to Andrew earlier.
Though I was still disappointed with his msgs and their attitude,
I still wished him that cause he was a friend to me and I dun want another person to feel the same as me on my bday. My auntie treat me dinner at Spagheddies and I treat her to coffee at Coffee Club after that. Both of us bought the same cardigan and colour at Far East that day. I wore that yesterday at KTV. I forgot to take photos on my bday just the 1 year old birthday of my cousin's son in the afternoon.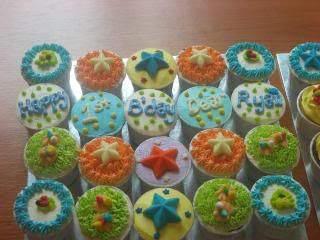 Concept taken from my sis's wedding cake idea...It's $2 per cupcake...
On Sunday, it was a belated birthday celebration with my church pals. That was the best time I had with my friends for my 25th bday this year. They were great pals! We went to Swensen's for lunch at Crown Prince Hotel. They ordered a Birthday Firehouse ice-cream. (It initially came without the candle and fire. We were like asking, "Where is the Fire and the House?") Haha...Then it was KTV at Crown Prince's Partyworld. Took quite a number of photos. They bought for me a $20 Diva Giftcard and a $50 Topshop giftcard. I still have the $40 giftcard which Ivan gave me for Xmas present. I can buy $90 worth of clothes now from Topshop...
Birthday Firehouse...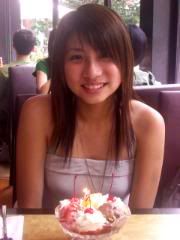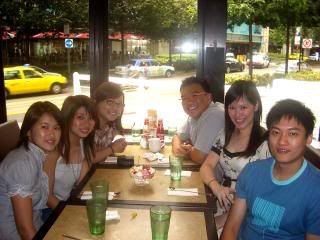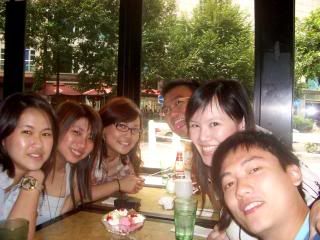 My pals from church...From clockwise (left): Mabel, Me, Kailin, Josiah, Rachel and Vince...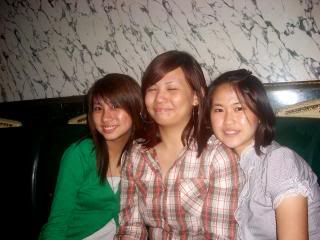 Kailin and Mabel...
Rachel joins in...
That's the cardigan I bought together with Auntie Linda. The green is really bright and outstanding compared to the rest...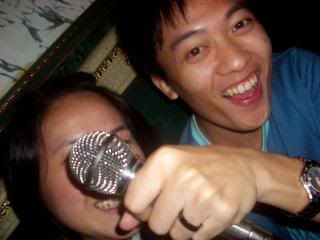 Both of them just cannot get along...Good thing he's Rach's bf...
All my other childhood pals from QLC...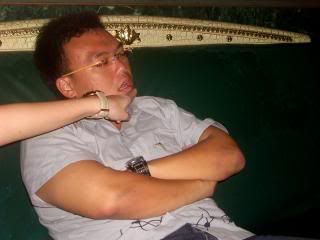 Oops...someone doze off whilst others are singing...
Kailin and me, my auntie and her mum were classmates so we knew each other way back when my auntie used to bring my sister and I around for her class gatherings, they always bring their kids along so my auntie was single, she brought my sister and me...
After Kai left for work, Rach, Mabel and me took together...
The couple were fooling around with the chips...They look like Vampires...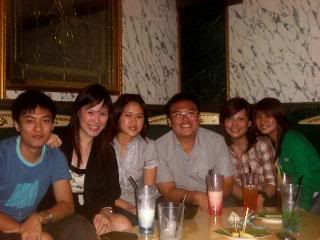 This photo was taken self-timed. Good skills eh? It looks as if there was someone taking this shot for us...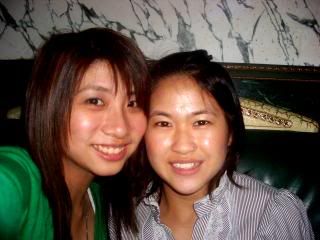 My solo pic with Mabel...She's only 19 fyi....
Jo who is also same age as me but I'm still older than him by more than 1 month...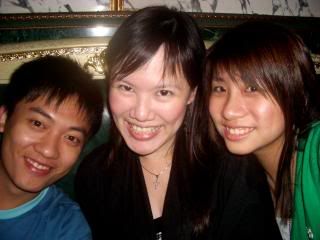 Last but not least, the three of us. I seemed to be the third party here...oops. Had wanted to take a solo shot with Rach initially....
Labels: birthday, church, friends, KTV
[x] Shireen signing out at
10:08 PM