Let the pictures do the talking. I'll explain the pictures too...
Chinese New Year Eve - 28 Jan 06
Look at the food spread. My family is considered huge. I have three younger cousins who had to sit in the kitchen because the table could not sit anymore people.
Look at the same food every year...Bamboo shoot soup, preserved vegetable with duck soup (everyone's fave!), deep-fried prawns, two different type of vegetables normally and nuggets. This time we just did not have cocktail...
Then I brought my cousins downstairs to play light sparklers...
This is the whistling sound sparkler. It gives a sharp sound that last for like 2 - 5 secs when lighted up...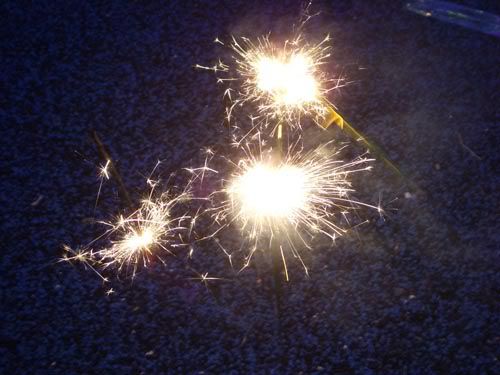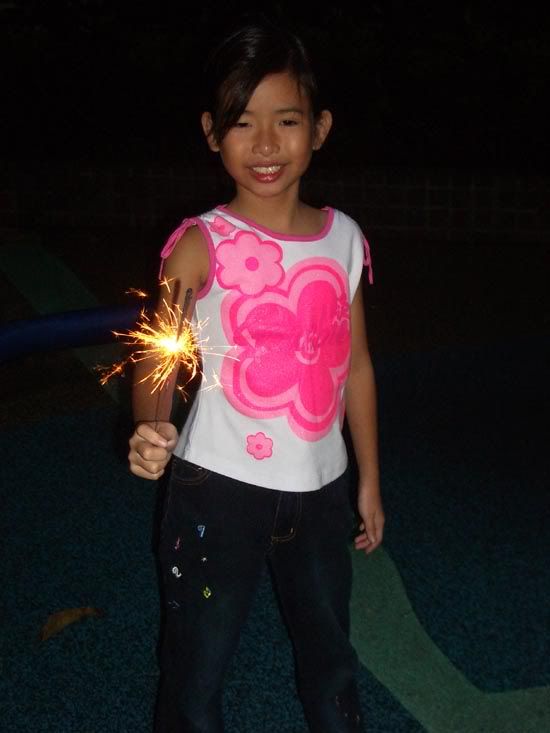 That's my youngest cousin, Perpetua. She's so photogenic. There'll be more pics of her later...
Chinese New Year Day 1 - 29 Jan 06
I missed church today cause we were all so tired. My mum and I slept late previous night. My sis had to still drag herself out of bed to go to church. Anyway, she's going with her bf so we will not go with her to my grandparent's house after church.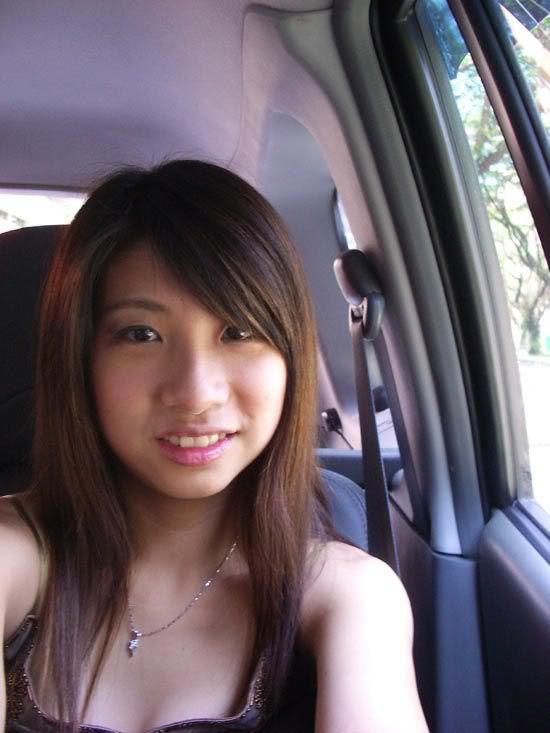 Before setting off to my grandparent's house, waiting for my dad to drive off. Was feeling bored so took some pictures in the car...
My mum and myself...There's my brother peeking into the camera too...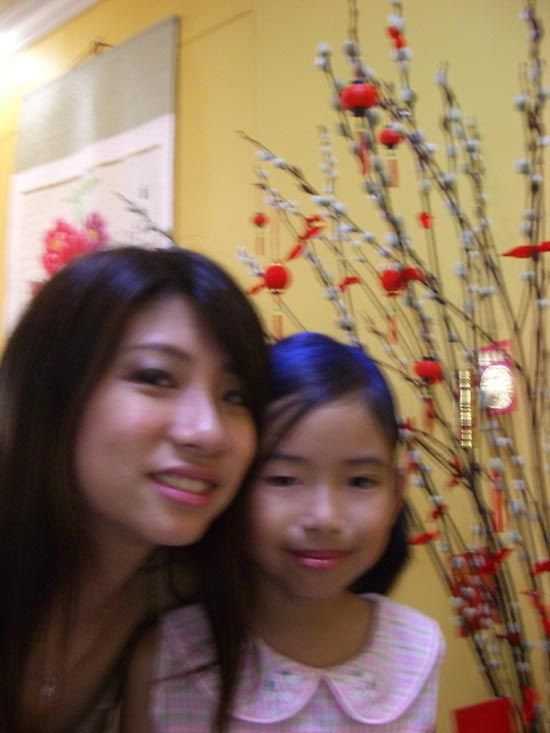 Uncle Johnny's family was the earliest to reach there so I got Perpetua to take photo with me together...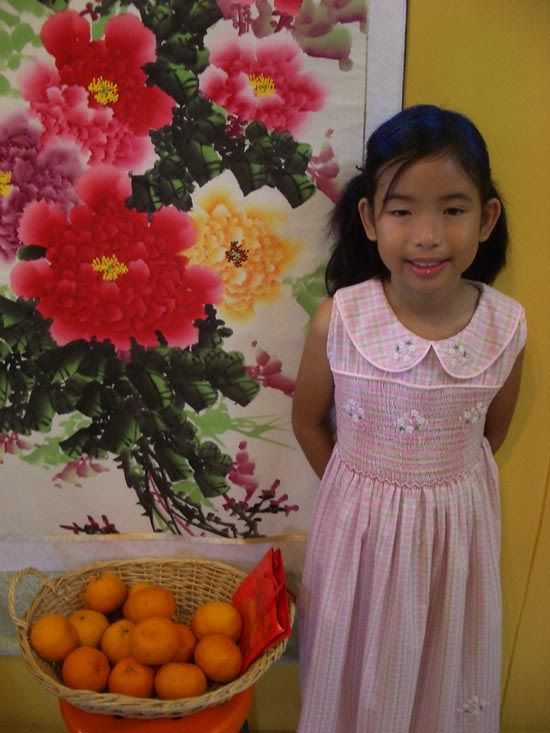 She really likes to pose for photos...
Look she have blue hair...it's temp hair spray colour...
I took one shot with my grandma, whatever she says my mum will follow and listen, even my increase of allowance in the past...
Look at the CNY atmosphere in my grandparent's house this year...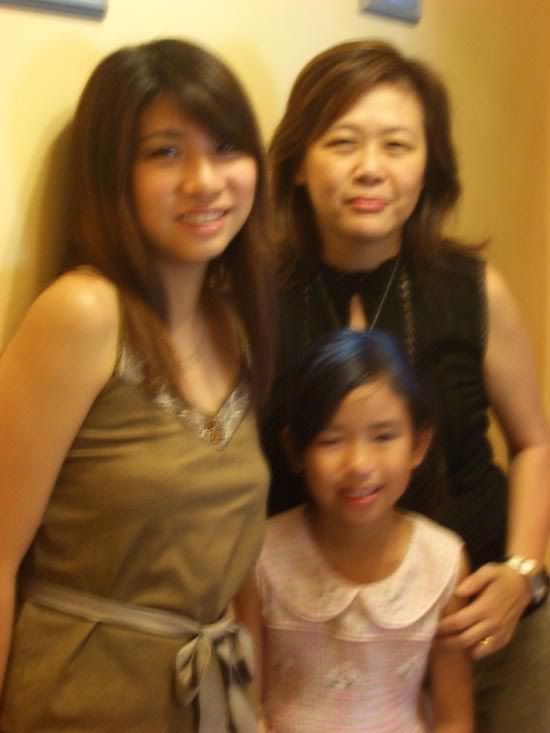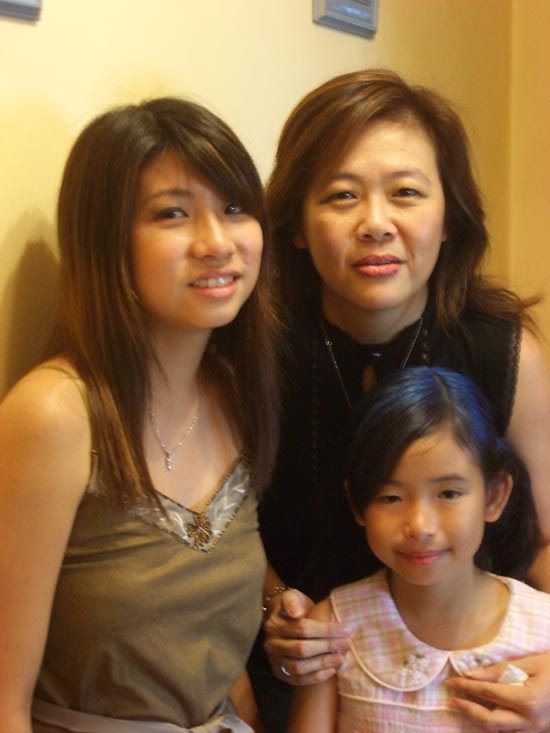 My youngest auntie and youngest cousin...
Chinese New Year Day 2 - 30 Jan 06
My family except my brother went to KL today till tomorrow (30-31 Jan). We left our home at 6.45am and went to Taman Jurong McDonald to buy Mac breakfast to eat along the way. We reached KL (my grandma's hse) before 12 noon. We stopped by Yong Peng, Melaka, Seremban and the toll exit of Yong Peng for toilet breaks. My uncle drove guided us to Parkson Grand Mall and we had Secret Recipe for lunch. It's so much cheaper there. I had mushroom sauce chicken which costs RM11.70 which is same price as Singapore but when u convert it, it's much cheaper. Even for petrol, dollar for dollar is the same price but after conversion it's much cheaper in Malaysia. After lunch, uncle drove my mum, my sis and I to MegaMall at Mid Valley. A lot of shops were not opened but my sis and my mum still managed to buy stuffs for themselves. As for myself, I was down with running nose that day and I was feeling very grouchy and sleepy prob due to the runny nose so I did not have the mood to really see things. We left the mall at 4.30pm and headed back to granny's house to rest and get ready for dinner as it was Granny's lunar birthday that day. I took some flu medicine. We left the house at 6.30pm and headed to Auntie Elaine's house to guide us to the restaurant. The restaurant is somewhere in Petaling Jaya a seafood restaurant with many people. Their seafood is very fresh but food not that nice. There were 11 of us and we ordered fish, prawns, Lo Hei, noodles, vegetables, tofu with otah and dessert was red bean with sesame tang yuan in it. After dinner, we went to Auntie Elaine's house. While on our way back to granny's house to get our bags to go to the apartment to rest, it was 10.30pm and my sis and I fell asleep in the car. We had the apartment all to ourselves.
The next morning my dad came into our room to wake my sis and I up at 7am. We left the apartment at 7.30am to pick granny up to head to the market for breakfast. We left KL at about 8.10am. We reached Tuas expressway at 12 noon and there was a major jam all the way to the checkpoint. It took us almost an hour to clear through the customs then we went to the coffeeshop near our house for lunch and headed home. All of us were dead beat.
Here's some pictures we took during Meifang's birthday before. I din blog here much about it. But it was at Costa Sands Sentosa...
Meifang and me...
Lina, Meiling, Meifang and me...
Meiling wanted a stupid look of being boxed...
Us kissing the bday gal...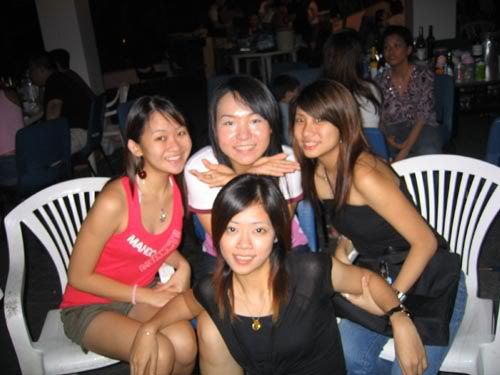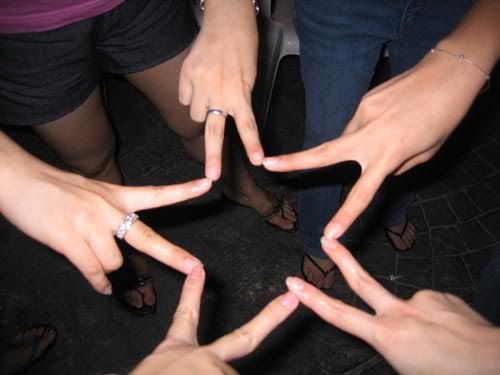 The star made up from our fingers...
We are really bored so we just take such shots for fun...
Charlie Angels 3...a fourth member...
Do we look sexy enough? I did this pouting lips action first then Meiling thought it looked cute and nice so we all did it together...
From Hollywood we move to Bollywood....Ai yah, no trees, pillars also can right?
Then we move to Taiwan to star in Meteor Garden 3...We are the new F4 but no Shan Cai...Look it's a bird, no it's an aeroplane, nope it's shooting stars...heh heh
Poor Zhihao kena called to squat and let us pose this way...
Btw, I saw this video on a website. It's very funny, should go and see it...It's T3 cum Passion fo the Christ spoof...
http://www.youtube.com/?v=TWuq-kjlQHA
Labels: birthday, CNY, friends
[x] Shireen signing out at
4:25 PM