Synopsis:
"It will be a romantic comedy based on a best-selling manga written by Yumiko Suzuki. The story is about a chubby and plain young lady who undergoes plastic surgery which makes her drop-dead gorgeous. Cast in the lead role of Hanna is Kim Ah-joong (When Romance Meets Destiny) and Joo Jin-mo (Wanee & Junah, Real Fiction) will play opposite her as Sang-joon. Other familiar faces in the cast include Kim Yong-geon (Mr. Butterfly, Please Teach Me English), Seong Dong-il (Running Seven Dogs), Im Hyeon-shik (See You After School, YMCA Baseball Team), Lee Han-wi (April Snow), Lee Won-jong (This Charming Girl), Kim Hyeon-sook (Unborn But Forgotten), and Park No-shik (He Was Cool). This movie is a Zenith Pictures/KM Culture co-production." -------- S Line 2006 Website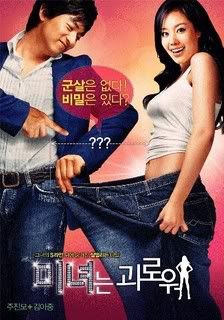 Reviews:
I love this movie a lot. It is one of the best Korean movies I've loved and enjoyed so far. This movie is not only hilarious, it is also touching. I have heard girls behind me were shredding tears (from all the sniffing of the nose and all). But the storyline was rather predictable though. It shows a resemblance to HK's movie starring Andy Lau and Sammi Cheng, Love On A Diet storyline and Lizzie McGuire. But overall the humour is there and the storyline and dialogues are rather touching. I was disappointed though that the ending wasn't much of a happy ending as everyone would have hoped for typical Korean dramas style and the movie did not feature more of Hanna's singing Live on stage in the movie.
I have to comment though about Kim Ah Joong's singing. Her voice is quite good. Initially I had even thought that it was not sung by her. But after seeing the soundtrack, indeed the songs were sung by her except for the voices where she was being Hanna, the songs she sang was actually by Youme. I have uploaded the main theme songs from the soundtrack here too. Kim Ah Joong is really pretty, when she first transformed after her surgery, I believed she had little make-up on her face but she looks pretty enough but this show has made us think that pretty Koreans we see may not be natural beauty. They practically show the passer-bys or fans looked really ugly as compared to her. As if it was to show us how real typical Koreans look like, thus this movie may bring some negative feedback to people opposing plastic surgery as "fake beauty" but to me, this is all for entertainment, never take movies for real.I do not think the leading actor is good looking. Initially when I first saw him in the beginning when he wasn't smiling, I had thought he's not bad looking, but afterwards, the more I see him, I don't find him that good-looking.
Ratings:
Movie Rating: 5/5 stars
Humour Level: 8/10
The Soundtrack:
Labels: movie, reviews, synopsis
[x] Shireen signing out at
9:59 PM