First of all, had to change the background music so early before Wed is because since National Day is coming so might s well change the music to National Day ambience...Help Taufik and Rui En promote their song...haha
Yesterday was my performance night, The LORD Is My Dwelling Place. Everyone praised us for a great performance. It officially started at 8pm but we delayed a bit like 5 mins. I got the wrong skirt to wear too. Everyone's supposed to be in black, I wore a grey skirt instead. Borrowed the skirt from my sis. All the while I thought she meant this skirt and all the while I was eyeing on this skirt when she meant another one which is black. No wonder I was wondering this skirt is not black at all, how come she kept saying it's black. Will show the pics later. Will take some time...It was a round of applause too. A guy and Pastor Soh even stood up while clapping at the end of the show. Just like the last time when I went to watch Sound of Music musical.
Today went to church as usual to teach the Sunday School kids. There were two new students, Jasper and his 4 year old brother, Jeffery. The kids were quite out of hand today. But I always have my way. Just that they are harder to concentrate when I'm teaching the lesson. Then after church, I went straight to Sentosa. The interchange was packed with tonnes of pple. The queue was bloody long cause there was no bus. After a while, four buses came, I managed to got on the second bus. And happened to overheard the person behind talking on the phone about student council, so I turned behind and saw someone from my semester. He recognised me too. So we went to Siloso Beach together. There was so little people. And Jooe and Yunwei went back home already. Drained out from yesterday's games. Most of them including the freshies went home earlier. What's left are about 10 -12 senior councillors (including me) and about 11 freshie councillor. The sun was scorching and even the sand was piping hot. When I finally settled down. Only played one game and I did not even had a chance at it. Hamburger Game, where everyone is given a coloured ribbon, formed into two teams, whatever colours mentioned are supposed to stack on top of one another according to the sequence of the colour. I was the third yellow. Only until 2nd yellows was called only so I did not had a go at it. But my team still won overall. So we gave them the forfeit of the whole group stacking on one another have to sing 'Majulah Singapura' together. Damn funny...Then they started playing the Grand Finale game which is only for the freshies. Damn sian only been there for about 2 hours and never really played the games. Guess having a day of games is better than having to stay overnight cause everyone too tired. And I did not feel it was fun cause I only saw two games being played today.
Finally able to post up the pics from MIngzhong's bday...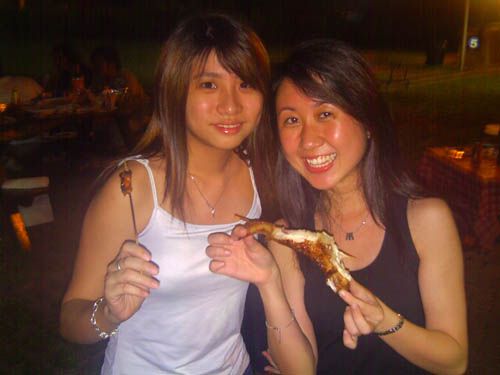 The first pic I took was with his friend, Adeline (the photographer that night too), she wanted to take with me...while I was eating the satay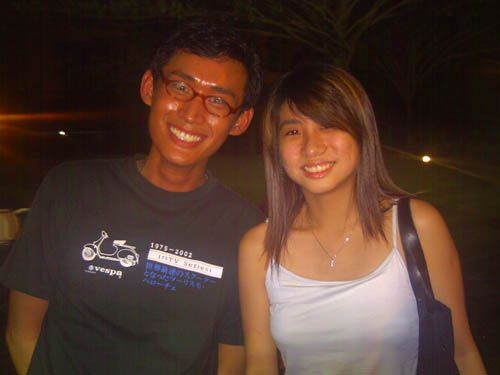 Then took with the bday boy himself...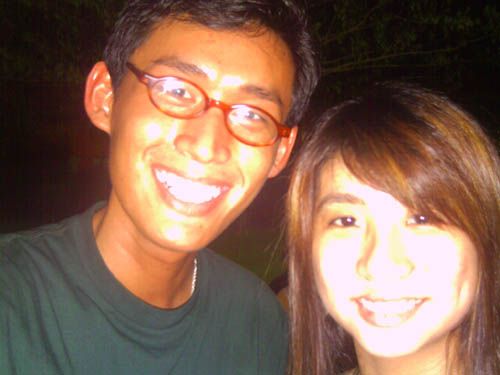 Took by ourselves...but my finger accidentally blocked the flash a bit so colour turned out like that bright...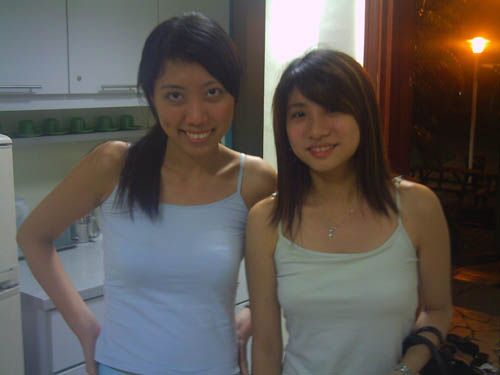 He insist I took with his gf, Sharon...quite pretty gal, lucky guy...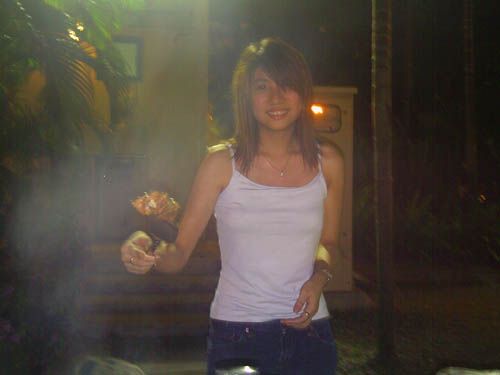 Adeline and Mingzhong insist I pretend that I did some work (BBQ) so I just grabbed tongs and lift the chicken wing up...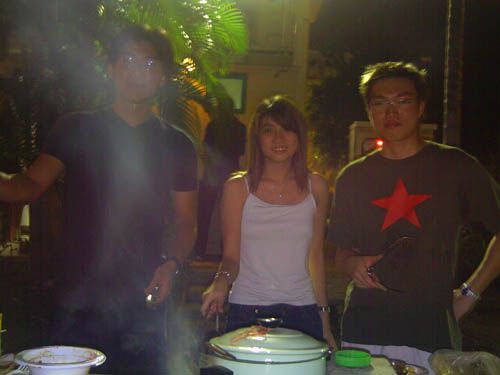 Took with his two friends, sorry I can't rem what are their names actually...they did all the BBQing that night...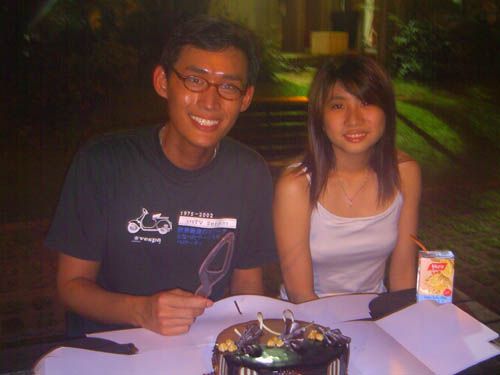 Then his cake-cutting session...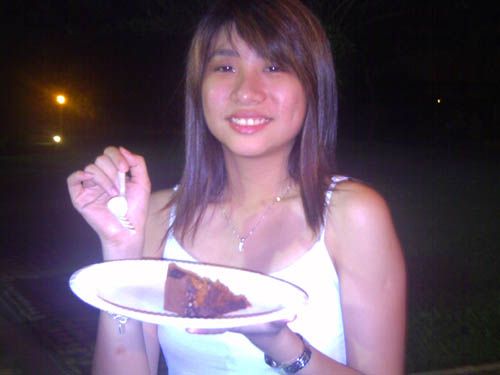 And while I was eating the cake....
Labels: birthday, church, council, RMIT
[x] Shireen signing out at
7:47 PM
Unexpected event...
Now it's an unexpected twist of event that is going to happen to me. A once in a lifetime event for me which never in my life I would really partcipate before or even get a chance to get nominated to join this. It's a pageant contest held during my RMIT bash at Gotham Penthouse. Can't believe I'm actually in this pageant contest. The winner will stand to win a Motorola brand new handphone (new model) and the rest will not walk away empty handed, will go home with consolation prizes. Just went for the photo shoot just now and saw the other contestants. There are 5 gals and 5 guys in all, including me. The drag-queen for this sem's orientation, Gary is also one of the contestants and he's gonna be my partner. Good thing I already knew him from buying textbooks from me earlier, and my best friend is also in his OG so that's where I knew him. This contest is based on voting so I should get more of my friends to go to support me. When I saw the other gals, I felt like backing out. I felt that they were really not only taller than me but has a better figure than me. Except for one girl, Priscilla, think she's the same height as me. This contest will really allow me to know more friends. In fact now I understand how the contestants in Project Superstars can become friends so fast and easily. Now really experienced that. We all actually joined for the fun of it. So even if I did not win, at least we'll win something. The other guy contestants were not bad too. If only I get to pair up with someone I do not know before then it'd be a chance for me to get to know other guys. So the photo shoot went on smoothly just now with us all wearing white. We took individual photos then a group photo which I really felt like we are really gonna be on magazine. The photographer was a new freshie councillor who is the official photographer for Juice magazine. He'll send me the pics...
There will be two outfits that night. The nerdy look which clothes will be sponsored by P.O.A. and the other is formal wear (gown) which have yet to be confirmed of the sponsors. We will be walking out with the dancers from DreamWerz (UOL) and gotta do some catwalk and then Q&A. Last year they had questions which people answered "World Peace". Haha...There will be a make-up artist to help us do the make-up too for free. The only problem is the hair styling, shoes and other accessories will not be provided. Sounds exciting eh? The bash will officially start at 8pm and pre sales tickets selling at $15 whereas after will be $18. Interested can leave a message here...
Labels: Bash, council, pageant, RMIT
[x] Shireen signing out at
8:13 PM
Busy semester for me...
This whole semester will be a busy year for me. Not only in school but also in other things like I'm working and studying at the same time and church events coming up. There are many events in school that is upcoming which involves council to organise and help out. The very first event that is coming is the Initiation Day held in Sentosa on 6th, 7th August. I got a performance in church on 6th and gotta teach Sunday School on 7th and for the whole month of August so I gotta go there only after church. I actually badly would wanna go on both days cause on on Sat night, the activities are better and more fun. Then the next event coming up is RMIT Sports Day held at Temasek Poly on 11th August. I'll be taking charge of Captain's Ball. After that will be the RMIT Bash held at Gotham Penthouse on 16th August. Actually wanted to ask Jo they all, but it's on a weekday so I doubt they'll be able to go anyway. So I guess only RMIT BBBA students would go only. The club will be opened to public after 11pm, but who will go clubbing on a Tuesday night? Wed night may be possible for ladies' night but for tues, hmm...I doubt so. I'll be in charge of reception, collecting tickets and our theme is Nerds so I guess I gotta wear the plastic black frame glasses without degree and tie up two pony-tails. Should be quite fun....Looking forward to it.
At first I was supposed to work perhaps twice a week (Mon, Tues) but now realising got two assignments and one marketing project, I'm a bit worried. So I have decided to just decide to work only once a week. One assignment is for Accounting (the one I had to repeat) and the other is for Commercial Law. Sigh...So I'll tell Cassandra tomorrow. Really feel bad about it but studies are more important...Went for Mingzhong's birthday at Chevron's yesterday night. Took a few pictures with him and his friends. His uni friends were a bit anti-social. But his another group was much friendlier so I at first felt uncomfortable staying there for long. But one of his friend, Adeline (photographer) and his two other guy friends talked to me. Will upload the pics here when he sent to me. The chalet was quite big actually. Bigger than Costa Sands at Pasir Ris and East Coast. Only $150 per night almost same as East Coast.
Went to watch The Island with Caihui today at Lot 1. Took leave today cause thought I was staying at chalet on Sat for Initiation Day so thought Monday I'll be able to rest and sleep cause normally pple won't sleep in chalet. In the end, I gotta go back to work tomorrow. I'm selling the Bash tickets. Anyone interested to go to the bash, let me know how many tickets you want. Tickets this week will be selling at $15 and after next week onwards will be $16. There will be a pageant contest too....can't wait for it...
[x] Shireen signing out at
9:07 PM