Ichiban Tei

Address: 60 Robertson Quay #01-13 The Quayside

Tel: 6733 3923

Price Range: $11-16

A Must-try: Ramen

Reviews:
Haven't been doing food reviews in a while but I must recommend this one place I went to. For Ajisen Ramen lovers, you'll surely love this. My dad heard from friends about this place recommended in the newspaper. It is at an affordable price (if you can afford Ajisen, you'll afford this!) and it is opened by a Japanese and even the cook is from Japan. Quite a lot of Japanese go to this place as they have probably heard of this same name in Japan too. The ramen noodles is different from Ajisen and the soup base is different. According to a friend who have been to Japan, he said that it is nice and the ingredients used here is really similar as in Japan. They have bamboo shoot in the soup ramen. Ajisen uses fish cake. And the soup is less oily and the taste is good. There is MSG of course cause I feel thirsty after a while.
The decor there of the restaurant is very Japanese style. They hang those wooden planks all over the walls with Katakana words of their dishes from their menu. They also have a wide range of different sake there too. I went there twice and I have tried their Miso Chasu Ramen and the Chasu Men there. The soup is different and the meat is lesser for Miso Chasu Ramen cause they focus more on their soup. But both are nice. Their chasu is better quality and have less fat compared to the chasu in Aijisen. The two ramens costs $13 each. Their service is rather fast too and the water, chopsticks and serviettes are already on the table so we can take it ourselves. The water is normally in a jug and it's cold so we can refill it ourselves but they shouldn't charge us for the 10% service charge in this case.
Their other recommended food is Tan Tan Men, Chasu Curry, Seafood Ramen, chicken salad, etc.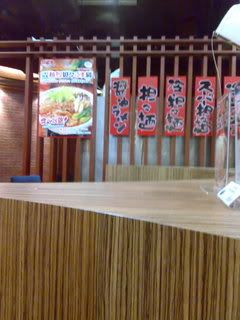 The interior of the restaurant...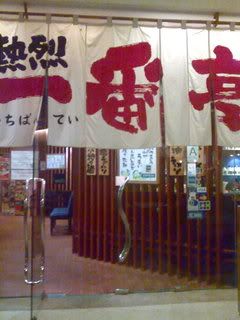 The exterior oif the restaurant..In Japan, the curtain will be removed and placed into the shop when it is closed. This is common for each and every restaurant in Japan.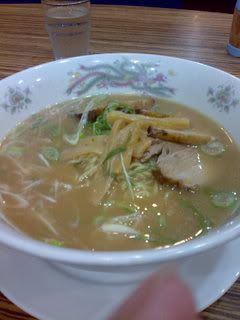 Chashu Men...
Tonkatsu Chasu Ramen...
Ratings:
Food: 8/10
Price: 7.5/10 (1 - Very Expensive, 10 - Very Cheap)
Ambience: 6/10 (Gives a rather Japanese feel except they should play Jap music instead)
Service: 7/10 (Quite fast and efficient!)
Labels: food, restaurants, reviews
[x] Shireen signing out at
2:51 PM
Xmas Eve & Day....
This year's Xmas eve was rather boring for us. Jo had already booked tickets in Vivocity for National Treasure at 10.30pm for 18 pax. He had asked his Youth groupies along together with my gang of Rachel, Vince, Mabel, Jo and myself but in the end about 25 people wanted to go so we will need to smuggle in at least 5 people which I don't really think we can smuggle them in without people noticing. They intend to pull up the handles and sit in the middle there between two seats. After some discussion, Rachel, Vince, Mabel and me decided to give up our seats for the youngsters. They consists of ages 10-18 but mostly were still in Secondary school. Then Jo felt bad about us having to sacrifice our tickets so he gave up his too. In the end, we ended up thinking of where to sit down and wait till their movie ends. We had thought of going to St. James as Mabel haven't even been clubbing before so we thought we can bring her experience it for her first time for about 2 hrs but we ended up in Gloria Jean's. We had some hilarious fun time chatting there and Mabel and Jo definitely made us entertaining by bickering non-stop and then Vince also joined in.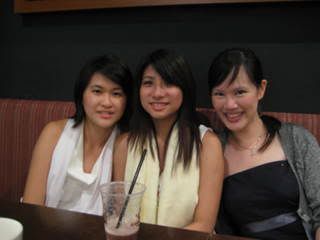 Rachel, Mabel and me...

Mabel and me...
After we waited for their movie to end, two people ended up staying with us. We had wanted to head somewhere for supper in Vince's car but in the end, there were too many people to fit into one car we ended up standing outside Vivocity and Harbourfront for about half an hour deciding where to go. Finally we went into McDonald's and had supper there. We all left and headed home at 3am.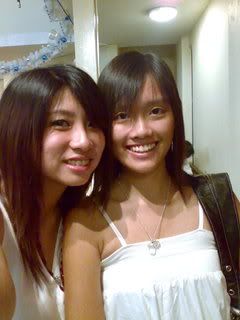 My cousin, Kristin and me were in the Chorale. This was taken after the service...
My fave student, Eunice. I won't be teaching her in 2008. Still got one more year for her to go before she reaches Pri. 1...
Christmas Day...
As usual, Christmas Day was to be celebrated at my grandparents' house in CCK and our dinner is always BBQ ever since three years ago. My aunty Linda has always been Santarina, the person who distributes the presents from the big Xmas tree. She has decided to step down and pass the hat over to me. So it is my responsibility now to lead everyone in caroling and presents distribution. We have guitarist, Jerome to play the carols for us. After this, we all headed downstairs to the same BBQ opit and started bringing the food down to start the fire going. One good thing about having a BBQ session with own family and relatives, I get to have the food straight and ready to eat. I just have to help in putting the raw food on the skews and pass to the "cooks"...
Labels: church, friends, gathering, Xmas
[x] Shireen signing out at
1:12 PM