Day 2:
We set off at 8.30am on Sat for the 4WD and Pinnacles Tour. A huge 4-wheel drive Bus arrived and picked us up. They had to stop at another stop to drop off the people for Margaret River Tour and then picked up the rest of the passengers for Pinnacles Tour. The tour guide, Steven was very friendly and amicable. His commentaries are good and we really paid a lot of attention to it. We had to travel a half an hour drive to Caversham Wildlife Park to see kangaroos and koalas. We even passed by the Swan River and Swan Lake. It was huge as it linked from Swan River near the city area to Perth Lake which is down East Perth. We passed by several vineyards too while on the bus.
Caversham Wildlife Park
We managed to see the koalas home and even get to go up close to touching it. It has always been my childhood dream to carry the koalas as I have seen in the dramas and on the itinerary. So I wouldn't mind if I had to pay to carry it but in the end, we were not allowed to carry it this time as it will frightened them easily. So we can only touch it by using the back of our hands and stroke it only on the back. So disappointing but still at least I get to touch it and take a close up with it!
This one woke up and was walking towards the trees. They eat eucalyptus and we saw such trees in Tree Top Walk and even smelled it everywhere there.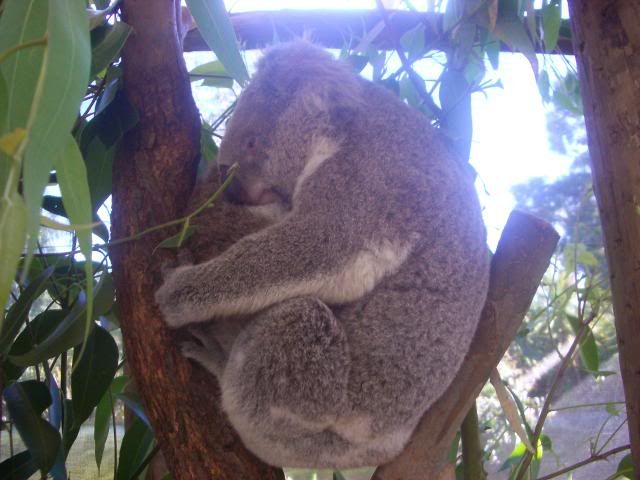 Look, this one had a baby koala in front...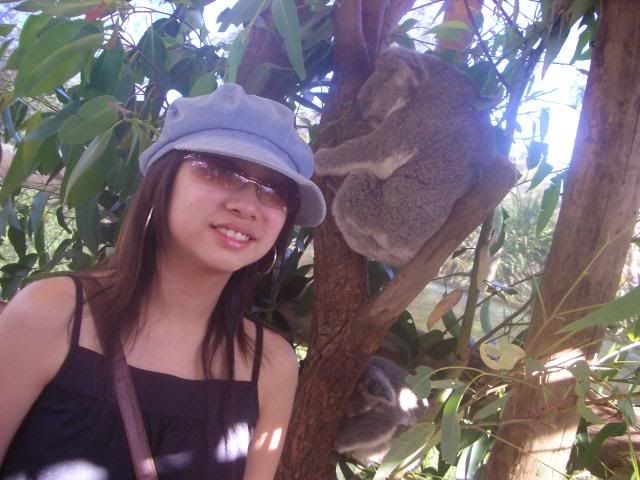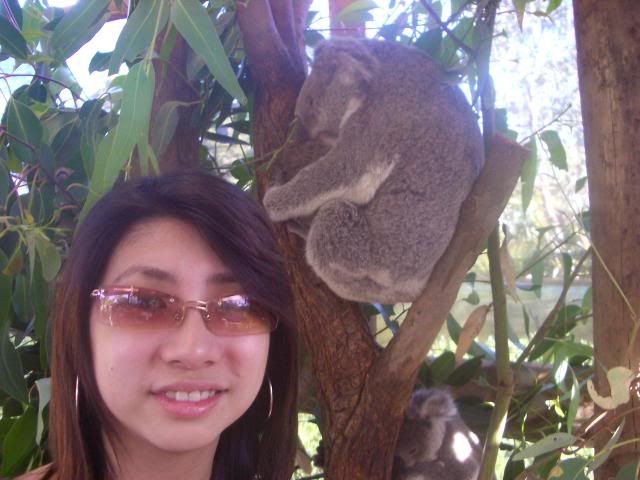 We even stopped by a while to take some shots of these fellas...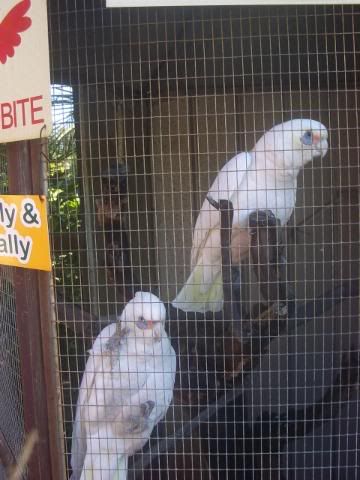 The talking parrots who were saying Hello to us...
The white masked owls from Harry Potter...haha. Wait, aren't they supposed to be asleep since now it is day?
We were walking into the kangaroos' lair and were stepping on their droppings which was everywhere. Lucky it did not smell.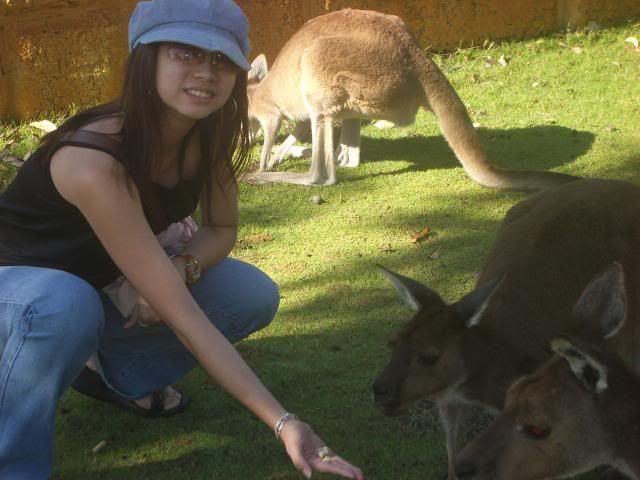 Yeap, we get to feed them. Some refused to eat from our hands cause they were probably full or stubborn. But I managed to found this hungry one who cannot stop feeding from the food on my hands...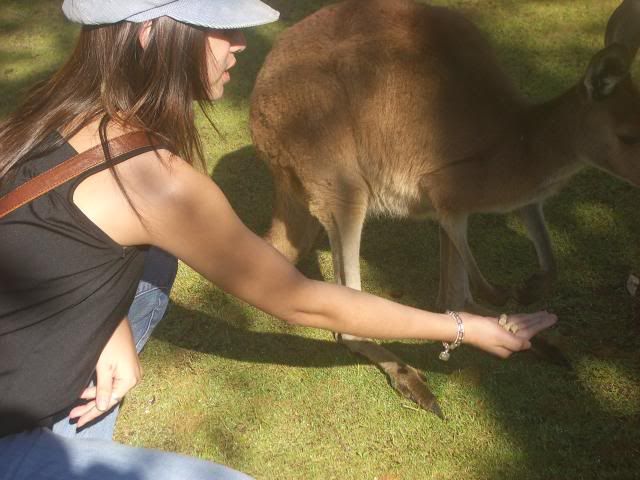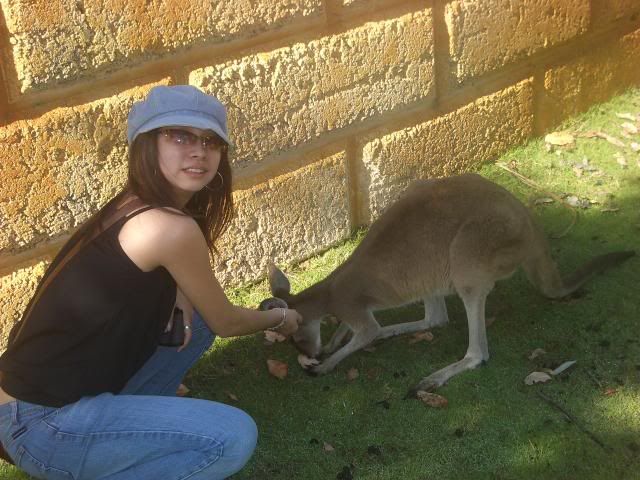 The baby kangaroos are sometimes called roos too. (Winnie the Pooh had a baby kangaroo friend called Little Roo)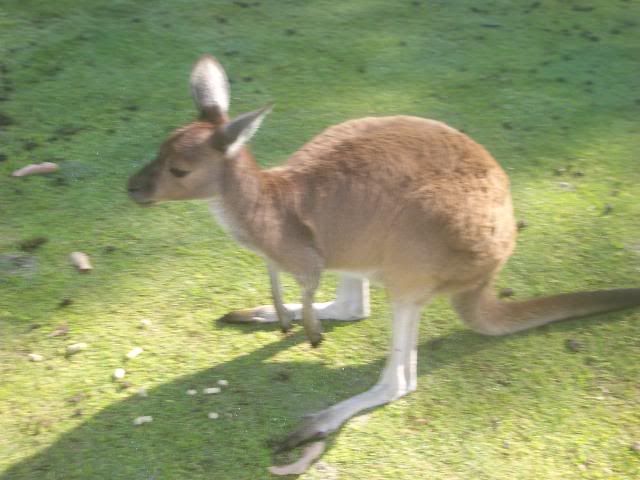 I managed to saw one of the kangaroos hop away from me when I tried to feed it...Sadz...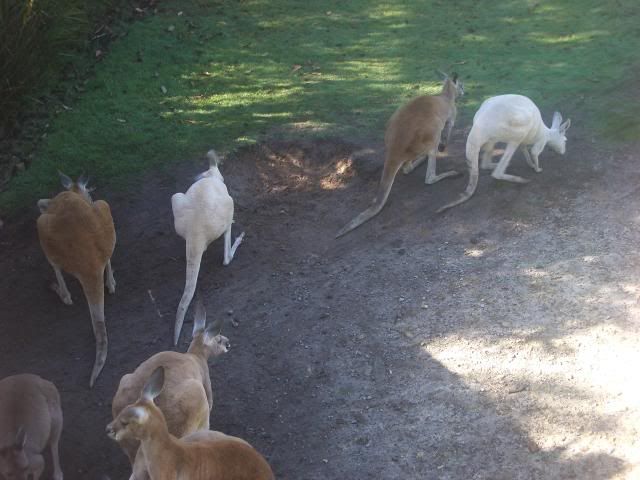 We spotted some white kangaroos in the lair too...
This looks like a kangaroo and a rat...It's a white wallaby...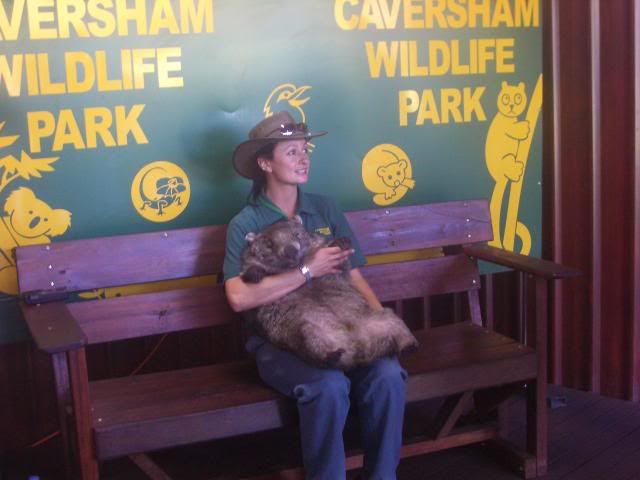 We are not able to carry the wombats but we can take a photo of the guide carrying the wombat
Cervantes Beach
We then stopover at a nice and beautiful beach at Cervantes and what a beautiful picturesque.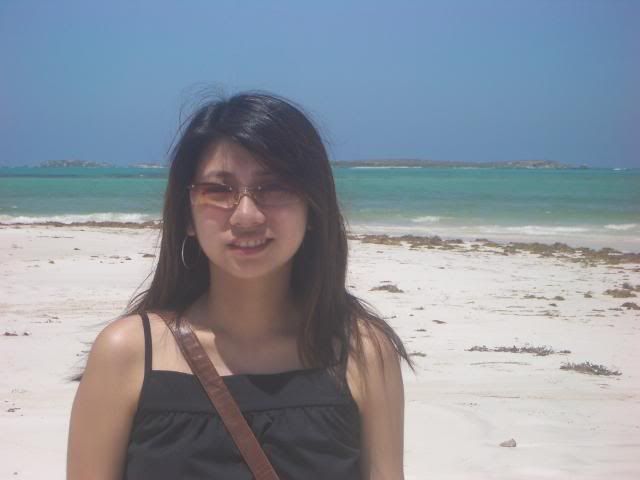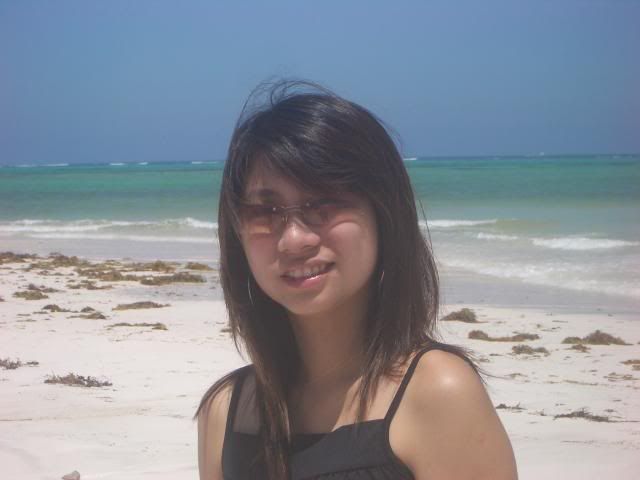 This is a nice natural shot of me...Credits to Aunty Linda's camera...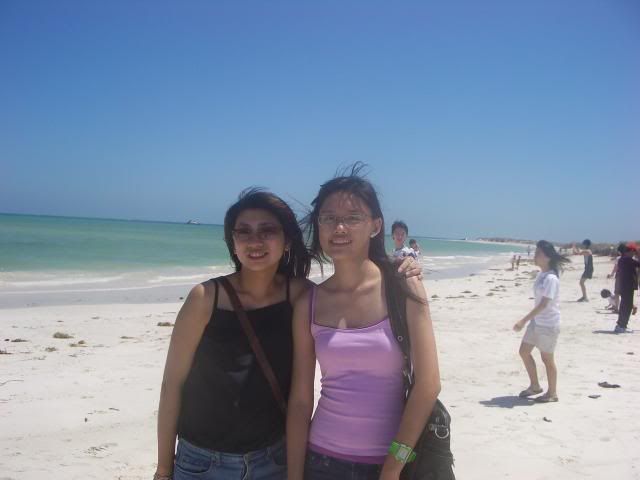 Kristin and me...
From left: Felicia, Aunty Maggie, Me, Aunty Linda and Kristin...
We then stopped for lunch at Cervantes in this place called Wildflowers where they isn't any real Wildflowers at all. It's a place where it sells souvenirs and where tours can stopover have picnic lunch there.
Pinnacles Desert at Nambung National Park
These rocks were actually formed from a huge piece of limestone which covers the whole area of desert you see now. Then as the years passed by, these limestones break and got separated. Some of the rocks if you look close enough, you can see the veins of the origins before it broke away.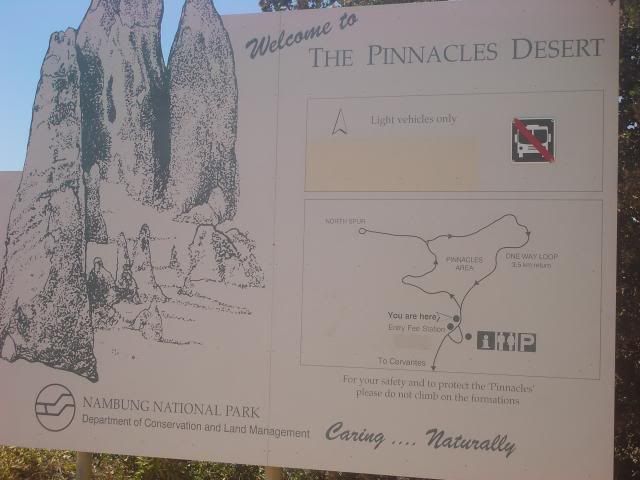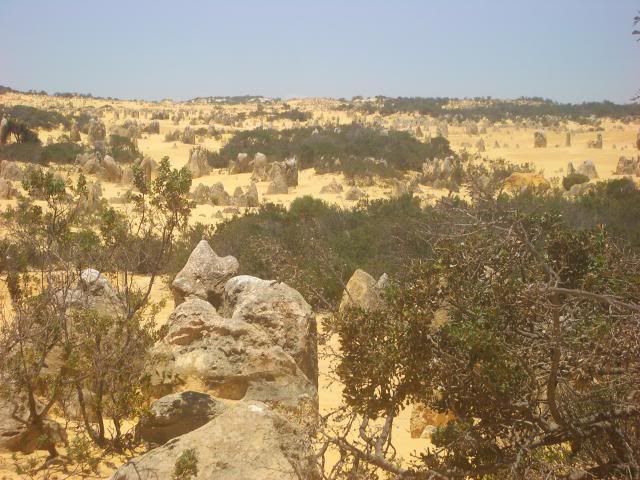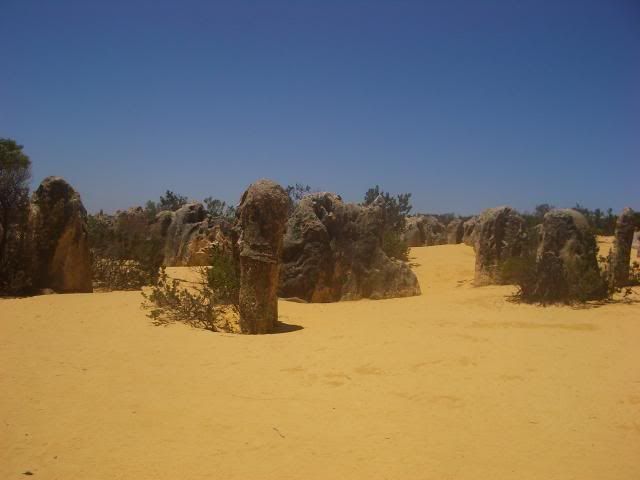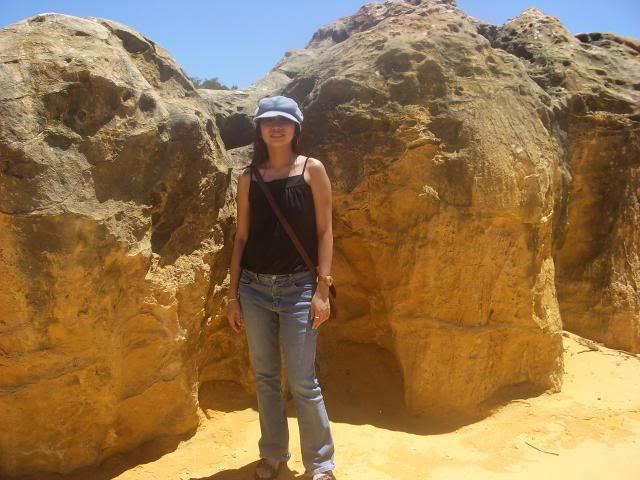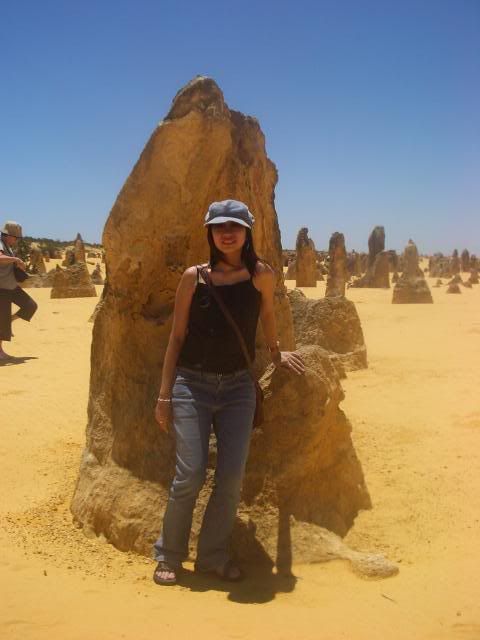 The weather there was not hot though there is sun. It is just dry and there isn't a piece of cloud in the sky so we felt the heat but we were protected by sunblock lotion.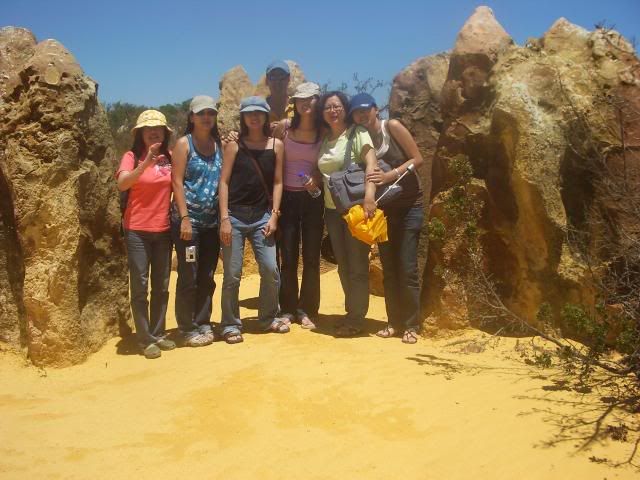 All the ladies...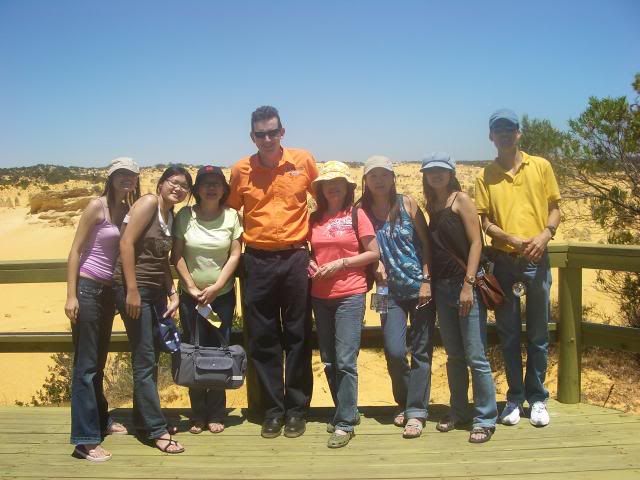 Our friendly tour guide, Steven...My brother and him are the tallest...
Look, a clear sky without a single piece of cloud...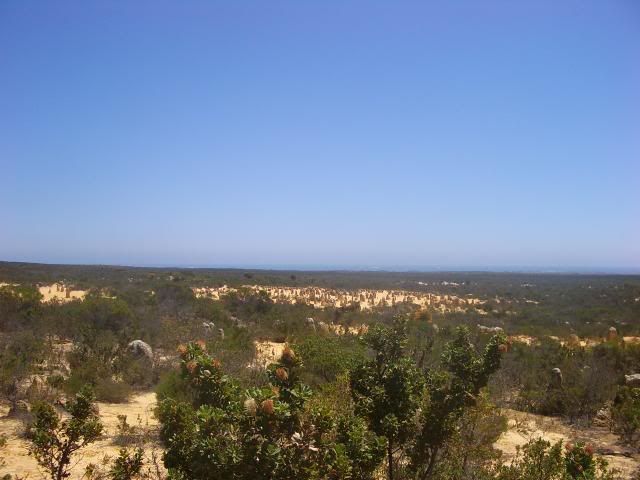 This rock actually looked like a crocodile emerging from the water. The real rock looks more like it.
Yellow tree....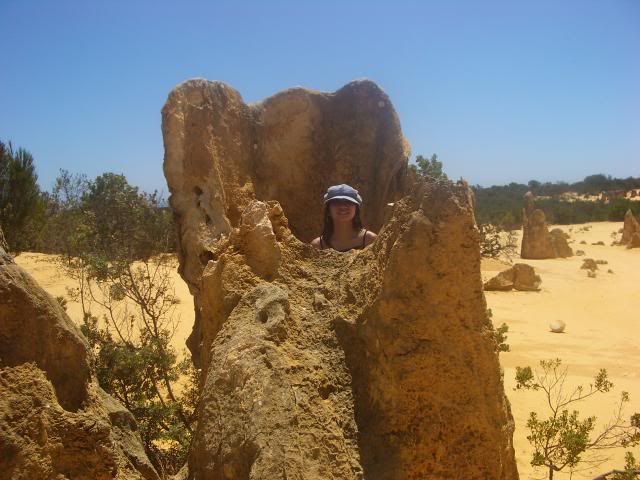 Me playing hide and seek...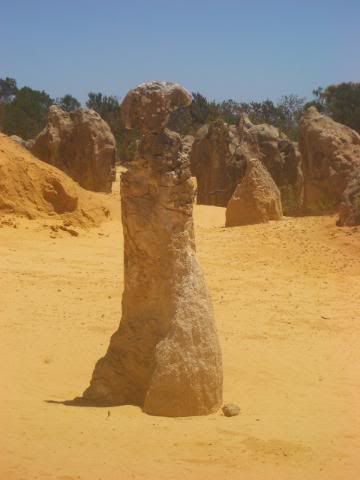 This rock looks like Zhang Ziyi in Memoirs of a Geisha according to the guide
Aunty Sally and me...
Aunty Linda and me...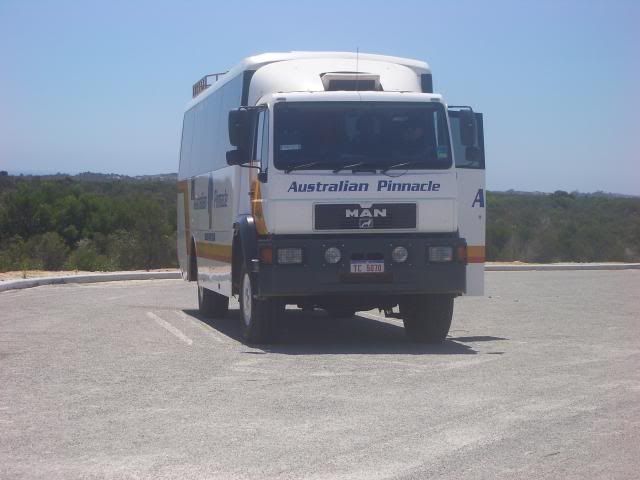 The deflated wheels...The wheels haven't been inflated yet for the 4WD Sand Dune Experience...
4WD Sand Dune & Sand Boarding@Lancelin
Before we set off to 4WD ride, the guide stopped us at a beach in Lancelin to inflate his wheels before the 4WD.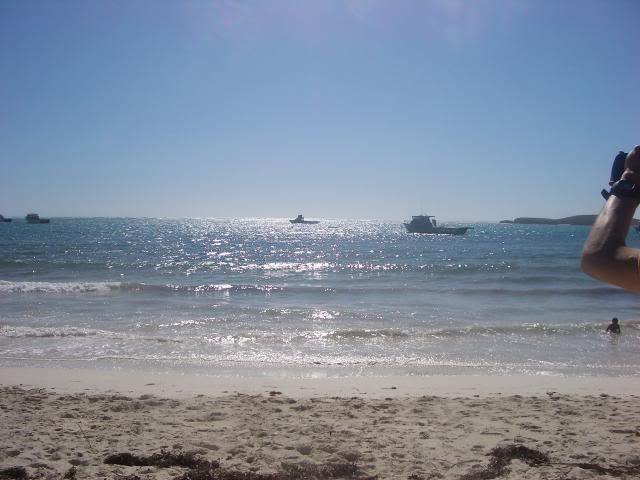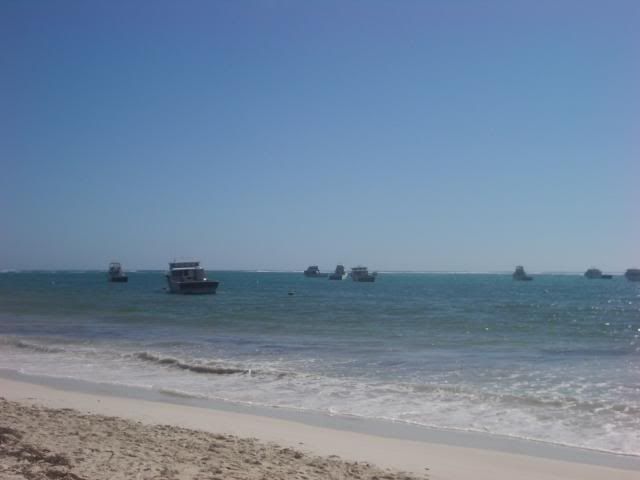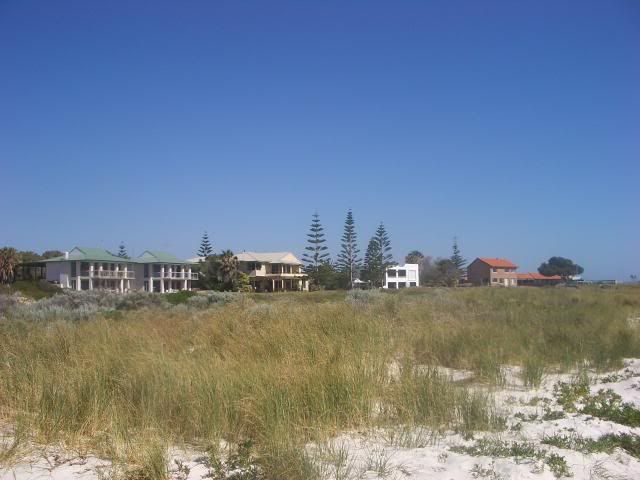 Houses by the beach....How nice it is to live near the beach and in Australia...
We started our 4WD down the sand dune. It was really fun. We can feel our bus going up the slope then down. The guide even tried to go to a steep slope and stopped there before he went down to see if we want him to go down. We clapped for him whenever he went down a steep slope.
He let us alight to take some photos. Look at my expression...You cannot even see the bottom of the slope...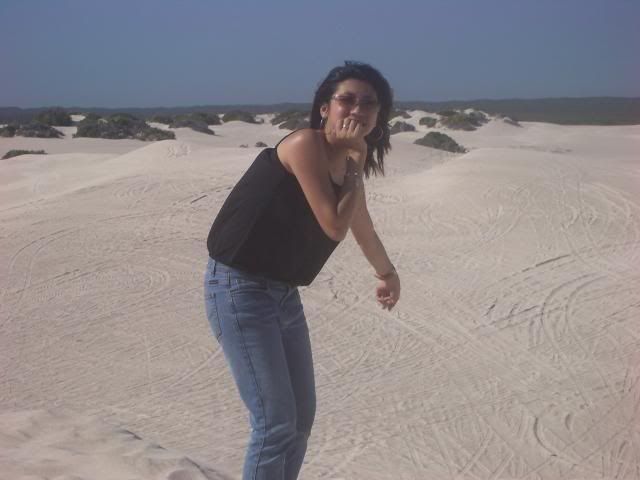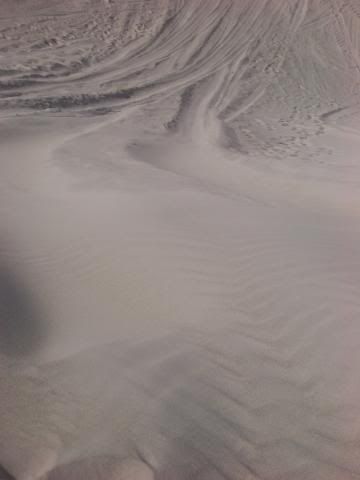 This was the slope where we went down earlier...Scary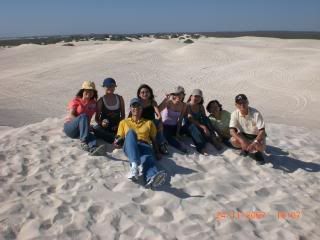 A whole group of us except my grandma who was sitting on the bus...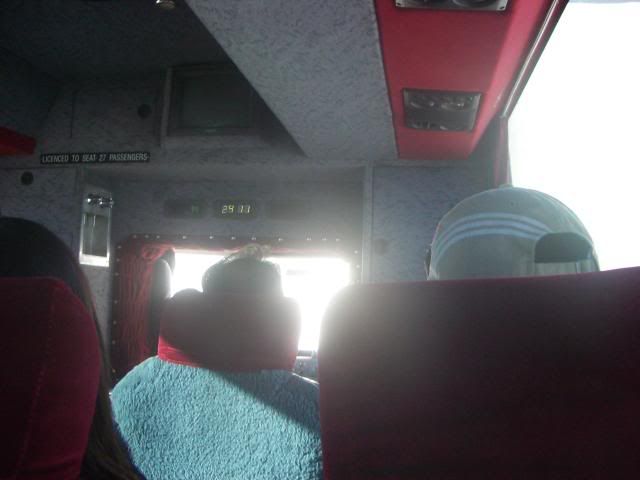 This was taken when the bus was going down the steep slope from inside the bus. We were actually plunging forward about 45 degrees when I took this shot...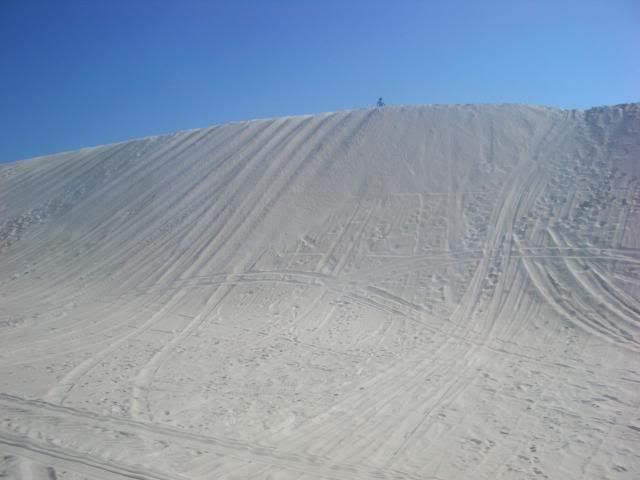 This was the slope I was talking about...It was so steep...
After the 4WD, we stopped at one of the not too high but steep slope and started our sand boarding experience. The guide took out the boards and taught us how to use it. We will need to rub the wax on the bottom surface of the board everytime we need to go again. Then both legs on the board and put down our left hand will make the board go to the right and put down our right hand on the sand will cause the board to go to the left. Putting down both hands on the sand will slow the speed of the board movement and if we are unable to control the speed, put both legs down to the sand will stop the board immediately. My brother went down so fast and he fell and roll over the sand flat on his face. He did not listen to instructions to stop it or slow it down with his hands. As for the rest of us, we already had difficulty going up the slope as it was very steep. I would think taking off your sandals is a better resort when it comes to walking up the slope with the board. The going down with the board was not smooth at all. In fact, it wasn't moving much at all. All of us had to use our hands and push ourselves and the board down ourselves and it still did not slide down. It sucks, we had applied a lot of wax on the board surface. Think the board was too old and it cannot be of use now. No wonder I saw people using rubber boards instead. Our Sentosa's Luge was better...We then travelled 1 1/2 hrs journey back to Perth and we reached our apartment at 8pm.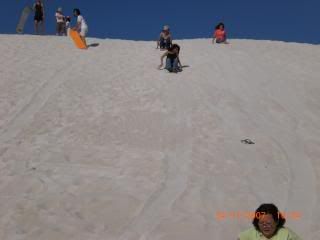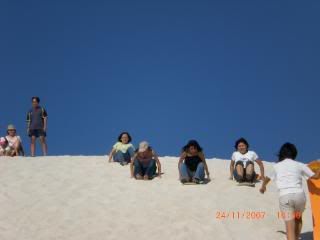 Spot which one is me?
End of Day 2, Part 2....Part 3 for Day 3 & 4 will continue....
[x] Shireen signing out at
3:47 PM