Life in Pico...
So far, it's been officially more than a month since I worked in Pico and so far, the job has been alright. Can be hectic and busy like hell at times. But these two days, I have been slacking around in office all because the PO system was down. I have tonnes of purchase orders I need to process and the system has to be down at this time. When the system is back, I will get busy a lot again seeing the workload of invoices I have to process...
I received an email yesterday saying the board management wanna meet new staff joined from September 2006 onwards and I am one of them. Haven't confirmed my attendance yet but isn't this compulsory anyway? I hate going to such meetings as they will ask for self-introduction and all. It is not that I do not know how to talk. If it is one to one, I may not be nervous and all. But this is with others too. My dad has taught me what to say anyway. I just hope it will turn out good as I had thought. Otherwise it'd be better they dun even ask us to speak up individually.
Had lunch with my dept pple again. Nice having lunch with colleagues I realised. They are quite nice people. Perhaps it is an events management company, so far haven't heard of any office politics except from certain dept. There is this woman which initially I thought she is quite a nice and helpful person but after a while, I find that she can be a little annoying at times. Her voice is rather loud as if she wanna make known to everyone our mistakes and all even for herself. She can be funny at times. Like today, she realised I had three earholes on my right ear as I tied up my hair in a ponytail, and she asked me like whether it was pain and all like she wanted to pierce for herself too. I find her funny cause I thought only young pple like me would wanna do that for fashion and style. But I doubt she'll do it anyway.
Time for photos...I uploaded my church, QLC's 40th anniversary banquet photo which was held on 28th October at RELC Tang Court Cantonese Restaurant. There was a service lead by the Chorale which I am in it once again and my solo part was given to another member instead and indeed she was better than me. I can only sing in KTV...Anyway, here's the photos...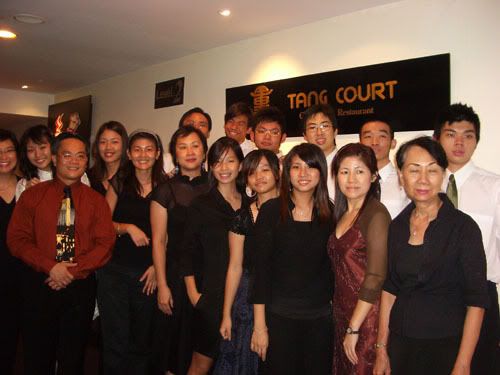 My chorale members....Short of Norman Then (yeap, his name is right, he was the Top 12 finalists of Singapore Idol 2), he was gone for some charity rehearsals with the other 11 finalists...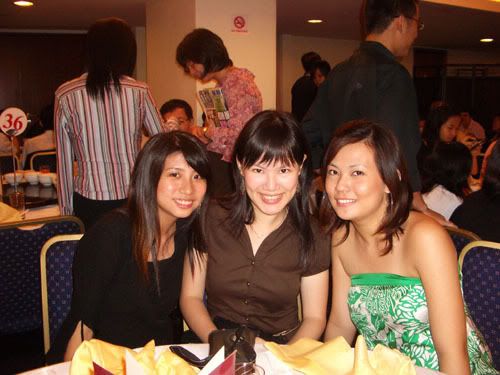 My Sunday School cum childhood pals, Rachel and Kailin...too bad Jo couldn't be found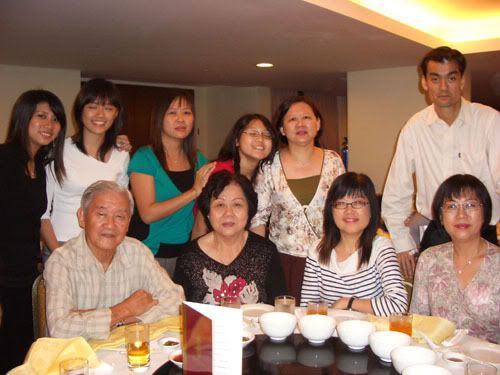 My family who turned up for the banquet...My aunties, cousins and grandparents and my mum and brother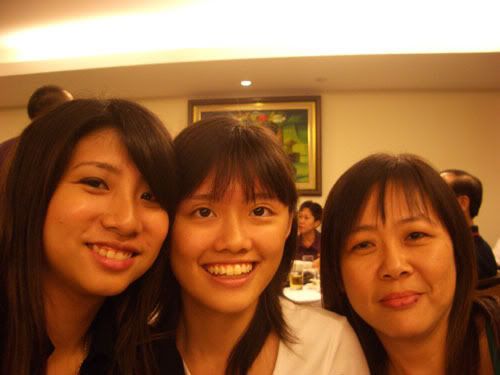 My cousin (middle) and Aunty Linda (right), she looks like my cousin or more like my sister than my auntie after she straightened her hair and cut that fringe...
My beloved cousin, Kristin...She is only 16 years old this year but we grew up together...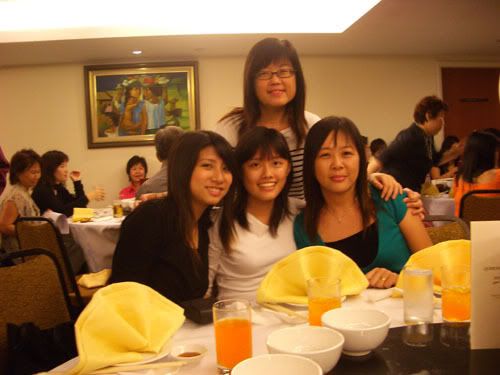 My two aunties and cousin...
[x] Shireen signing out at
11:04 PM