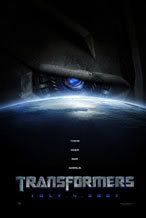 Synopsis:
This exciting live action motion picture tells the compelling saga of the Transformers - giant sentient beings from a distant planet who must disguise their identities as cars, planes, and otherwise ordinary electronic equipment on Earth. Locked in battle for an energy source hidden on Earth, the peaceful Autobots fight the evil Decepticons who are determined to take over the universe with their technology. Integral to the plot are Sam and Mikaela, two high school students, who unknowingly hold the key to the Transformers' elusive energy source. It's a fight to the finish of good versus evil, Autobot vs. Decepticon, man versus Machine, as our teams band together to defeat the Decepticons and save the Earth.
Michael Bay's Transformers
showcases alien robots that masquerade as ordinary vehicles like cars, jets and trucks, and thereby 'hide in plain sight' from us. The movie starts like a modern-day desert war drama, with US soldiers in Qatar being attacked by a helicopter that changes into a gun-toting robot. That, ladies and gentlemen, introduces viewers to the robotic Transformers.
Next, Bay takes us into Pentagon war-game territory where we find Secretary of Defence John Keller (Jon Voight, probably impersonating Donald Rumsfeld) seeking help from civilian experts to try and make sense of the data from Qatar. Of course, nothing is supposed to make sense - yet.
When Bay gets down to the real business of unravelling the war between the protective Autobots, led by Optimus Prime (voice of Peter Cullen), and the evil Decepticons (led by Megatron), the awe-factor comes in huge and loud doses, and these are spiced with dollops of humour as well. Optimus Prime and his Autobots are not just awesome to behold, they possess human qualities like courage, compassion and wit as well. And yes, their actions will make you cheer, laugh and even shed a tear or two.

Reviews:
I would say this is one of the best movies in the year 2007. Or should I say best blockbuster so far. I was initially not interested to watch Transformer, but after seeing the full trailer while watching Fantastic Four, I have decided to watch it as it seemed interesting. Indeed, my instinct was true this time. Michael Bay haven't disappoint me since The Rock and Face Off. I remember my elder brother had this transformer toy. It is a bloack car which transform into a robot. I used to steal his toy and play it secretly when he isn't around. There were lots of action from robots and from humans themselves, the military war between robots and humans. I did not understand certain parts too but I had the help of two guy friends who live in the transformers era and were huge fans of Transformers to enlighten me at certain parts. It is from the same producer, Steven Spielberg as War of the Worlds but this is far better than War of the Worlds. If you grew up in the Eighties with Transformer toys, you are going to relive your childhood fantasies with this one. Go on, knock yourself out.
Ratings:
Movie Rating: 5/5 stars

Storyline Ratings: 8/10 (I heard that it did follow closely to the animation version too)
Graphics Ratings: 4/5 stars (rather impressive graphics)

Humour Ratings: 7/10

Labels: movie, reviews, synopsis
[x] Shireen signing out at
5:26 PM