Day 5: Taipei - 24th July 2008 (Thursday)
My dad had woke up early and arranged with his friend's bf to go to Damshui's area (beach) as while we were taking the boat ride, we passed by this place which has lots of birds in a swamp area. So his friend's bf offered to drive him there and learn to use the new camera. We had bought cup noodles when we were in Raohe Market at 7-Eleven. There were so many varieties and brands in Taiwan. I'm so spoilt for choice. My mum and I had bought the chicken flavoured and my dad and brother got the bak kut teh flavoured. But my mum ended up giving them the wrong flavours. We got their bak kut teh cup noodles instead but it was so good. We had that for breakfast that morning and I love Taiwan cause I get to watch the Taiwan varieties and dramas and my mum is busy doing her stuffs so no one fights the TV with me. My brother then came over to our room and I called my dad at around 10.30am and we decided to go over to the 豆浆油条 shop for breakfast. So I tried the cold soya milk 豆浆this time and ordered carrot cake for myself. I also tried the Taiwanese style of 菜葡鸡蛋. Their style was slightly different and it tasted good too.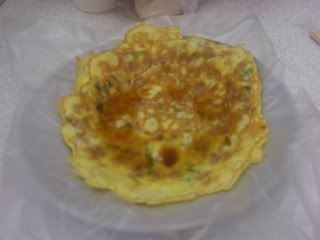 菜葡鸡蛋...it's actually the vegetable thing you put on top of chee kuey...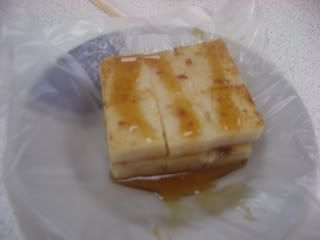 Carrot cake...Their carrot cake is quite bland so they had this syrup on top which the eggs also had it. If you noticed, you always see them put a plastic on top of the plate or bowl before they place the food on it, the reason is they have no time to wash the plates and bowls quickly, so with this plastic, they may just use it for the next person. only eateries have such way of putting the food.
After lunch, we went to the mall opposite the eatery which is similar to Sim Lim Square. The whole building sells electronics, computers and digital products but it just opened a few days ago so it's pretty new and the shops there are rather pathetic. The things ain't that cheap according to my dad. Then we proceeded to look for the nearest MRT station to head down to Ximen Ding. It's my first time taking the MRT here but my brother is the one who's the most excited about trains and MRTs. We got the Taipei City map from the hotel receptionist and we studied the map. We then realised we must flip the map upside down in order to go the right direction. We asked around for the nearest MRT station (should have been 忠孝复兴) and then realised we had taken a big round so we just continued walking to the other station (忠孝新生).
Sorry for the blurry pic, it says 忠孝新生...
Only 3 stops to Ximen...
Train approaching...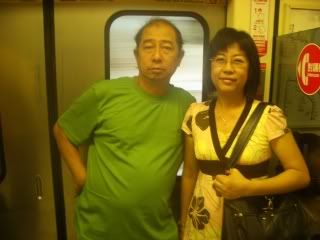 My parents...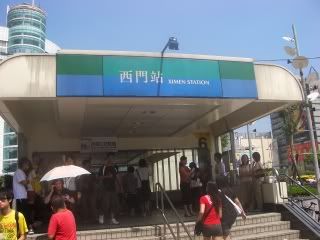 Ximen Station...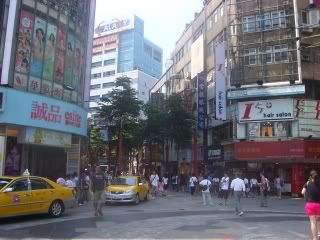 Recognise the place with these places..Autograph sessions liked to be held here...Too bad I went there on a Thursday so I did not have luck to see any celebrities holding their autograph sessions here...
I only managed to buy two key chains from Ximen Ding and a pair of Lacoste sneakers. It's very cheap only NT1325 (S$66) which is actually more than $100 in SG. My mum also bought a similar shoe as me. It is definitely original cause I bought it from a sports shop which sells Nike, Adidas, Converse, etc. Then my mum wanted a drink, so we went to a bubble tea shop again. She is really addicted to bubble tea in Taipei...
My dad went back to the hotel alone as he was very tired so after that my Mum, brother and I took the MRT and headed to 12 stops after Ximen to Wu Fen Pu (forgot the station name) it's a place where there are a lot of small shops but a bad thing is they dun really entertain individuals who just buy 1-2 pieces. They are more into bulks distribution (normally those selling clothes online will get their stocks from there) so it'd be hard to bargain from them. I bought a dress and then went to look for my mum and brother who were resting and sitting down in the park nearby. I was shopping alone and it was more fun and carefree this way rather than having people tag along behind. Then we felt since we were still an hour early from our dinner appointment. So we took a cab back to our hotel.
The driver came to pick us up at 7pm to this steamboat restaurant selling Ma La Hotpot aka 麻辣火锅 in 鸳鸯style which means they have two different flavour of soup, one spicy and one non-spicy. The place was super packed and there was a queue so good thing my dad's friends who wanted to treat us have already booked two tables for 7 pax. We were so afraid to eat a lot cause we thought that whatever we ordered is what we will pay for but in the end, we realised that it is charged around NT550 (ard S$25) per pax after tax. In SG, we won't even eat with that kind of price...
The good thing of eating buffet here is drinks are free flow in bottled form...I can't even find the bottled form of Nestea Lemon Tea, F&N drinks and Sprite...
The sauces are there for you to mix and marinate of your choice to dip the meat into...
And the 鸳鸯火锅, my mum thinks it's really spicy...
Look at the different beef, mushrooms and vegetables...They taste good in the sauces my dad got for me...You can order any dishes for the steamboat and how many plates you want, can just order from the sheet and hand it to the waitress...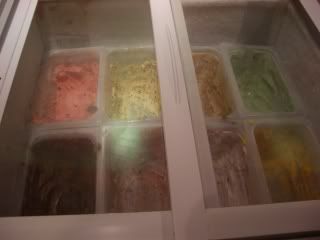 The best part here is the desserts, free flow of Haagen Daz ice-cream. You can practically find the whole range/shop of Haagen Daz favours here too except some flavours were running out.
You can have it in cup or corn and can try all the flavours and how many rounds as long as your stomach allows...Look at my mum and dad digging the ice-cream out....
The place where the restaurant is...The place is really packed and they clear tables fast for the next group of customers and they will want you to settle down quickly and the steamboat will be served at once...That shows how popular this place is...
Day 6: Taipei - 25th July 2008 (Friday)
The day has come for us to return back to SG, it's a sad thing. I really enjoyed myself there. The shopping and the boat ride at Damshui and the food there. My dad and brother decided to take the MRT and head down to Damshui area again to take photographs so they left early in the morning. My mum and I woke up to find ourselves hungry and nothing to eat. So I offered to buy cup noodles for our breakfast at the convenience store around our hotel. So I went to ask the reception where the nearest convenience store is and there is a 7-11 opposite the street across our hotel. So I went there and got the different brand and chicken flavour. Wanted to get the bak kut teh flavour we had that time but they dun seemed to have the brand or flavour there. I thought of getting a drink too so I got myself an apple juice and my mum an orange juice. They even had drinks with S.H.E on the packaging (think they were doing the ad for them). At 10am, my dad called me and we told him we had cup noodles for our breakfast. We then decided to walk over to the shopping centre about 3 streets down our hotel for lunch. There was a food court there so we went there and I had Japanese food. I even managed to get a MNG top from there. I regretted not getting the wrap dress there which MNG was still having sale that time. So we walked back to the hotel to get ready for check-out. As we were walking back, I realised I haven't take photos of my hotel on the exterior.
Our flight was at 5.15pm and the driver is picking us up at 2.30pm. The journey takes around 1 hour to reach Taoyuan International Airport. My dad will be heading down to Songshan Domestic Airport for Peng Hu. There was a little jam halfway and we were delayed slightly. Then after we checked our bags in, we went to Burger King at Terminal 2. I passed by this local snacks / souvenirs shop and I saw this goodie there which I remembered the 太阳饼that Chuvi wanted. I dunno why she loved that so much so I got for her a box. We went into the departure hall and there was a queue at the customs check area.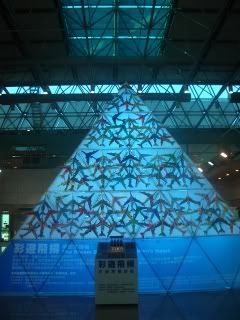 A structure made of paper aeroplanes for charity to represent the cockpit of the airplane. The paper aeroplanes that form a pyramid are all made by children. We had some time before the gate opens for passengers to go in so I found a place where I can access the internet but after like 5 mins my mum called me to go in. She's just being kiasu. It's only 4pm so after we went downstairs, there was another area again. This place was where the gate will open to board the plane so we waited there again for maybe 20 mins.
I pulled up the blinds and saw our plane there. The food catering vehicle was still there at that time.
One last photo before we return back to SG...This plane was more packed and the seats and leg space was more crammed...
[x] Shireen signing out at
4:28 PM