Edited on: 6-Nov-07 at 11:41 AM
Today is my Dad's 60th birthday. Wow, so fast, he's 60 years old but he doesn't look like one. I bought a birthday card and got my siblings and brother-in-law to sign on it. The card on the cover says, "For You, Dad From Both of Us. For your Birthday, we thought we'd give you something to help you enjoy a dinner at a 4 STAR restaurant of your choice." Then the inside had a toothpick attached to the card and says, "Sorry, Funds Are Kinda Low This Month! Happy Birthday!" Cute rite? Suits the surprise we're giving him.
My dad reading the card I gave him...
I had to put up an act and had to get my mum not to tell my dad. Good thing, past two weeks while we were planning, my dad was away for 2 weeks. I had to lie to him I forgot his bday till he mentioned it on Sunday and I told him we'll have dinner at Vivocity since it's near to my sister's house. My sister had took leave this day but we lied to him saying she'll join us later after her work. And my brother requested the half day shift but my dad had thought he's on full day shift. We had intended to bring him to Tung Lok Signatures at Vivocity for dinner. We decided to order the set dinner below:
片鸭鱼翅海鲜餐 Peking Duck, Shark's Fin and Seafood Set
$388++ For 8 Persons
1) 金陵片皮鸭Barbeque Whole Peking Duck
2) 蟹肉花胶燴翅Braised Shark's Fin with Crabmeat and Shredded Fish Maw
3) 云翠星班球素鹅伴Sautéed Star Garoupa Fillet, Salad Greens and Black Fungus Combined
with Vegetarian Goose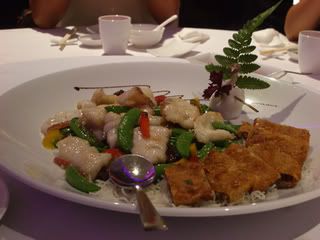 4) 陈年花雕蒸跳扎虾Steamed Live Prawns with Chinese "Hua Tiao" Wine
5) 白酒青胡椒烤肉Stewed Pork Ribs with Fresh Pepper and White Wine Sauce
6) 野菌泡田园蔬Simmered Seasonal Vegetables with Wild Fungus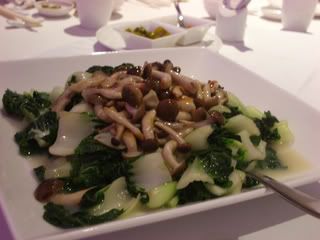 7) 火鸭丝三菇焖宽面Braised Flat Noodles with Shredded Duck Meat and Mushrooms
8) 西红柿银耳冻Chilled Dessert with Sun Dried Tomatoes and Snow Fungus
Then I recalled we will need a cake. So I called Bengawan Solo@ Harbourfront to reserve a 0.5KG cake and my sis will collect it later. The three of us will be splitting costs. My sister prepared a meaningful present for my dad too. Will post photos of the food later tonight and the celebration photos...Here they are...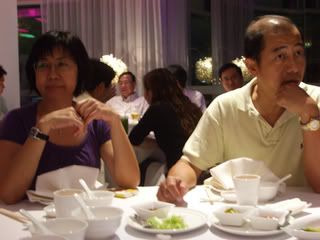 My parents...
My grandparents...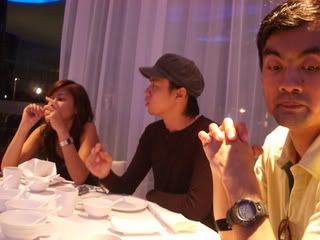 Sister, Bro-in-law and brother...
My sis and brother-in-law presented my Dad with two gifts, his best shots of the birds (hobby in birds photography) and framed it up...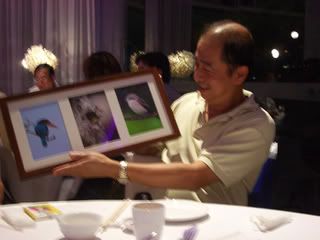 My sis wrote, "Happy 60th birthday, Dad!" and my dad was wondering if he is supposed to be 61st bday instead...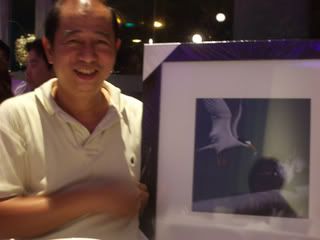 Then before the dessert was served, the restaurant presented us with the cake we bought for my dad from Bengawan Solo.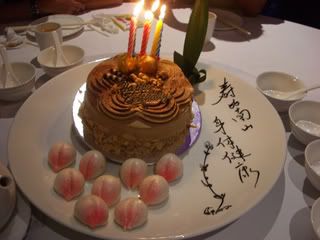 The presentation was nice cause they placed it on a plate and used chocolate to write the Chinese words...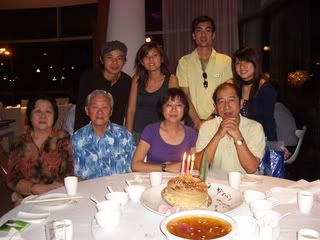 A group photo...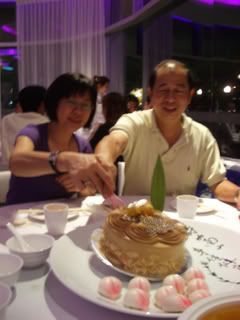 [x] Shireen signing out at
5:00 PM