Restaurant: Sakae Teppanyaki
Venue: Address:8 Grange Road #04-01 Cathay Cineleisure Orchard
Tel: 6333 8370
Type of Cuisine: Japanese
Price Range: $11.90-$18.90 for Set Menus
Comment: If you're into budget but good Teppanyaki, this place is good and recommended. You pay around $13 depends on set meals and with credit card, the service charge is not considered.
Reviews:
Went to watch Indiana Jones yesterday with my family and we had a late lunch. My dad decided for Sakae Teppanyaki at Cineleisure when we came across after the movie. We had passed by this restaurant but never thought of entering it as we had thought of it as expensive. BUt my dad suddenly felt like trying out. He's always loved teppanyaki especially Sakae's so we tried that out. We got a own personal chef to ourselves as my dad would rather wait 20 mins for our own personal table. The chef was a little of an eye-candy compared to the whole staff working there including the chefs there. The chef came out laying all the ingredients near the stove. He applied water and spread it over the hot area then he spread the oil around the same area. My parents and my brother ordered the garlic rice which has an additional of $2.50. We ordered two chicken sets ($11.90 each) and 2 beef sets ($13.90). I had plain rice. He laid the chopped garlic and eggs over the stove. The garlic was a lot. The eggs and garlic was then fried together before putting in the rice together and seasoning (salt and pepper) was added at the same time. There the fried garlic rice was ready to be served. It smelled good and the breath also smells "good" too.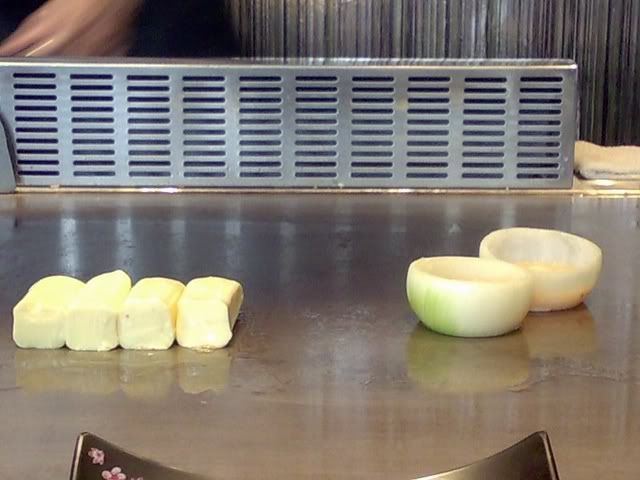 The tofu and teppan Chawamushi was fried. The chawamushi came with the beef sets.
Caught a shot with the chef in the photo. FYI, he was frying the half-shell scallop that time
The beef and chicken were added
The finished half-shell scallop that came with the chicken sets. He cooked the scallop and the shell separately. After the scallop was cooked, he placed the meat on the shell and served us.
The finished food...The chawamushi was served in an onion. The egg was added into the onion then after a while the chef added the ingredients like crabstick and fish cake then he added the rest of the egg on the top and continued cooking it...
The food was really good. MY dad said this is one of the best meals had. The whole meal costs us about $66+ after 10% DBS credit card discount. So it was quite worth the money compared to eating sushi or Japanese food which can cost more than this amount and not exactly full.
Ratings:
Food and Beverage: 9/10 (If it were less salty, can request for less salt)
Ambience / Setting: 7/10 (Small place as it sits around 25 or 30 pax but still nice ambience)
Value: 9/10 (Worth the money and getting the set meals are cheaper and try to go for lunch instead)
Service: 7/10 (Service was okay but they could have asked if I was okay with canned green tea as I wanted Ice Ocha not canned Iced Green Tea)
Overall: 4/5 stars (Definitely recommend to others!)
Labels: food, restaurants, reviews
[x] Shireen signing out at
2:48 PM