I went to Gillman Village on my birthday to celebrate with Andrew, Ivan and his gf, Ada. Gillman Village is a Japanese Buffet Restaurant with great ambience. If you liked Sashimi, you would enjoy going there. Andrew ordered like almost 10 plates of Sashimi. I never even eat raw food. But I only tried the Taco (octopus) raw. Not too bad. I had mostly the Tempuras (fried stuffs) so it makes me full easier. Ivan bought a Swensen's Special Ice-cream cake for Andrew and my birthday. It is Andrew's 24th birthday yesterday too. Happy Belated Biirthday, Andrew! Forgot to wish him yesterday...We had wanted to go KTV after dinner at 10p, but in the end, all of us were tired so we went home straight. I brought home the remaining 4 slices of cake home.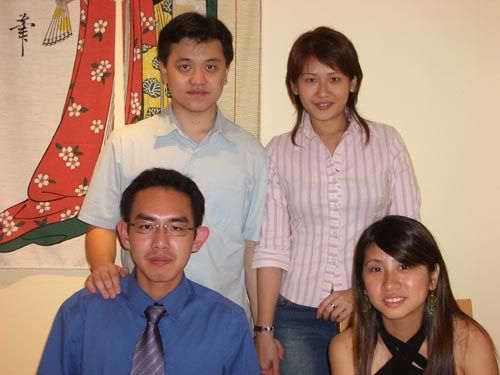 Ivan, Ada, Me and Andrew
3-Mar-06@KBox Orchard
We went KBox at Orchard yesterday. The 11 of us went. It was said to celebrate my belated birthday but was actually to gather and chill out. Weijie, James, Johnny, Weirong, Melvin, Weili, Boon, Serene, Janet and even Meiling went including me to KBox yesterday. We each paid about 28 bucks from 7pm-11pm. We left the place at about 11.30pm and I left immediately hoping to catch the last train at City Hall. In the end, I just got up the escalator going up to catch the train at Boon Lay from City Hall, they announced to say Passengers going towards Boon Lay, pls board the last train at Raffles Place. I can't turn back liao. By the time I turn back, the train towards Raffles Place is leaving. I had no choice but to get out of City Hall, withdraw 30 bucks and headed to taxi stand outside Robinson's. It was a super long queue and a few had to call for cab cause there were no cabs coming in there to pick passengers up. So after waiting for 15-20 mins, I called Citycab and in less than 30 seconds, my Mecedes cab came and it costs me $18.50 inclusive of the $2.50 booking fee. Next time if go KTv with them must go Clementi branch otherwise I jiat lat liao. Anyway Weijie and Johnny drive. Will sure drive most of them back one...Enjoy the pics for now and the funny captions with description...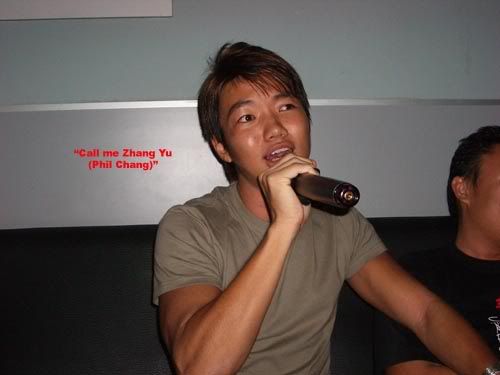 This is James the joker...keep blabbering some Korean and Thai which may not be even correct...
Ask Weijie to help us take he took the pic of himself. He look so goofy and retarded in this pic...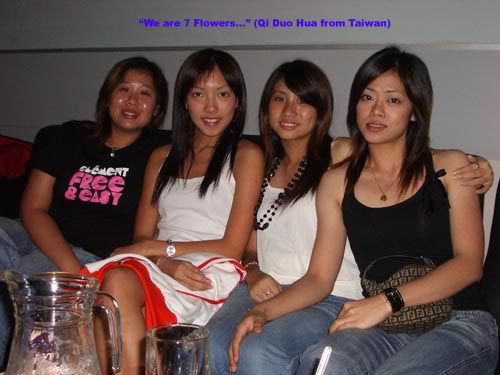 We are 7F aka 七朵花...no longer F4 liao. 7F was from 7 girls to become 5 now left with 4 so we can be 7F now...Though Taiwan also have F4 girls (4 girls with F cups!!!)...
Meiling and me...
All the guys in the room...wait, where's James? He's off to go tackle the all girls room few rooms away...Haha. He said he got lost...
Sorry for the lousy font: "I am the King of Red Eye!!!" bestowed by Shireen Wong...
Melvin, Weijie and Johnny...I was telling Weijie that Lina and his Astigmatism is very bad, that's what causing all the red eye in photos. I had to use Photoshop to edit everytime...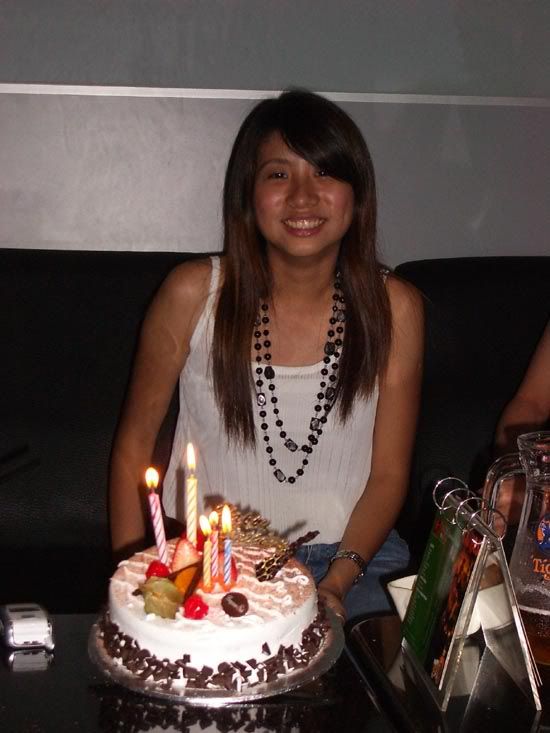 All of them surprised me with a cake. I saw the staff outside lighting the candle then I suspected something. Thought those guys are really that thoughtful enough to surprise me with cake. I was rather touched too really cause I really did not expected it. Thanks you all! Actually it was Serene's idea. Thanks gal. You're so sweet! Guys, what are u waiting for....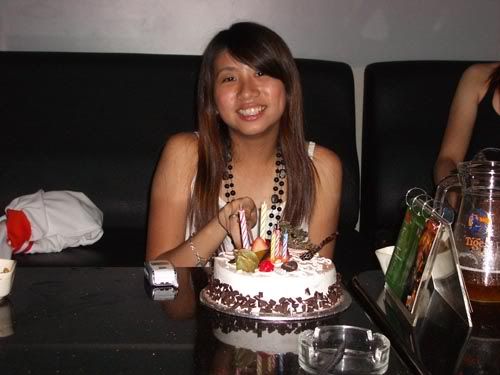 They used the mic and sang Happy Birthday song super loud....Actually it was only James and Weijie...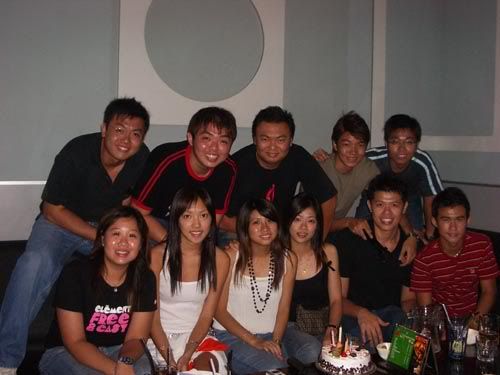 The informal shot...
Our solo individual pair pics...All are my juniors...even in Council....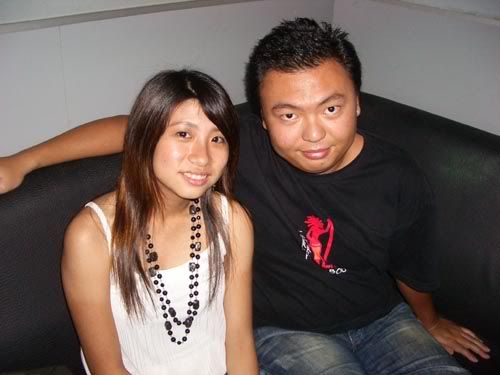 Weirong and me...He is aka as Daxiong (Big Bear) leh cause he looks like a bear? Hmm...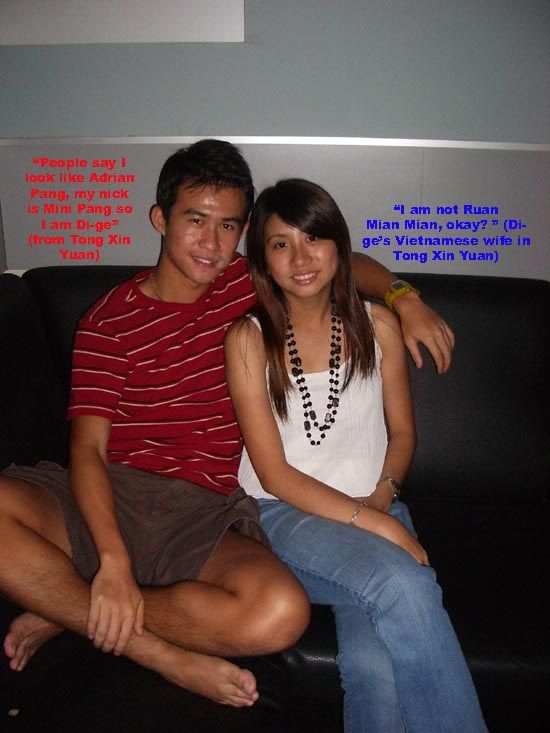 Johnny and me...Funny captions. Cause Michelle said he looks like Adrian Pang so we call him the mini version of Adrian Pang. His favourite line is, "My head can roll but my hair cannot be messy..." ---- Zhou Dadi aka Di-ge in Tong Xin Yuan
Weirong and James...What's with the thumb up sign? So all I can think of the caption is this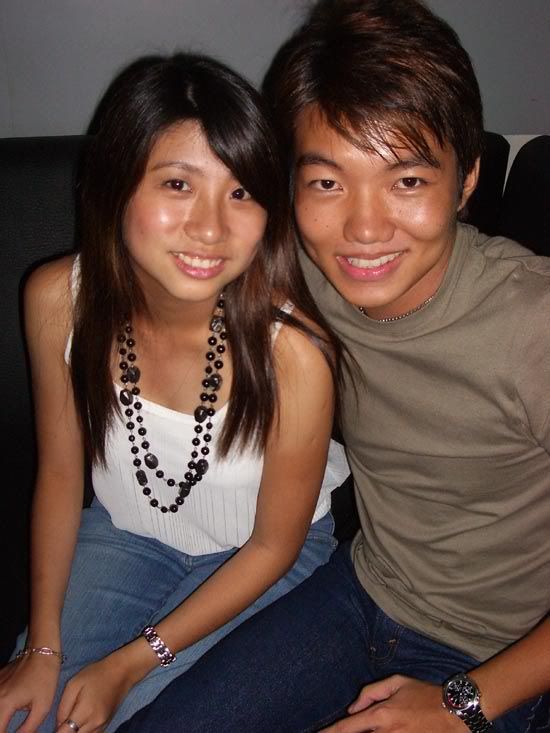 James and me...Hah are we compatible enough?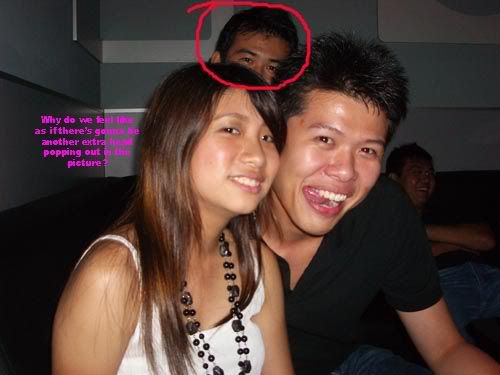 Weijie and me and....a third head behind...(Johnny)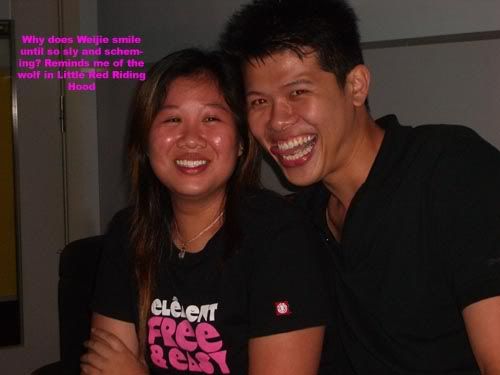 Janet and Weijie...
The thorn among the roses....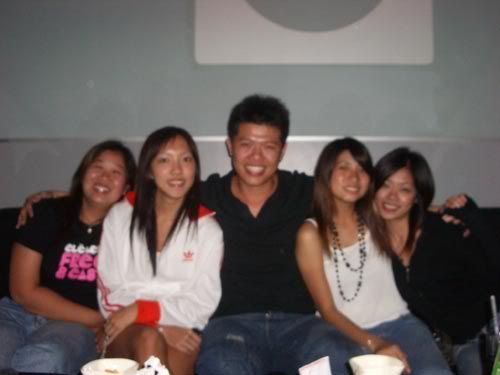 Weijie and all the girls...
Weili and all the girls...
Weirong and all the girls...
All three guys and the girls...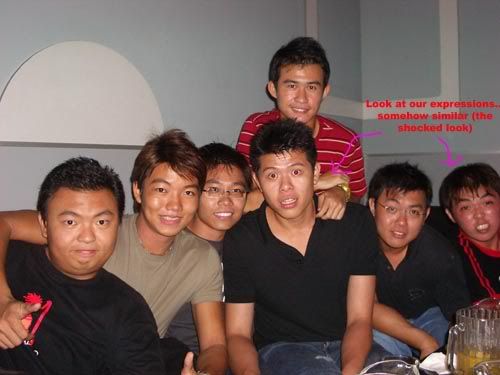 This time with James in it...Notice Weijie and Weili's expression. Caught them almost the same expression this 1st time...More to come...
James, Weirong, Meiling, Serene and me...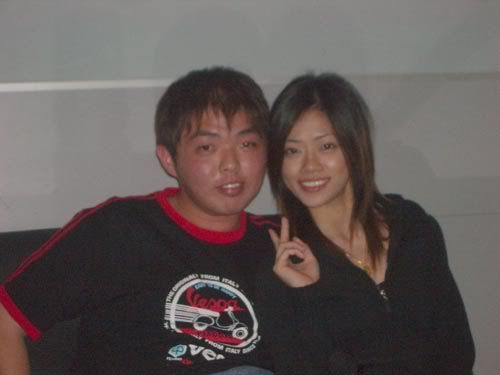 Meiling and Weili...the smoking buddies...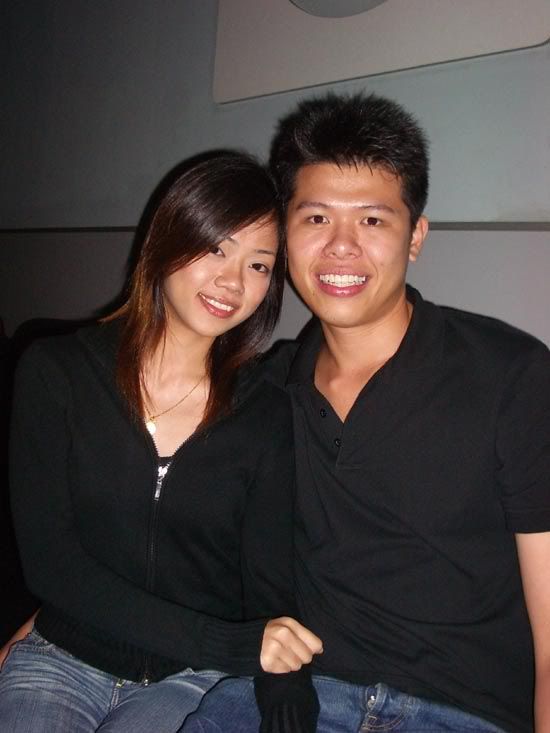 Weijie and Meiling...
Meiling and James...
Then Meiling and I started posing for those cutesy photos...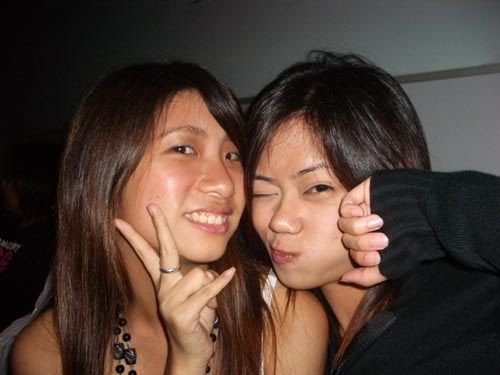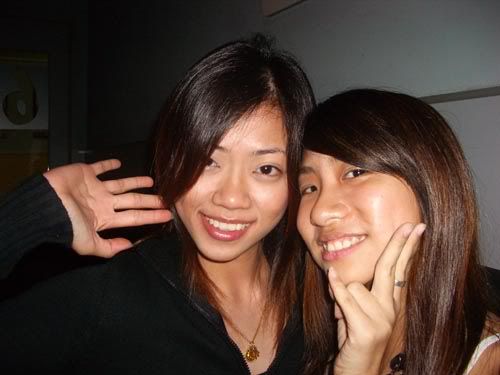 Are we cute enough?
Then James and Weirong joined in...They're super fun and cute!!!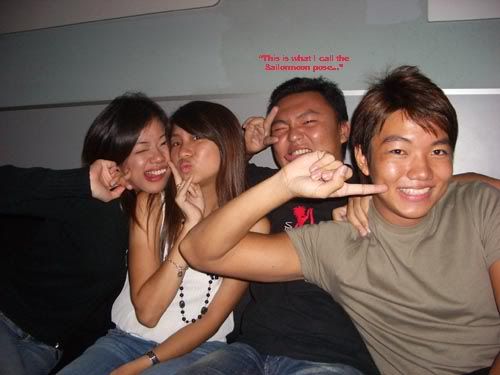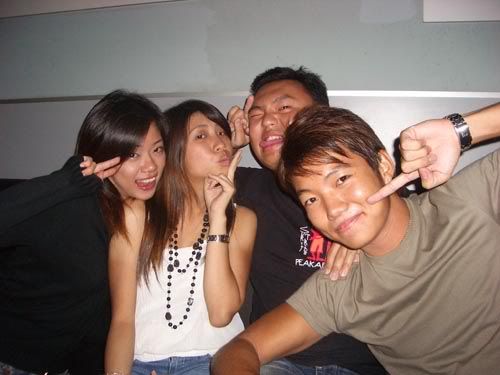 Do we look stupid enough? Haha
Then Weijie and Weili joined in...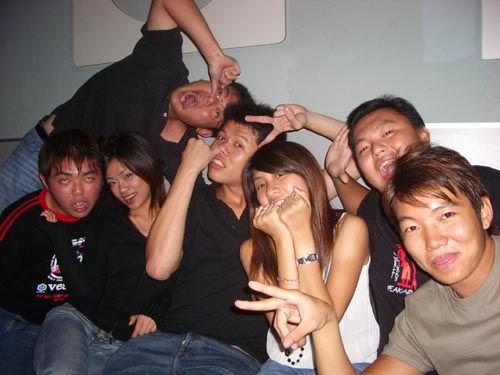 Then Boon also decided to join in...Johnny was stoning away, Serene and Janet were busy singing the remaining songs....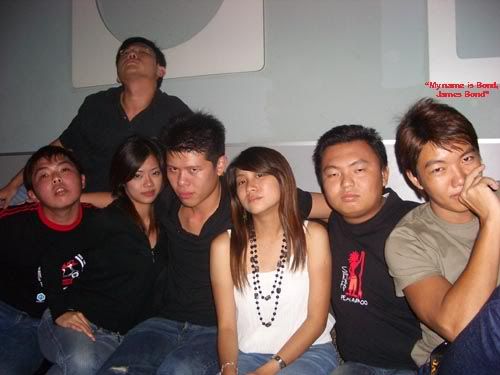 We decided to go for the serious cum cool look...Look James think he looks very cool in that pose. You think you're Aaron Kwok ah? Haha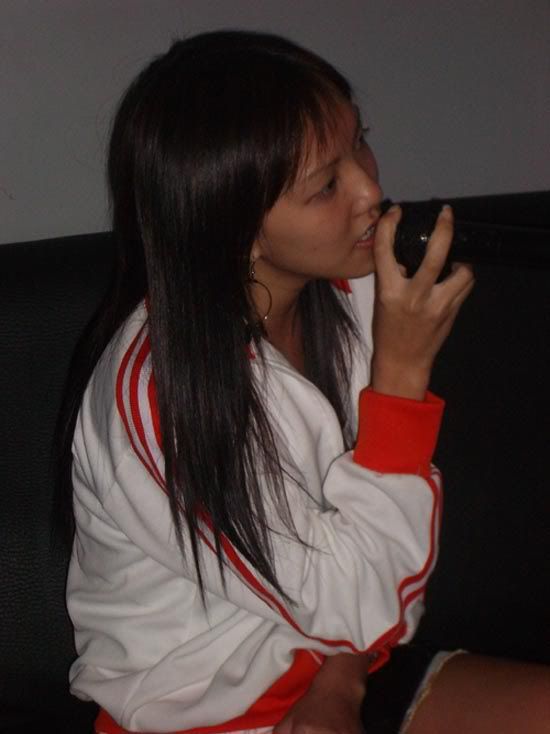 Serene singing her last song by Karen Mok...
Wanna watch the funny videos by our very own James and Weili? The Andy Lau and Wang Jie song...
http://photobucket.com/albums/a396/shireensh/?action=view&current=OrchardKBox3-Mar-06_053.flv
Weili singing and sound like Wang Jie (Dave Wang)...
http://photobucket.com/albums/a396/shireensh/?action=view&current=OrchardKBox3-Mar-06_054.flv
- Part 1
http://photobucket.com/albums/a396/shireensh/?action=view&current=OrchardKBox3-Mar-06_055.flv
- Part 2
James singing Andy Lau's Ma Tong (Toilet Bowl)...See all his pattern..."James ah, li ay pattern zuei zuei leh!!!" (In Hokkien: James, you have so many patterns when singing)
Labels: birthday, friends, KTV
[x] Shireen signing out at
11:09 AM